CeCe & Schmidt Get Big News On 'New Girl'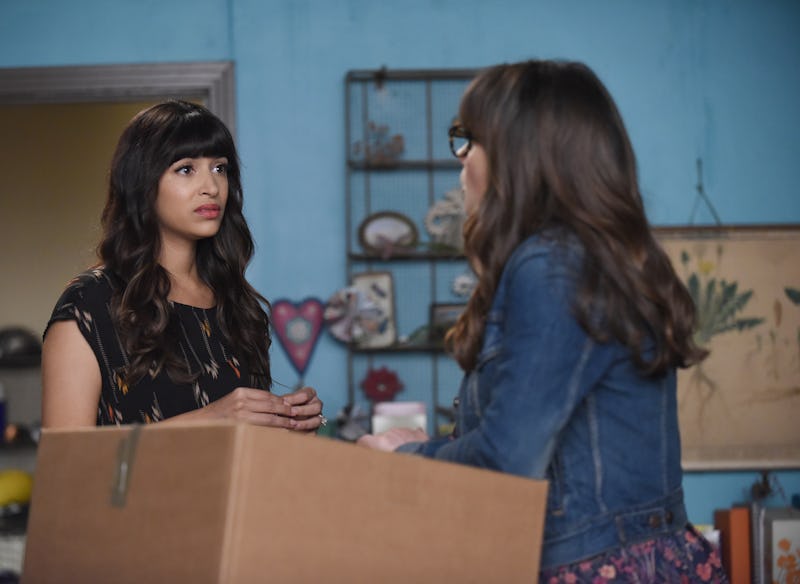 Ray Mickshaw/Fox
Over the entire history of New Girl, most of the show has revolved around Schmidt and CeCe's on again, off again relationship. But seeing them married and living happily ever after over the last season has been so refreshing, especially since it shows how much both of them have grown since the pilot episode. And now that they're settled into their marriage and their new house, the next big life event is coming their way. On Tuesday night's New Girl finale, CeCe finds out she's pregnant, and Schmidt's reaction was just too perfect.
Of course, it's not like she could find out she's pregnant from a test or a doctor's visit like a normal person, because this is New Girl and this show doesn't do things that way. Instead, Jess answers the phone when her gyno calls, and is accidentally delivered the news, and then Aly picks up next and finds out and immediately tells Winston.
So Winston congratulates Schmidt, who's totally blindsided because obviously, since CeCe didn't know yet, neither did he.
But just in case you thought he'd totally freak out, you clearly don't have enough faith in our man Schmidt. Because not only does he get really excited, but he also plans the perfect way to tell CeCe she's expecting.
At the end of the episode, CeCe comes home to a house full of flowers, because Schmidt couldn't decide which bouquet was right for the situation. Then, he tells her she's pregnant, and it might be one of the sweetest moments in the show's six seasons.
Now, there's no way this show can end here. I'm definitely going to need a Season 7 so I can experience what a pregnant CeCe is like, and after that, I'm going to need a Season 8 so I can meet their inevitably gorgeous (and impeccably well dressed) baby.