'New Girl' Season 7 Would Have To Shake Things Up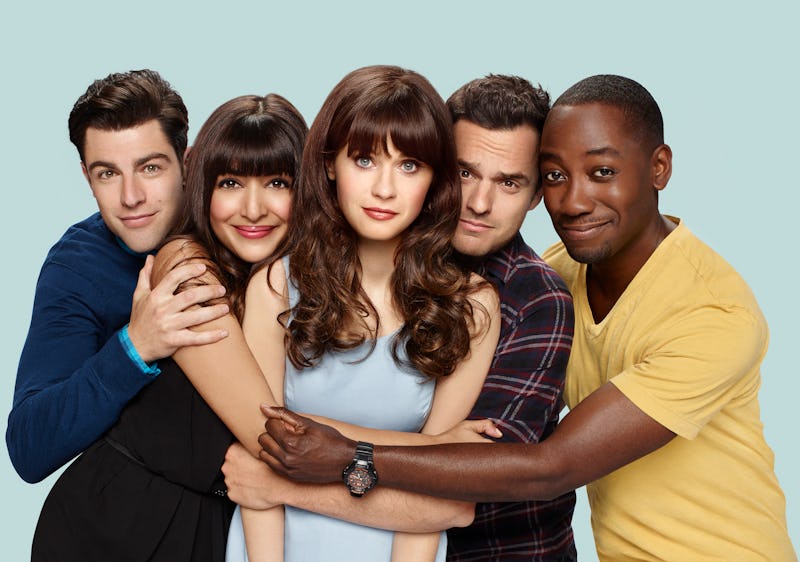 Brian Bowen Smith/FOX
I remember when New Girl aired its first promo back in 2011. At the time, the show seemed like a star vehicle for the then movie-focused actor Zooey Deschanel. But over the years, New Girl has proven itself to be a strong, funny, and refreshingly surprising sitcom. From its talented ensemble of actors to its emotional storylines, the comedy has won a place in my heart. In its sixth season, the show has been answering unanswered questions left and right. So, will New Girl return for a season 7? The show would have to find new creative directions to travel in, if it does.
New Girl is wrapping up its sixth season with many fans questioning if it will be back. Fox has not yet announced a renewal for Season 7, nor that the show has been officially canceled. So it seems as if the writers have been tying up loose ends with many of their storylines. Viewers even found out Schmidt's first name!
Executive producer Dave Finkel told TV Guide that the Season 6 finale has to function as either a farewell or a pause, depending on what the network decides. "We really wanted to make sure that we delivered an ending that could work in both directions," Finkel said. (In March, New Girl actor Jake Johnson told The Daily Beast, "I think after this season it's done.") Because of this, fans are wondering what a Season 7 would even look like. I think that with so many doors closed, a new season of the show would have to be more creative than ever. Here are some ideas of what could happen to keep New Girl feeling "new" in a possible seventh season.
Time Jump
There's nothing a good ol' time jump can't fix. With many story arcs coming to satisfying conclusions in its sixth season, a time jump would create new questions and dilemmas. One of my all-time favorite shows, Parks and Recreation, set its last season after a time jump, and it added an interesting layer to the series.
New Characters
While I think the New Girl ensemble is perfect as is, perhaps some new blood would mix things up in Season 7. Megan Fox as a confident new loft visitor did cause a bit of chaos this season; perhaps another new face would do the same. The show has handled guest stars well, and fans wouldn't complain if Season 7 were a star-studded extravaganza.
Creative Episodes
Something I've always loved about New Girl is how weird it can get. Still, producers promise that a season 7 could go even more absurd. Executive producer Brett Baer talked to TV Line about what a future season of New Girl could hold, saying, "All indications are that it's a very good possibility that we are coming back. There might be a whole episode where we do a mistaken identity kind of thing." A mistaken identity plot would be a step up for the strange world of New Girl in its hypothetical Season 7.
Babies
Cece and Schmidt are happily married and moved into a new house; Winston is engaged to his cop partner Aly; Coach is happy with his cello-playing lady and even Jess and Nick seem to be on the brink of reuniting. As the saying goes, "First comes love..." Childhood rhyming games aside, it wouldn't be shocking for a Season 7 of New Girl to feature some offspring. Adding kids to the equation is a common TV trope. I would personally love to see the prank-playing toddler of Winston and Aly.
New Location
Perhaps Season 7 would take the gang to a new spot. Whether camping or bachelor-partying it up, the New Girl crew is fun on the road. Maybe a future would see them in a new city, a new country, or at least a new apartment building. Just imagine Nick trying to sell his book in Tokyo; Jess being a temporary principal in France; or Winston policing the wilds of Antarctica. Hey, it could be fun.
Wherever it may head, I hope New Girl gets a seventh season. I'm not ready to say goodbye to my favorite loft mates.