Cedric The Entertainer's New Sitcom Tackles Some Tough Issues About Race & Privilege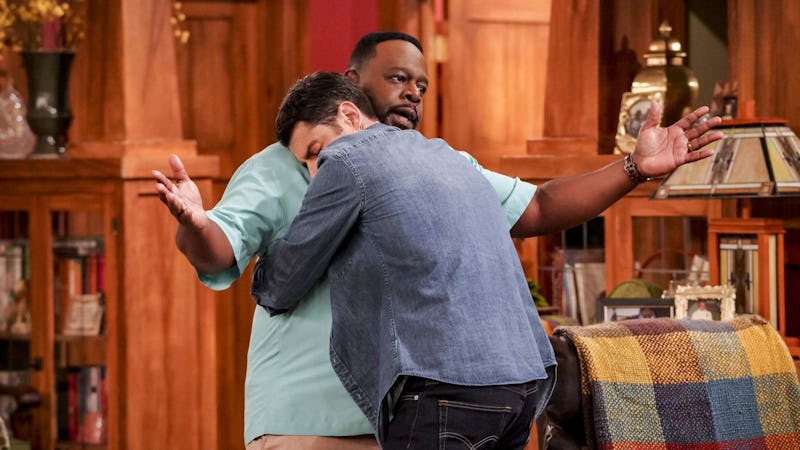 Bill Inoshita/CBS
No one likes a nosy or noisy neighbor, but as neighborhoods change and the world grows more global, we all have to deal with it some time. That's where Calvin, played by Cedric The Entertainer, is on The Neighborhood, the new CBS sitcom about white folks, the Johnson family, that move into a predominantly black neighborhood. It's not that the Johnsons don't want to be in that neighborhood — it's that their neighbor, Calvin, is unsure if he wants them next door. Cedric the Entertainer's character on The Neighborhood just want the Johnsons to understand where he's coming from.
Dave (played by Max Greenfield, also known as Schmidt from New Girl), his wife, Gemma (played by Beth Behrs, from 2 Broke Girls), and his son, Grover, bought a house in a predominantly black neighborhood in Pasadena because Gemma got a new job as a principal at a nearby school. The first gag of the pilot is that Calvin has no idea that Dave and Gemma are white when they move in, and his face when they open the door to get an invitation to their barbecue that day. Calvin is basically the black Archie Bunker of his block — he's suspicious of any new interlopers, he wants everything to stay as it is, and he eschews any sort of friendliness, writing it off as a threat instead of, you know, just being a nice person.
Calvin doesn't know Dave and Gemma, but he does know what happens when other white people try and move into a neighborhood like his — gentrification. Calvin and his family, including his wife and two sons, have been there for generations, and Calvin's not keen on losing everything he has because he has some new neighbors. Calvin deems Dave "another white guy trying to fix a black man's problem so he can feel good about themselves," and as Dave, says, maybe that's so. He just wants to get along with everyone in his new neighborhood, but his overzealous familiarity turns Calvin the wrong way.
At the end of the pilot, Dave tells Calvin's oldest son, Malcolm, "This is gonna sounds corny, but I really believe that if people would just focus on what we have in common instead of how we're different, we could solve so many of our problems." Malcolm, who has tried to get his father to see things from the other side the whole episode, says, "That may be true. But I think that it's a lot easier for someone like you to believe that than it is for someone like me." And there is the crux of what will make The Neighborhood middling or great.
In order to really get into the dynamics at play between these two families, The Neighborhood will have to take itself out of cheesy sitcom tropes and analyze the complexities of the situation. According to the Los Angeles Times, the town where The Neighborhood takes place is having similar issues in real life. Money moves into a neighborhood that's moored by people of color, and when it comes out, the culture and original residents can't afford to stay. They get kicked out of the place they helped make great. Early in the episode, Malcolm tells Cedric that the key to survival is being adaptable to change. On The Neighborhood, all sides will need to work together in order to keep their neighborhood the way it is, new and old alike.