These Celebs Are Taking A Stand & Supporting DREAMers During The Women's March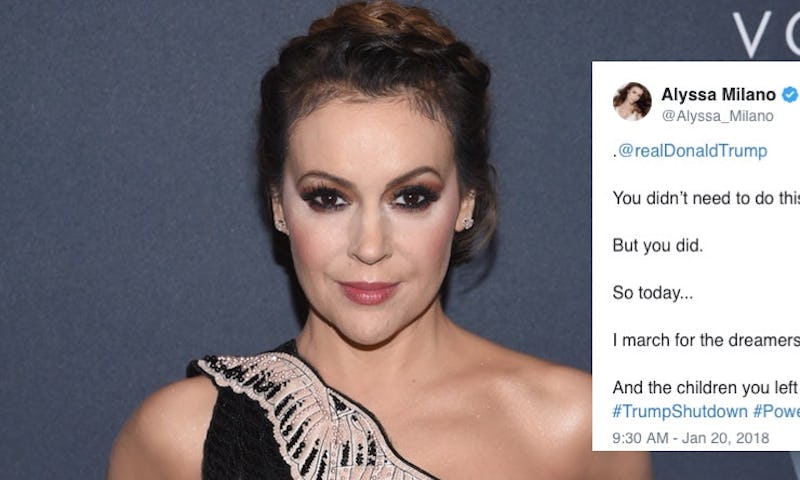 Dimitrios Kambouris/Getty Images Entertainment/Getty Images; Alyssa Milano/Twitter
On the heels of the federal government shutdown, people across the country are heading out for marches (or showing their support in another way), including a number of celebrities who supporting DREAMers during the 2018 Women's March. Some are posting messages to President Donald Trump, who moved to end DACA (the Deferred Action for Childhood Arrivals program) that benefits an estimated 800,000 people who came to the U.S. as children, also known as DREAMers. Others are sharing one of Shepard Fairey's beautiful "We The People" photos, but the message these celebs are sending is clear: They support the DREAMers, and representatives who are seeking to pass a clean bill that would prevent them from being forced to leave the country.
Democrats and Republicans in the Senate were unable to reach a deal to pass a stopgap funding measure and the federal government shutdown for the first time since 2003 at midnight on Saturday, Jan. 20. According to CNN, the shutdown will affect thousands of federal employees, government contractors, as well as those who rely on federal government services, which, in some instances can include low-income child care.
On Twitter, President Trump blamed Senate Democrats who have insisted that legislation be passed to protect DREAMers as part of a deal to fund the federal government. However, Democratic Senators are insisting the blame be placed on Republicans in Congress, as well as President Trump himself who, despite having said that it was up to Congress to pass a bill legalizing DACA in September has reportedly been unwilling to compromise on a bipartisan DACA deal, ABC News reports.
On the anniversary of the historic Women's March in 2017, the organizers of the movement have scheduled a Power To The Polls event taking place this weekend, involving a main event in Las Vegas as well as marches throughout the country. With a DACA deal at the forefront of funding negotiations, numerous celebrities have chosen to post messages showing they stand with DREAMers and want to see a Dream Act passed now.
This list will be updated throughout the day as the marches take place.
Ellen DeGeneres
The groundbreaking comedian and talk show host shared one of Fairey's photos along with a link to a high-resolution photo.
Fairey had previously shared the photos to Twitter along with a links that can be printed out so that attendee's of the Women's March can show their support for DREAMers. "Stand for humanity," the artist tweeted a few days ago, "Stand for dignity."
Alyssa Milano
"You didn't need to do this," Milano tweeted to President Trump directly. "But you did. So today... I march for the dreamers you didn't protect. And the children you left vulnerable."
Snoop Dog
Snoop Dogg also shared the link to Fairey's poster, with a message telling his followers to print it and bring it with them to any marches they attend.
Mark Ruffalo
An iconic poster, indeed.
Olivia Wilde
Although she didn't specifically mention DACA or DREAMers, Wilde's message to President Trump that he "cannot unperson us" certainly seems to reference the President's decision to end DACA.
Piper Perabo
"SEE YOU AT THE MARCH!" Perabo tweeted. The actor also added a number of hashtags including one calling for Congress to pass a Dream Act now.
Gina Rodriguez
Rodriguez shared a shot of a fellow attendee who used Fairey's photo as part of a sign that says, "I'm the educated Latina you've been warned about."
America Ferrera
Ferrera retweeted a post from California Senator Kamala Harris, explaining why the Democratic congressperson would not be attending the Women's March LA event. Harris' post reads,
"Due to the shutdown, I will not be able to attend the @wmnsmarchla. Instead, I will be in Washington, D.C. to fight for a for a long-term funding bill that supports our military, community health centers, CHIP, disaster relief, and protects Dreamers from deportation."
If you are unable to attend one of the scheduled Women's March events this weekend, you can still support the organization in a number of ways. You could donate to the Women's March campaign or a local chapter, you could purchase and read "Together We Rise," or even just get in on the conversation on social media.