Celebrities React To Carrie Fisher's Tragic Death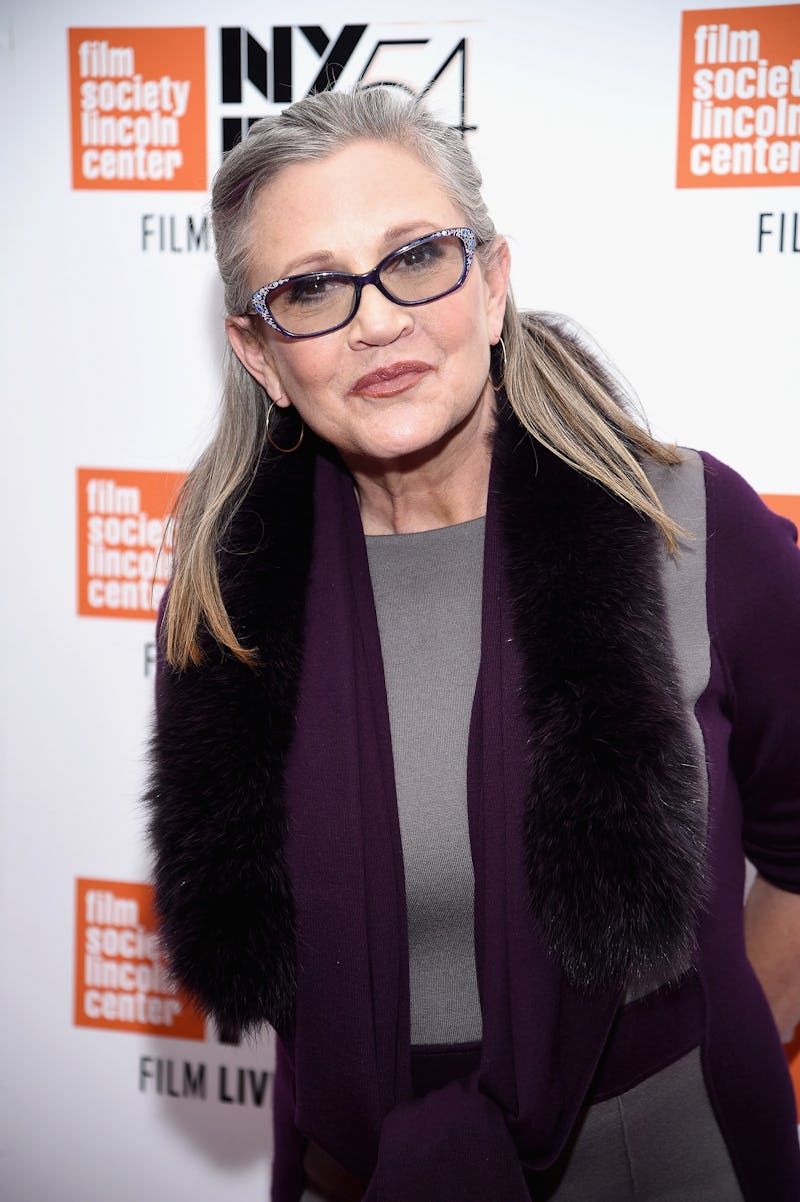 Dimitrios Kambouris/Getty Images Entertainment/Getty Images
The world mourned today as news spread that Carrie Fisher, who rose to fame as Star Wars' Princess Leia Organa, passed away at 60 after suffering a massive heart attack while on a flight from London to Los Angeles. People confirmed Fisher's passing this afternoon, citing a statement from Fisher's daughter, Billie Lourd that read, "It is with a very deep sadness that Billie Lourd confirms that her beloved mother Carrie Fisher passed away at 8:55 this morning. She was loved by the world and she will be missed profoundly."
Despite the fact that Fisher is best known for her role as Princess Leia, the actress wore many hats in Hollywood, including writer. She was in the middle of a book tour to promote her latest memoir, The Princess Diarist, when she passed away. Fisher was also an advocate for mental health based on her own struggles, frequently speaking out at conventions and in interviews about her own experiences.
It's no surprise that Hollywood is struggling to process Fisher's sudden passing just as much as her fans are. In the wake of the news, many stars took to Twitter to mourning the iconic star who was, by all means, a princess in her own right.
Kendrick's Pitch Perfect co-star, Elizabeth Banks, also shared her thoughts.
While Fisher undoubtably had an effect on everyone who ever came across her or her work, many stars understand what her journey meant in terms of paving the way for a woman to work in the business.
Fisher's death comes at the end of what many have called the worst year for celebrity deaths, with iconic stars such as Prince, George Michael, Alan Rickman, Gene Wilder, and Florence Henderson passing away unexpectedly.
From her Twitter presence to her ability to embrace her unexpected fame, Fisher's openness about everything from her family life to her mental illness was a breath of fresh air in this age of celebrity.
Though Fisher is obviously best known for her role as Princess Leia in Star Wars (a role she reprised in the recent installment, 2015's The Force Awakens), the actress starred in other movie and television shows such as Hannah And Her Sisters, When Harry Met Sally, The Blues Brothers, Charlie's Angels, and Shampoo.
As news of Fisher's death spread, the outpouring of comments on social media became more widespread, as everyone from talk show hosts to musicians to authors shared their reactions.
It didn't matter how young or old you were — Fisher was a part of your life in some way, as so many celebrities have shared.
Clearly, Fisher touched many lives throughout her own life and career.