Celebrities React To Sean Spicer's Resignation With Jokes On Jokes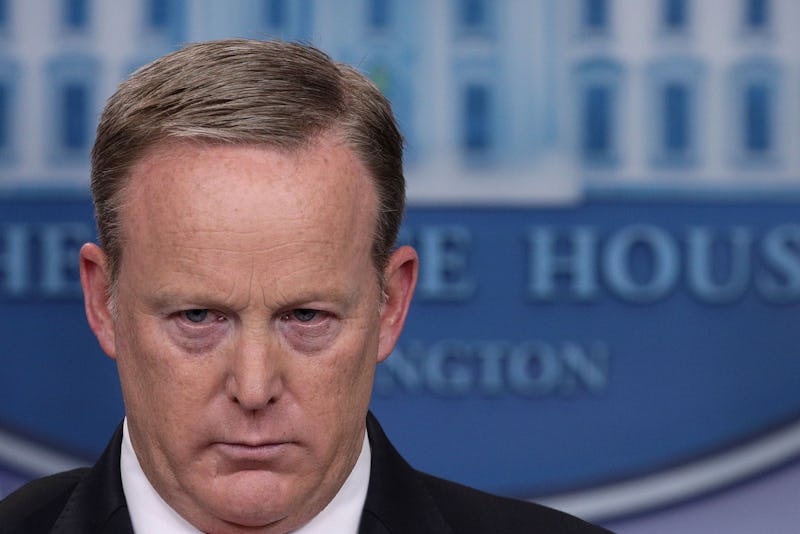 Alex Wong/Getty Images News/Getty Images
Sean Spicer's resignation as White House press secretary on Friday morning, while surprising to some, was not wholly unexpected. Immediately after The New York Times broke the news, the internet was flooded with tweets, jokes, and memes about Spicer. And considering his uncanny occupancy of the space between politics and pop culture — thanks in large part to Melissa McCarthy's impersonation of him on Saturday Night Live — many celebrities, too, reacted to Spicer's resignation on Twitter with glee, jokes, and some congratulatory notes.
"Can't wait to see Sean Spicer waltz on Dancing With the Stars," actor Zach Braff tweeted, adding in another, "Spicey was fine lying every day, but a new boss crossed his red line. #SpicerOnDancingWithTheStars."
Late-night host Stephen Colbert, who is no stranger to making fun of the administration on his show, wrote on Twitter, "The fact is, Sean Spicer had the largest group ever to attend a going away party. Period."
And Don Cheadle shared screenwriter Beau Willimon's tweet that read, "Trump will fire, alienate, betray every person on his team until he's the last man cuffed. Took Sean Spicer a minute to figure this out." Cheadle himself commented on the tweet, writing, "But ... but I fell on every sword. Died on every hill. Regurgitated every lie. Shouldered all the ridicule. Suckled at your tweets..."
Spicer has courted controversy from his first day on the job, when he insisted that Trump's inauguration crowd was the "largest audience to ever witness the inauguration period both in person and around the globe."
As the White House's mouthpiece, Spicer emerged as the official whose job was to bear the brunt of the backlash against the administration's controversial stances and President Trump's refusal to speak to the press. It didn't help that he was prone to making shocking gaffes at the podium — "someone as despicable as Hitler didn't even sink to using chemical weapons," he incorrectly claimed in April — and had adversarial exchanges with journalists covering the administration.
So it's not quite so surprising that Spicer became the butt of many jokes on Friday; it may well have been Twitter's last opportunity to poke fun at him before he moves on from the White House.
Echoing other calls for Spicer to write a tell-all account of his tumultuous time, Jimmy Kimmel tweeted, "Dear @Sean Spicer. Please write a book. Immediately."
"Spicey out," George Takei wrote on social media, alongside a GIF of McCarthy's SNL impersonation of him riding the streets of New York City on his podium.
Patton Oswalt, who has criticized Spicer on Twitter before, also chimed in with what appeared to be an imitation of Spicer's halting answers at his press briefings: "Sean Spicer resigns. Seems to me; You did your job; Like a, uh, something that would be, um. I'm sorry. The wind? Next question?"