Celebrities Reactions To Mac Miller's Death Show What An Impact The Rapper Had On His Community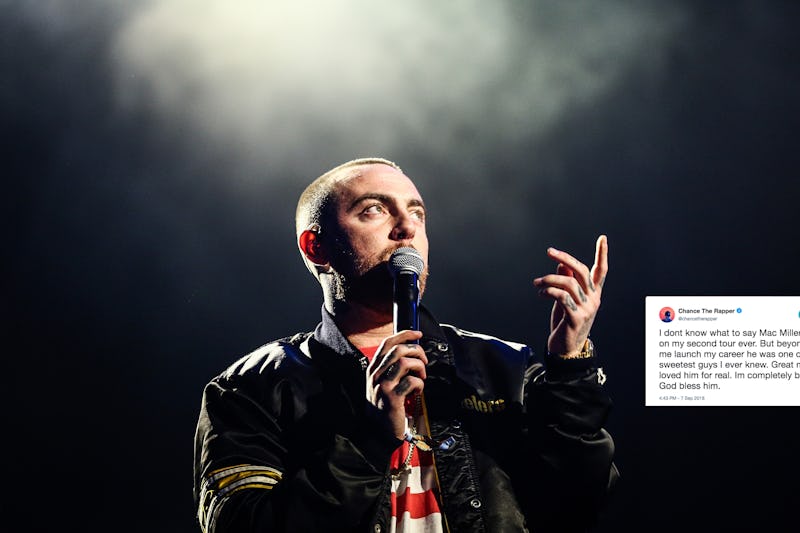 Rich Fury/Getty Images Entertainment/Getty Images; Chance The Rapper/Twitter
Artists are mourning the loss of one of their peers after hearing the news that Mac Miller died at the age of 26 on Friday afternoon, Sept. 7. Celebrity reactions to Mac Miller's death have been swift, with many taking the time to honor the rapper as a musician and as a man.
Miller's death was originally reported by TMZ later that day, which alleged that Miller was found dead in his San Fernando Valley home, and the outlet reported it as "an apparent overdose." E! News separately confirmed Miller's death, citing a LAPD spokesperson who stated that offers "responded to a death investigation" near Miller's home. However, the spokesperson did not confirm the subject's identity. Bustle reached out to reps for Miller for comment, but did not receive an immediate response. Bustle also reached out to the Los Angeles Police Department.
UPDATE: On Friday evening, the rapper's family released a statement to E! News:
"Malcolm McCormick, known and adored by fans as Mac Miller, has tragically passed away at the age of 26. He was a bright light in this world for his family, friends and fans. Thank you for your prayers. Please respect our privacy. There are no further details as to the cause of his death at this time."
EARLIER: As news spread, many of Miller's friends and fellow artists took to social media to pay their respects. Chance the Rapper, who toured with Miller in the past, wrote a heartfelt message on Twitter. "I don't know what to say," he wrote. "Mac Miller took me on my second tour ever. But beyond helping me lunch my career he was one of the sweetest guys I ever knew."
Fellow rapper Wiz Khalifa also took to Twitter to send prayers to Miller's family, writing, "Praying for Mac's family and that he rest easy."
Post Malone expressed his love for Miller on social media with a heartfelt message, calling Miller an inspiration and writing, "I wouldn't be where I was today without you." The rapper went on, saying, "Never a more kind and sincere and beautiful person. I f*cking love you mac."
Activist and writer DeRay Mckesson shared a message about the time he met Miller, praising his "commitment to the work of social justice."
Papa Roach also weighed in, remembering Miller as "one talented kid." As did Lupe Fiasco and Future.
Shawn Mendes also commented, clearly in shock, calling the news "unreal."
Jaden Smith, another young musician, honored the rapper with a simple message: "Long Live Mac Miller, Rest In Peace We Love You."
Hardo, a fellow Pittsburgh rapper, mourned the loss, writing, "Damn Rest up Mac Miller i wudnt b here if not for u [sic]."
Writer and actor Quinta Brunson also paid tribute to the rapper with a series of tweets. She shared a few personal photos of herself with Miller, writing, "To a man who had supported me every step of the way. I love you so much." Brunson even shared their last text exchange: "Our last texts I am crying. I am just not ok."
J. Cole, who collaborated with Miller on his track "Hurt Feelings," honored the rapper on Twitter, calling him "the great soul Mac Miller."
J. Cole added a plea to his fellow artists suffering from substance abuse or depression: "This is a message for anybody in this game that's going through something. If you have a substance problem, if you need a ear to vent to," he wrote, "Please reach out to me."
Miller was open about his struggle with substance abuse, often incorporating it into his music. In a 2015 interview with Billboard, Miller opened up about his heavy drug use in 2014, as documented on his mixtape Faces. "I was doing a lot of drugs around that time, which is another difference now: I'm not doing as many drugs," he told Billboard at the time. "It just eats at your mind, doing drugs every single day, every second." In a recent interview with Vulture, Miller reflected back on his 2014 mixtape, saying, "I used to rap super openly about really dark sh*t."
Miller's cause of death has not yet been confirmed, but the message J. Cole, along with other artists and fans, is sending is clear: don't be afraid to ask for help, especially in this time of grief.
If you or someone you know is seeking help for substance use, call the SAMHSA National Helpline at 1-800-662-HELP(4357).