Everyone From Elizabeth Banks To Viola Davis Is Celebrating Team USA's World Cup Win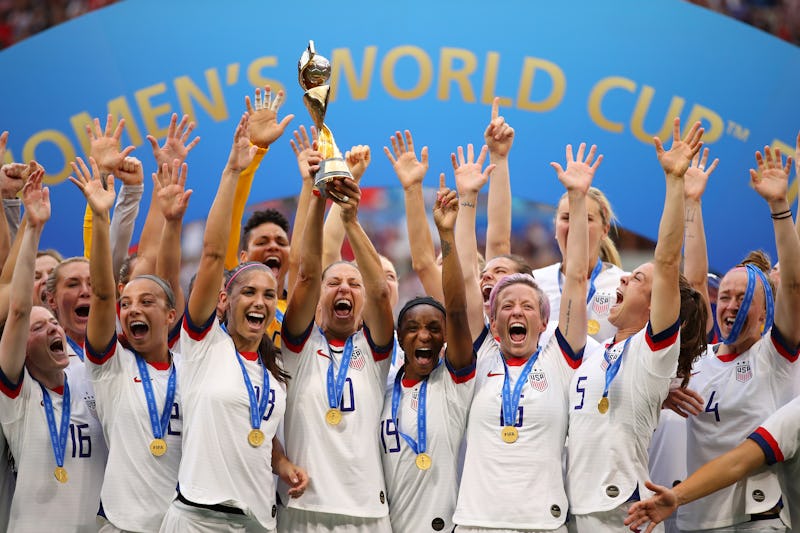 Richard Heathcote/Getty Images Sport/Getty Images
And just like that, they're world champs again. The United States women's national soccer team defeated the Netherlands in the 2019 women's World Cup with a final score of 2-0. The game took place on Sunday, July 7 in Lyon, France and secured the team's fourth championship win. The only two goals of the game were scored eight minutes apart from each other — fan favorite Megan Rapinoe scored one after the team was awarded a penalty kick, and her teammate Rose Lavelle claimed the other, both of which were scored in the second half to turn over a scoreless game. It was an intense match to say the least, and the celebrity reactions to USA's World Cup win definitely reflected that.
The USWNT nearly scored multiple times in the first half, barely missing the target. Thankfully, the team's defense kept the threat of a Netherlands goal distant. According to Fox Soccer, Rapinoe's goal, which came on a penalty kick, was her 50th in international competition. And when Lavelle made the goal that clenched their victory, her teammates were quick to erupt into celebration, as did the rest of the U.S. women's soccer fandom, including celebs like Ellen DeGeneres, Leslie Jones, Olivia Munn, and more. For many, it truly felt like more than just a soccer victory.
"The US women's soccer team are the world champions! I'm so happy," DeGeneres tweeted. "These women are the best of what our country represents. You're welcome on my show any time. My World Cup runneth over."
Leslie Jones had one word for the win: "YAAAAAAS." OK, two words. In a video she shared on Twitter, she also chanted, "USA, USA, USA."
Olivia Munn thanked the team for their incredible and strong representation of the nation. "Come on!! The @USWNT won their 4th World Cup securing their championship w back-to-back #FIFAWomensWorldCup wins!!" she wrote. "Thank you for being such an inspiration and for repping our country like the GOATS you are. Sipping tea for all of you today!"
After congratulating them on their win, tennis great Billie Jean King pointed out that Team USA has provided long overdue worldwide representation for women's sports. "These athletes have brought more attention, support, & pride to women's sport than perhaps any other team in history," she wrote. "It is long past time to pay them what they rightly deserve."
Former President Barack Obama tweeted his excitement and noted that Team USA pushes the country to be better as a whole.
And of course, women everywhere, including Natasha Rothwell, Elizabeth Banks, Mandy Moore, and Viola Davis, celebrated the victory as a feminist win.
Laura Dern made the best out of her flight delay by catching the game while she waited. "I'm crying," she wrote. "They did it again!"
And then Sarah Jessica Parker went and invited the entire team over to her house upon their return home. Victory brunch, anyone?
Finally, Jane the Virgin star Justin Baldoni's reaction to Megan Rapinoe's first goal may just be the best reaction of all.
Soccer fans — these celebs included — can forget about this week's round of Sunday scaries. They'll be riding high on this victory for a while.