Celebrities Are Honoring Aretha Franklin On Social Media & Keeping Her Legacy Alive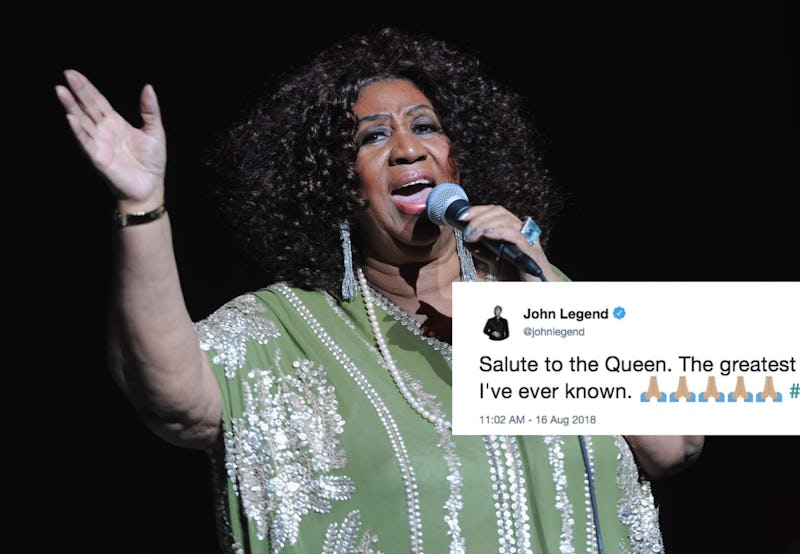 Rick Diamond/Getty Images Entertainment/Getty Images; John Legend/Twitter
On Thursday, news broke that singer Aretha Franklin has passed away at age 76, as first reported by the Associated Press. She died at her home in Detroit, Michigan, per the AP. After the news began to spread, celebrities tweeted about Franklin and the lasting legacy she undoubtedly left behind. Whether actors or fellow musicians, she's being honored by all types of artists, emphasizing how much she touched the industry as a whole.
Publicist, Gwendolyn Quinn, released a statement from Franklin's family to the Associated Press on Thursday. "Franklin's official cause of death was due to advance pancreatic cancer of the neuroendocrine type, which was confirmed by Franklin's oncologist, Dr. Philip Phillips of Karmanos Cancer Institute." The message on behalf of her family continued:
"In one of the darkest moments of our lives, we are not able to find the appropriate words to express the pain in our heart. We have lost the matriarch and rock of our family."
Franklin will forever be remembered for her many hits, including "Respect," "Chain of Fools," "Son of a Preacher Man," and of course, "(You Make Me Feel Like) A Natural Woman."
She was a true legend, who will never be forgotten. Many celebrities have already taken to social media to honor the late Franklin, her talent, and the legacy she's leaving behind. For example, director Avu DuVernay tweeted,
"'Looking out on the morning rain I used to feel so uninspired And when I knew I had to face another day Lord, it made me feel so tired Before the day I met you Life was so unkind But you're the key to My peace of mind.' Her voice/swagger was peerless. Thank you, #ArethaFranklin."
On Twitter, Paul McCartney also honored Franklin by writing,
"Let's all take a moment to give thanks for the beautiful life of Aretha Franklin, the Queen of our souls, who inspired us all for many many years. She will be missed but the memory of her greatness as a musician and a fine human being will live with us forever. Love Paul."
Here are more of the many celebrity tributes:
John Legend
The singer quickly took to Twitter to honor Franklin.
Andy Cohen
The Watch What Happens Live host will never forget her.
Shonda Rhimes
At first, all the TV series creator could utter was Franklin's name. Then, she thought back to when the singer "shook us all to our core and made us question the universe."
Tony Goldwyn
It's a devastating loss.
Colin Donnell
Overall, it's just a "sad day."
Ricky Martin
She was one of the greats.
Hugh Jackman
Jackman will never forget the day he performed with Franklin.
Bette Midler
Franklin was her "musical lighthouse."
Diana Ross
She was a "wonderful golden spirit," for sure.
Carole King
These two had a connection you might not be aware of: Carole King helped write "A Natural Woman."
Luke Evans
This is how many feel.
Goldie Hawn
A beautiful message.
Jussie Smollett
Jussie Smollett has said it all.
Ben Platt
The Pitch Perfect star's words are powerful.
Based on how celebrities are remembering Franklin on Twitter, it's clear she touched the lives of so many people. Even though the singer's gone, she will certainly continue to impact musicians and the music industry. After all, she was the "Queen of Soul."
This post will continue to be updated as more celebrity tweets come in.