Chance The Rapper Is Influential Because He Defies Expectations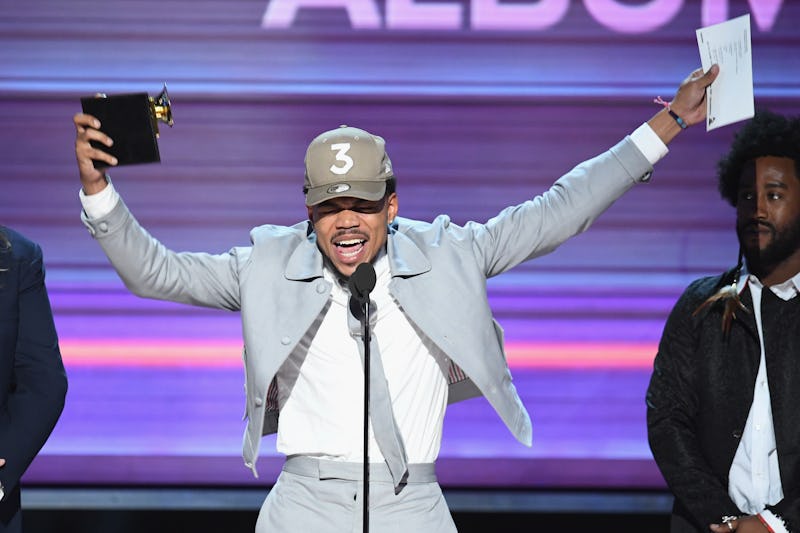 Kevin Winter/Getty Images Entertainment/Getty Images
The music business is notorious for changing an artist's entire image. An eclectic indie rocker can be transformed into a bubblegum pop star within the blink of an eye, forgetting his or her roots, abandoning morals, and chasing fame above all else. In this year's TIME 100 Most Influential list, rapper Common made clear that Chance the Rapper has become a success by dodging these temptations in order to serve the Lord, his family, his fans, and their beloved hometown of Chicago, Illinois. Common wrote,
"Chance upends expectations about what artists, especially hip-hop artists, can do. He streams his albums instead of selling them. He makes music from an unapologetically inspiring and Christian perspective — music that transcends age, race and gender. He gives back to his Chicago community. And he does it all as an independent artist, without the support of a label."
Armed with his signature "3" hat, megawatt smile, and infectious charisma, Chance the Rapper and his unavoidable aura can be seen and felt from miles away. Whether it's Chance's trademark look or unfiltered lyrics, staying true to himself is what has led him to not only mainstream success but also, and perhaps more importantly, becoming an influencer.
In a genre pegged for glamorizing flashy lifestyles, objectifying women, and degrading others, Chance rises above. On the charts, he's proven to be a force to be reckoned with — touching on unpopular subjects in the rap world such as his profound faith and fatherhood. But when Chance isn't rapping, he's donating funds for Chicago Public Schools, launching his own arts and literature fund, and Instagramming videos and photos of his mini-me daughter Kensli.
Once upon a time, however, in the words of the late Biggie Smalls, "it was all a dream." Common wrote that years ago his grandmother asked him to offer "some words of encouragement" to a young boy who dreamed of becoming an MC. Unbeknownst to Common, leaving a run-of-the-mill a voicemail about "following your dreams" was taken deeply to heart by a young Chancelor Bennett. The now 23-year-old, who credits Common as one of his heroes, went on to drop anthems such as "No Problems," and steal the spotlight on songs such as Kanye West's "Ultralight Beam."
Although fear and challenges face those who take risks, the reward for being you makes it all worth it. Fans gravitate to Chance because they see themselves in him — the everyday guy just trying to figure it out and unwilling to change, settle, or give up for anyone. It's hardly a surprise to see Chance on the TIME 100 Most Influential List. He's a testament to being true and being you.