Chance The Rapper Pledged $1 Million To An Important Cause Near & Dear To His Heart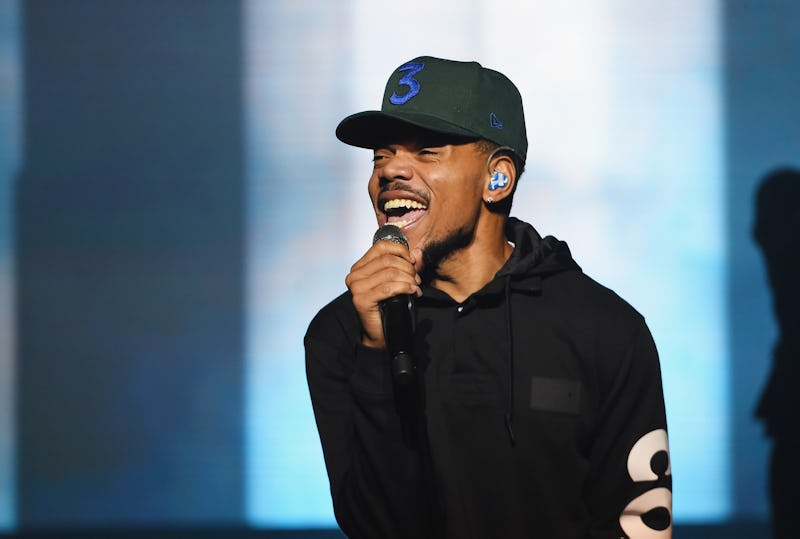 Nicholas Hunt/Getty Images Entertainment/Getty Images
Chance the Rapper has once again announced that he's giving back to his community in a major way. According to Pitchfork, Chance the Rapper is pledging $1 million to mental health services in his hometown of Chicago — and that's not the only generous move the singer made.
During the second summit for his SocialWorks nonprofit, which strives to empower the children in the Chicago community through art, education, and civic engagements, Chance announced his latest pledge. As Pitchfork reported, the "No Problem" rapper pledged $1 million to mental health services in Chicago with six different providers in the city each receiving a $100,000 grant.
Additionally, SocialWorks announced the My State of Mind initiative, which aims to help increase mental health resources in Cook County, Illinois (the county which contains Chicago). The publication also reported that the initiative will release a guidebook digitally and physically, so that Cook County residents will be able to find the best resources possible.
This is a cause near and dear to Chance's heart. He previously opened up about his own struggle with mental health in an interview with Complex in March 2017. In the interview, the rapper opened up about dealing with his anxiety and how he wished the issue was discussed more when he was growing up in Chicago. He said,
"I think anxiety is also something that I'm just now being exposed to. A really big conversation and idea that I'm getting introduced to right now is black mental health. 'Cause for a long time that wasn't a thing that we talked about. I don't remember it. I don't remember people talking about anxiety; I don't remember, when I was growing up, that really being a thing."
It seems as though, through this latest SocialWorks initiative, Chance is dedicated to making sure that the conversation around mental health is an ongoing one, especially so that others growing up don't feeling as though their struggles are overlooked.
Of course, this isn't the first time that Chance has made a majorly generous donation. According to CNN, the rapper donated $1 million to the Chicago Public School system in August 2017. His move came shortly after he met with Illinois state governor Bruce Rauner to discuss the recent cuts to funding for the city's school system. The publication also noted that he called his donation a "call to action" for other companies in the Windy City. For every $100,000 grand a company donated to the Chicago Public School system, his SocialWorks nonprofit would donate $10,000. Not only is that super impressive, but it's the definition of generosity.
At the second summit for SocialWorks recently, he explained that the project which donated the money, the New Chance project, would continue for another year with help from companies like Google, per Pitchfork. This year, $2 million will be distributed among 20 schools in the city.
Based on all of these incredible positive moves from the SocialWorks foundation, it's clear that Chance is more than dedicated to making his hometown a better place for everyone.