Chance Speaks Out About Black Mental Health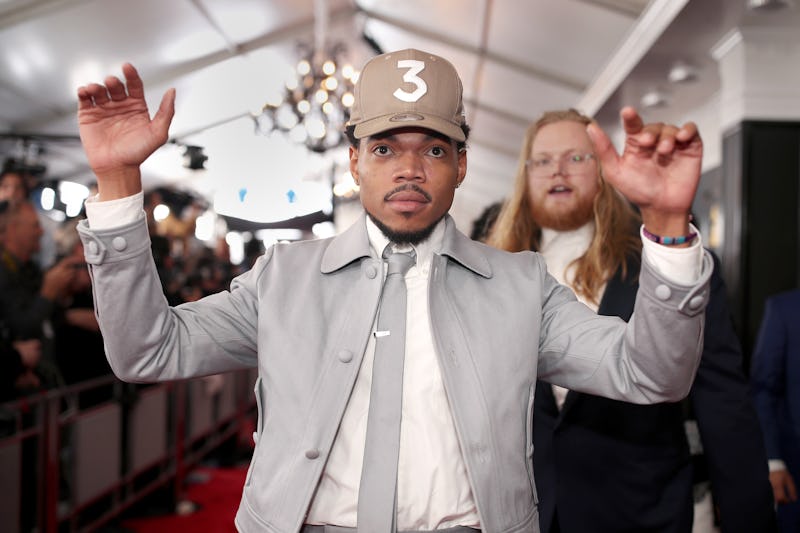 Christopher Polk/Getty Images Entertainment/Getty Images
The unstoppable Chance the Rapper is having a great start to 2017. With three Grammys under his belt, an adorable daughter taking over his social media, and what he considers an official debut album on the way, the Chicago MC appears to be on cloud nine. However, Chance opened up about having anxiety to Complex, as well as unwavering faith in God. The Coloring Book artist explained that coming to terms with his anxiety has been a new process for him, particularly because of the lack of discussion about mental illness in the black community. He told Complex,
I think anxiety is also something that I'm just now being exposed to. A really big conversation and idea that I'm getting introduced to right now is black mental health. 'Cause for a long time that wasn't a thing that we talked about. I don't remember it. I don't remember people talking about anxiety; I don't remember, when I was growing up, that really being a thing.
The interview brought up the fact that part of his anxiety may stem from seeing friends die in front of him as a teenager. However, when it comes to coping, he admitted to Complex that he's apprehensive about taking medications. "I'm cool with self [medication] — I like to smoke weed and s--t, to chill out," he said. And he also said he puts his trust in the Lord. "I think I could to a certain extent have PTSD," he said. "But, nah. I don't got no PTSD. I don't ever want to convince myself that I'm hindered by any of my experiences. I also believe in G-O-D. Everything that's happened in my life, [someone] already knows that that s--t happened, and what's going to happen, and put things in place for certain things to happen."
The rapper's fears touch on an unfortunate reality for many black Americans. National Alliance on Mental Illness cites several reasons why some African-Americans are hesitant to seek treatment and receive optimum care for mental illness. These reasons include: "lack of information and misunderstanding about mental health"; "faith, spirituality, and community"; "reluctance and inability to access mental health services"; negative side-effects from medications; "provider bias and inequality of care"; and "lack of cultural competence" in mental health care. Chance's Complex interview highlights two of NAMI's aforementioned mental health care hinderances: faith and lack of information.
At 23, Chance admits he is "just now being exposed to" issues of black mental health because it was hardly discussed growing up. And this is a prevalent problem. The Health and Human Services Office of Minority Health found that African-Americans are 20 percent more likely to experience serious mental health problems than the general population. The common mental health disorders among African-Americans include: major depression, attention deficit hyperactivity disorder, suicide (particularly among black men), and post-traumatic stress disorder since black Americans are more likely to be victims of violent crime, according to the Office of Minority Health.
NAMI says because mental illness isn't regularly talked about, "this lack of knowledge leads many to believe that a mental health condition is a personal weakness or some sort of punishment from God." In terms of faith, the organization notes that spirituality "can help in the recovery process," but adds that many African-Americans solely rely "on faith, family, and social communities for emotional support rather than turning to health care professionals."
Similar to fellow rapper Kid Cudi, who revealed he struggled with depression and suicidal thoughts in October, what Chance has managed to do is help bring the conversation about black mental health to the forefront. The young star is doing an even greater service than offering his fans his story. He's raising awareness and changing the game for himself and others who grapple with mental illness and/or with conflicts of faith.
Amid party songs about flashy lifestyles, the root of rap has always been in a message of sharing one's hardships, successes, resilience, and fears. Chance proves he has no problem speaking out on all of these topics, and he demonstrates that there is no shame in acknowledging your mental health, as well.