Chance The Rapper's New Movie Musical Will Merge His Passions Into One Amazing Project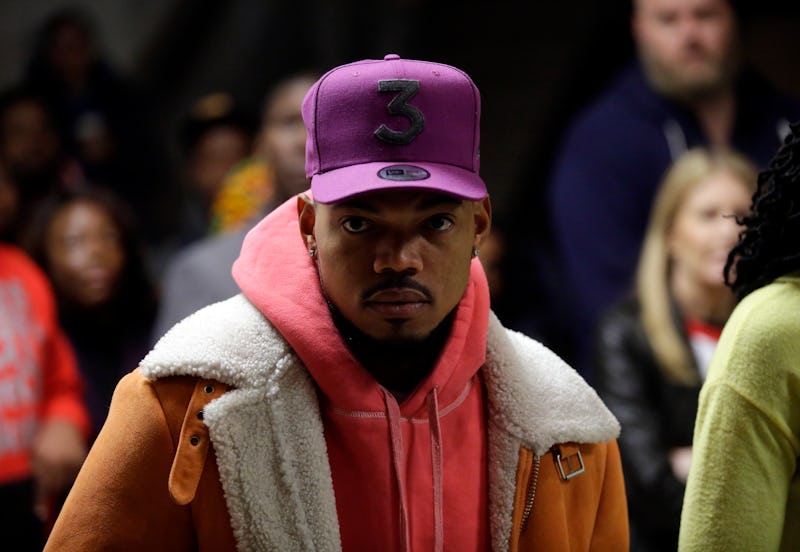 Joshua Lott/Getty Images News/Getty Images
At just 25-years-old, Chance the Rapper has accomplished more in his lifetime than many could ever imagine. As a three-time Grammy Award-winner and philanthropist, the rapper has seemingly mastered the worlds of entertainment and community activism and remains dedicated to making a change through both. While he appears to work tirelessly on his many endeavors, Chance's new movie musical will do its part in merging his passions into a project that proves he's truly a master at promoting positivity through his platform.
The forthcoming film, which The Wrap reveals will be entitled Hope, is being developed by MGM and will see Chance step into the role of co-producer alongside his longtime manager Pat Corcoran and Scott Bernstein (Straight Outta Compton). It is immediately unclear if Chance will have an acting part in the film. However, it's appears to be highly likely that he will play a huge part in creating its musical landscape. The Wrap shares that the film will feature original music created by Chance's longtime musical collaborator and Grammy Award-winning producer Nico Segal, who has worked with the rapper since the early beginnings of his career. Carlito Rodriguez, a writer for Empire and The Leftovers, will reportedly pen the script.
While the movie and its storyline will be original, a brief description sounds like it may be a case of art imitating life for the Illinois native, explaining that it "will follow a group of Chicago teenagers that band together to turn art into action within their community," per Deadline.
Although his talent as an artist is undeniable, Chance's large sense of community has been the subject of many headlines over the past couple of years. As a prominent social activist, Chance, along with his father, launched #SaveChicago in an effort to combat gun violence and donated $1 million to local schools in his hometown of Chicago, according to CNN. More recently, he pledged $1 million to mental health services in Chicago during a recent summit for his SocialWorks nonprofit. The organization, which strives to empower the children in the Chicago community through art, education, and civic engagements, will join forces with companies like Google to distribute $2 million among 20 schools in the city overall, according to Pitchfork.
Along with his commitment to community, Chance has also been expanding within the realms of entertainment, starring as a werewolf in the horror-comedy Slice and hosting an episode of Saturday Night Live in 2017. The Hollywood Reporter also recently revealed that he has been tapped appear on the newly-minted hip-hop talent search Rhythm + Flow, which slated to debut on Netflix sometime in 2019. THR notes that Chance, along with Cardi B, and T.I., will serve as one of three main judges on the ten-episode series as it attempts to find and develop undiscovered hip-hop talent in various cities around the country.
While Chance's plate is certainly full with plenty of business opportunities, it's clear that he remains dedicated to putting positive images of Chicago on the map while making it a better place for everyone to live.