Chandra Levy's Case Updates Don't Bring Much Hope Of Justice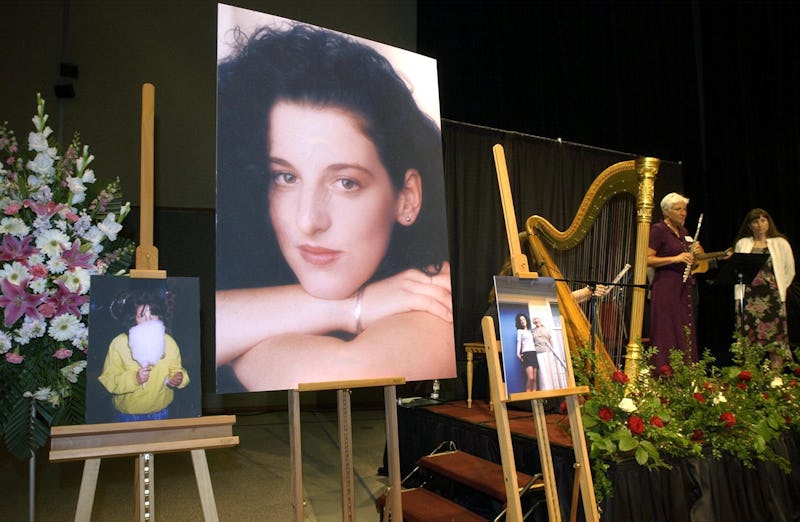 DEBBIE NODA/AFP/Getty Images
It's been 16 years since Chandra Levy vanished, and yet her case remains unsolved. There have been developments, to be sure, and major ones at that, but the 2017 Chandra Levy case updates aren't promising. And by now, it seems like things have officially run cold.
Levy, then a 24-year-old federal government intern, went missing in May 2001. Her remains were found the following year scattered near a trail in Washington D.C.'s Rock Creek Park. It wasn't until 2009, after new detectives had taken over the case, that a suspect was charged. The man in question was Ingmar Guandique, an undocumented immigrant from El Salvador. According to ABC, he'd been sentenced to 10 years in jail in 2002 for assaulting two women at knifepoint in Rock Creek Park around the time that Levy disappeared. One attack was in mid May 2001 and the other was in July 2001. Per court transcripts provided to ABC, Guandique's former cellmate, Armando Morales, alleged that Guandique had confessed to him that he'd killed Chandra Levy. Guandique denied the accusations, but his trial relied heavily on Morales' testimony. Prosecutors argued that Levy's death fit a pattern of violence from Guandique toward female joggers, and despite a lack of hard evidence, he was convicted on two counts of first-degree felony murder in 2010 and sentenced to 60 years in prison.
In 2015, however, he was granted a new trial based on questions about the credibility of Morales. The following year, a judge ordered the case be dismissed, citing "unforeseen developments," and the charges against Guandique were dropped. He was formally deported back to El Salvador in May, where he remains. Still, Levy's mother, Susan, remains hopeful. "I hope that we find the right person, that if it was Guandique, that he doesn't go on and do anything else to other people," she previously told NBC.
In recent months, there haven't been any updates on Levy's case, and it's unclear where, if anywhere, it will go from here. With no other suspects in the case, things have run cold. Perhaps someday Levy's family will finally get the answers, and justice, they deserve. But right now it looks, unfortunately, quite unlikely.