Channing Tatum & Jenna Dewan Reunited To Go Trick-Or-Treating With Their Daughter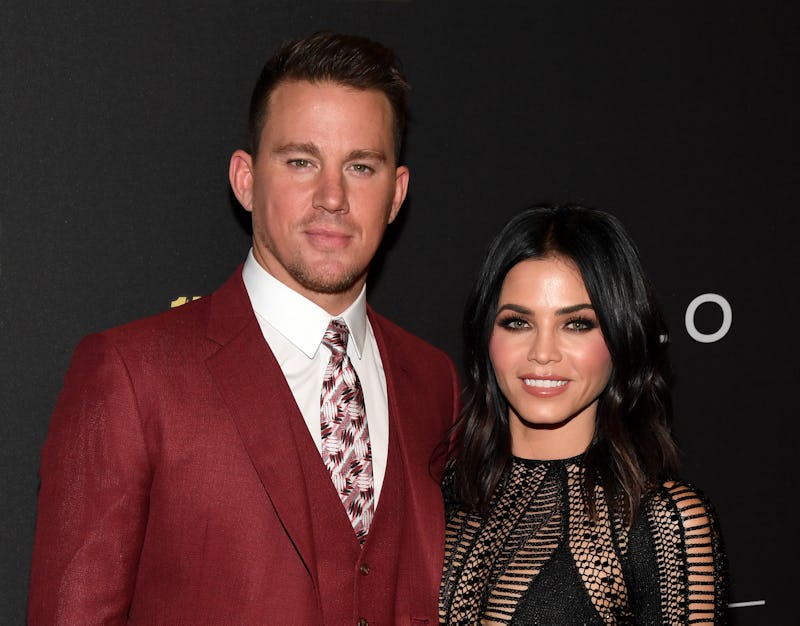 Ethan Miller/Getty Images Entertainment/Getty Images
Just a few days after the couple officially filed for divorce, Channing Tatum and Jenna Dewan reunited to celebrate Halloween with their 5-year-old daughter, Everly, according to Hollywood Life. Is it the major reconciliation fans were likely rooting for? Not exactly. At least they're still spending time together, though — and by the looks of Tatum's Instagram Stories, they all had a really good time.
First thing's first: the costumes. Tatum went as Genie from Aladdin, and the big, blue get-up was super goofy in the best possible way. Dewan dressed up as Cleopatra while she and her ex took their daughter — who went as Starfire from Teen Titans —  trick-or-treating, and later transformed into her "inner self," aka a Halloween fairy, according to her Instagram.
Tatum posted like, a ton of clips from their spooky family outing, and his constant commentary along the way is pretty great. The videos follow Everly and her friend around while they go from door-to-door, and it quickly becomes clear that Tatum is kind of obsessed with candy. OK, not just any kind of candy. He's got a major thing for Reese's — and Twizzlers come in at a close second. But most importantly, he's really into Reese's.
Tatum basically asks his daughter to give him a Reese's after every single house they go to. It's pretty hilarious, because Everly is not having it. Also, she and her dad are both total goofballs.
At one point in the night, Tatum sneaks up on Dewan and very clearly scares the crap out of her. Seriously, the shriek she made was one of pure terror. When she turned around to face Tatum, though, she was laughing and grinning ear-to-ear.
Tatum and Dewan announced their separation on April 2, after being married for nearly a decade. They both released a joint statement about the split on their respective social media pages, explaining — in part — that they "have had a magical journey together," but "love is a beautiful adventure that is taking us on different paths for now."
The statement continued,
"There are no secrets nor salacious events at the root of our decision — just two best-friends realizing it's time to take some space and help each other live the most joyous, fulfilled lives as possible. We are still a family and will always be loving dedicated parents to Everly."
They haven't really been spotted out together much since announcing their split, but it seems as if both Tatum and Dewan are comfortable moving on. On Oct. 10, People reported that Tatum was dating British pop star Jessie J. Not long after, a source for Us Weekly said that Dewan had started "seeing someone new" as well, a mystery man that was later reportedly revealed to be actor Steve Kazee.
There are only a few, quick glimpses of Tatum and Dewan interacting together in his videos from Halloween, but those few, quick glimpses speak volumes. You can tell that there's still a lot of love between the two, and that they're cherishing their co-parenting time with Everly.