Channing Tatum Responded To Amanda Bynes' 'She's The Man' Remarks With So Much Love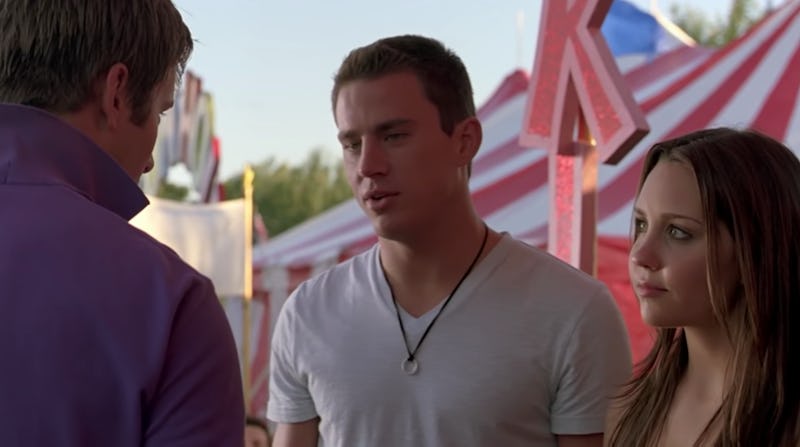 DreamWorks Pictures
Stop what you're doing, sit down, grab some gouda cheese, and prepare yourself, because Channing Tatum reacted to Amanda Bynes' She's the Man comments. While chatting with Entertainment Tonight Wednesday at the Magic Mike Live premiere in London, Tatum opened up quite a bit about Bynes. Not only did he reflect on what it was like working with her, but he also revealed his thoughts on Bynes saying she fought for Tatum to play the part of Duke in the 2006 romantic comedy.
"She sort of told me. I love her," Tatum said about Bynes telling Paper magazine she pushed for him to be cast. She told the publication,
"I totally fought for Channing [to get cast in] that movie because he wasn't famous yet. He'd just done a Mountain Dew commercial and I was like, 'This guy's a star — every girl will love him!' But [the producers] were like, 'He's so much older than all of you!' And I was like, 'It doesn't matter! Trust me!'"
Thank goodness for Bynes' input and determination, because She's the Man wouldn't have been the same without Tatum. Plus, it really put him on the map as an actor. While speaking with ET, Tatum had nothing but praise for Bynes. It sounds like they formed a special bond during filming and one Tatum holds close to his heart to this day.
He told ET,
"I'm so happy she's like killing it again and just back on the right. She's so talented and so special."
He later added,
"I think it's so impossible when you start at such a young age to keep perspective, it's tough."
Tatum was most likely referring to Bynes' break from the entertainment world and her struggle with substance abuse and mental health. Bynes is currently four years sober and is finishing her Associate's degree at the Fashion Institute of Design and Merchandise prior to continuing her Bachelor's degree next year. She also wants to pursue acting again at some point in time.
She told Paper magazine about her past,
"Those days of experimenting [with substances] are long over. I'm not sad about it and I don't miss it because I really feel ashamed of how those substances made me act. When I was off of them, I was completely back to normal and immediately realized what I had done — it was like an alien had literally invaded my body."
She seems to be doing quite well now, and has the support of many people, like Tatum.
When he first acted with Bynes, Tatum was greatly impressed with her comedic talent. "She was just so alive," he gushed to ET. "I mean, when I say you never knew what was going to come out of her mouth, she was just on fire." He added, "I haven't seen her in so long. I love her and I just hope she's doing good."
The Magic Mike's star support for his former costar is truly beautiful. He continues to see the good, the beauty, and the amazing abilities in Bynes. It's been 12 years since She's the Man and a lot has changed with both actors, but one thing that hasn't changed is the respect Tatum has for Bynes.