The "Sex Offenses" Stormy Daniels Faced In Ohio Have Already Been Thrown Out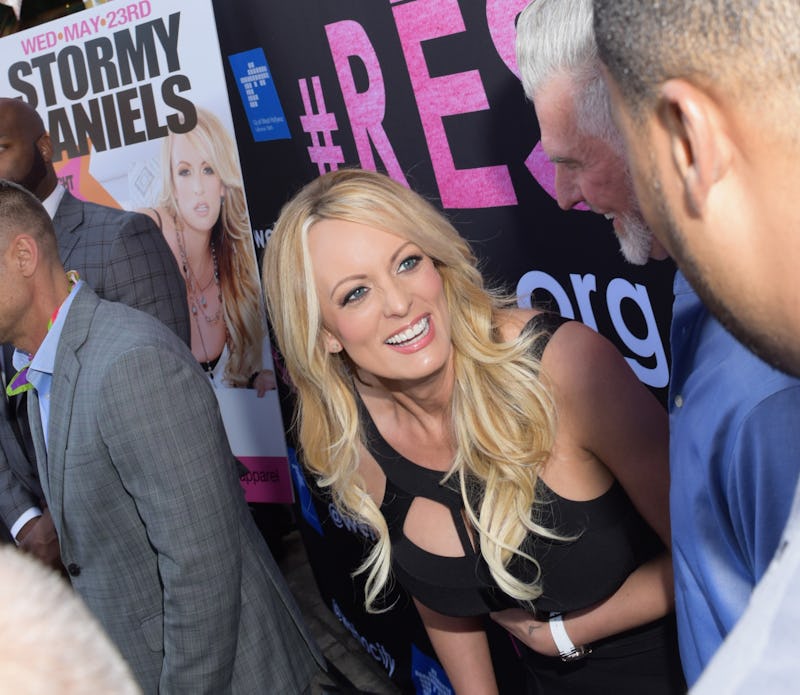 Tara Ziemba/Getty Images Entertainment/Getty Images
Lawyer Michael Avenatti announced on Twitter Thursday that charges were dropped against his client, an adult film actress best known for suing President Donald Trump over their alleged affair. Before the charges were dismissed, Stormy Daniels was accused of touching three undercover defectives while working at an Ohio strip club. Court records showed she was facing three misdemeanor counts of illegally touching a patron that resulted from a "long-term investigation into allegations of human trafficking, prostitution, & other vice related violations," as CNN reported.
Avenatti posted court documents on Twitter when he announced the dismissed charges.
"I am pleased to report that the charges against my client ‪@stormydaniels have been dismissed in their entirety (below motion was just granted)," the lawyer wrote. "I want to thank Joe Gibson & his colleagues at the prosecutors ofc for their professionalism starting with our first call early this am."
Two other performers were also arrested. Daniels, whose legal name is Stephanie Clifford, was expected to plead not guilty to the charges, and she was released Thursday after posting $6,054 bail, The Washington Post reported.
The charges Daniels faced had to do with an Ohio law that prohibits patrons from touching nude or seminude dancers unless they are members of the dancer's immediate family.
And the motion to dismiss the charges seem to be largely about parsing words within this law. The prosecutors' motion said the law applies to people who "regularly" appear nude or seminude at a sexually oriented business, but Daniels had not appeared at the club on any regular basis.
The New York Times reported that officials wrote in an affidavit that Daniels pressed patrons' faces into her chest while dancing topless and also alleged that she fondled the breasts of some of the women in the audience, as well as the undercover officers. However, Avenatti claimed Daniels allowed a customer to touch her, not the other way round.
After Daniels was taken into custody, Avenatti tweeted in the actress's defense. The attorney alleged that Daniels was arrested unfairly for "performing the same act she has performed across the nation at nearly a hundred strip clubs. This was a setup & politically motivated. It reeks of desperation. We will fight all bogus charges."
He went onto imply that the vice operation that took place at the Ohio strip club was something of a sting operation. Avenatti wrote: "She was arrested for allegedly allowing a customer to touch her while on stage in a non sexual manner! Are you kidding me? They are devoting law enforcement resources to sting operations for this? There has to be higher priorities!!! ‪#SetUp"
After all this hubbub, Columbus City Attorney Zach Klein released a statement about dismissing Daniels' case.
"I've determined that these crimes were not committed, based on the fact that Ms. Clifford has not made regular appearances at this establishment as required under the law," a statement acquired by CNN producer Sonia Moghe reads.
Avenatti, who has been tweeting up a storm about Daniels in the last 24 hours, also posted a statement from his client. "As a result of what happened last night, I will unfortunately be unable to go forward with tonight's scheduled performance. I deeply apologize to my fans in Columbus," Avenatti posted on her behalf on Twitter.
Daniels has garnered fairly large audiences while performing at strip clubs across the country since gaining notoriety for her accusations against Trump. She's made headlines performing in places like Des Moines, Iowa, to Greenville South Carolina.
And it's possible these charges will just earn her more notoriety if she continues to perform in clubs across the country. As they say, "There's no such thing as bad publicity."