Anti-Racist Protesters Have Completed Their March To Washington, D.C. — VIDEOS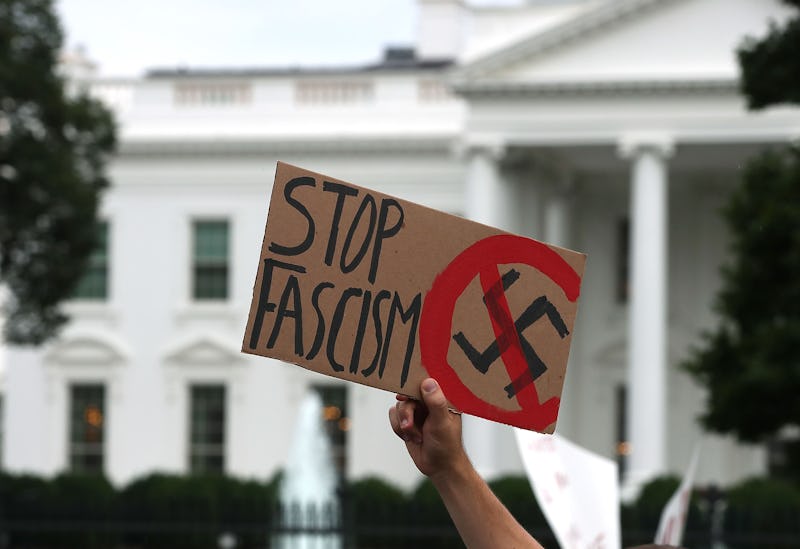 Mark Wilson/Getty Images News/Getty Images
Bringing their nearly 10-day trek to an end, the Charlottesville protestors completed their march to Washington, D.C., on Wednesday. A week and a half ago, a group set out on foot from Virginia toward the nation's capital, and completed a long, slow journey to stand in opposition to white supremacy.
Their arrival was captured on video, with members of the march recording as they proceeded through the streets of D.C. after hours upon hours of walking. Charlottesville is more than 100 miles from the nation's capital, which is a much longer walk than most people probably ever attempt ― it was spaced out pretty efficiently between Aug. 28 and Sept. 6.
Estimates of how many people were involved fluctuated, as some number of people fell away as the march went on. It is, after all, a considerable physical and mental undertaking. But nonetheless, the group of marchers rolled in D.C. on Wednesday afternoon, chanting and demonstrating against white supremacy in the shadow of the horrifying events in Charlottesville last month that left anti-racist counter-protester Heather Heyer dead.
You can watch the marchers reach their destination in the video embedded below ― the march has periodically been streamed on Facebook Live.
The march was organized in the weeks following the high-profile and harrowing events of Aug. 12 in Charlottesville, when a far-right neo-Nazi and white supremacist rally boiled over into an act of lethal violence. Heyer, 32, was killed in a vehicular attack, and 20 others were injured.
One among the injured, a 20-year-old black man named Deandre Harris, was beaten with metal poles by white supremacists inside a parking lot. The event was one of the most shocking scenes of organized racist violence in a long time, with some neo-Nazi demonstrators openly displaying swastikas, and throwing up their arms in Hitler salutes. One racist demonstrator, reportedly a major member of the Ku Klux Klan, even fired a shot in the direction of a black man, who was thankfully unharmed.
That's the background of what drove this group of people to march more than 100 miles to make their voices heard and their presence felt. And it all came together on Wednesday as they finally set foot within the Washington, D.C. city limits.
If you want to check out more videos and content from throughout their long march, pay a visit to the group's Facebook page.