Chelsea Clinton Comes to Sean Spicer's Defense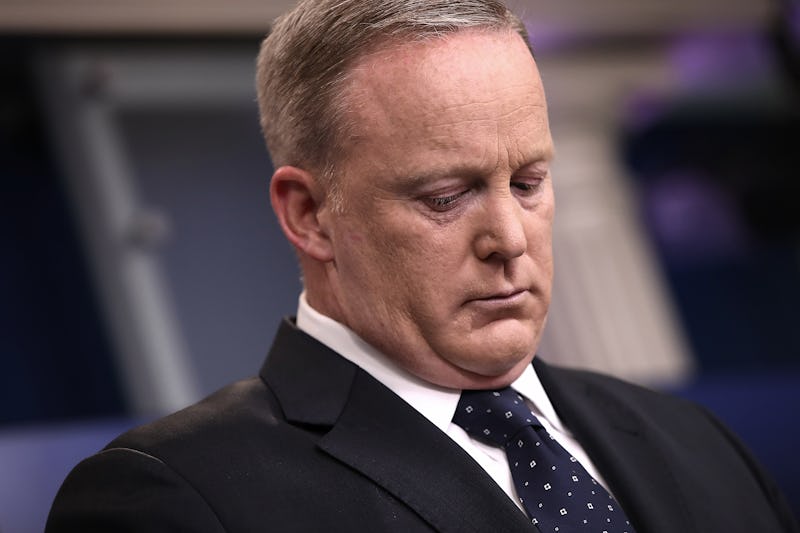 Win McNamee/Getty Images News/Getty Images
In a report about the White House's increasing number of off-camera press briefings, The Atlantic's Rosie Gray reached out to several White House officials for comment. In a text message, Trump's chief strategist Steve Bannon reportedly offered, "Sean got fatter," prompting criticism about his casual fat-shaming of the White House press secretary.
The most prominent figure who called out Bannon for his comment was Chelsea Clinton, who tweeted, "The White House using fat shaming to justify increased opacity. 2017." After Charlie Spiering, White House correspondent for Breitbart, responded to her insisting that Bannon's comment was just a joke, Clinton responded in another tweet, "Oh OK. So using fat shaming to avoid answering questions about increasing opacity. Got it. 2017."
When Jim Hanson, executive vice president of the Center for Security Policy, accused her of being part of the "humor-impaired left," Clinton further added, "Hi Jim! Just me as I was standing in line @Starbucks earlier. Fat shaming isn't a joke I find funny. Ever."
Contradicting the assertion of Clinton's critics as the issue being one only those on the left had problems with, some on the right also expressed distaste toward Bannon's comment — including Meghan McCain, Sen. John McCain's daughter. "Someone explain to me the point of fat shaming Sean Spicer?" McCain, who co-hosts Fox News' Outnumbered, tweeted. "Is it just to humiliate him even more? What is this?!"
As the chief mouthpiece of the administration, Spicer holds an immense responsibility. For the past few months, he has bore the brunt of questions from the public and the media about the president's actions and the White House's reported infighting.
His on-air gaffes — like calling concentration camps "Holocaust centers" — have also sparked plenty of criticism, and reports that he may be on his way out of the job are rife. Several news outlets reported on Monday that Spicer may soon be filling a new role, removing him from delivering the White House's daily press briefings.
While it's unclear if Bannon's comment was made in jest or not, it sparked plenty of backlash. Some pointed to the remark as an example of the tension within the White House, while others body shamed Bannon in response, too — which in turn sparked further criticism.
"You don't need to fat shame Bannon as revenge for for shaming Sean Spicer," wrote one Twitter user. "A great woman once said 'when they go low, we go high.'"