Chelsea Clinton Defends Barron Trump After Twitter Trolls Tease Him About The SOTU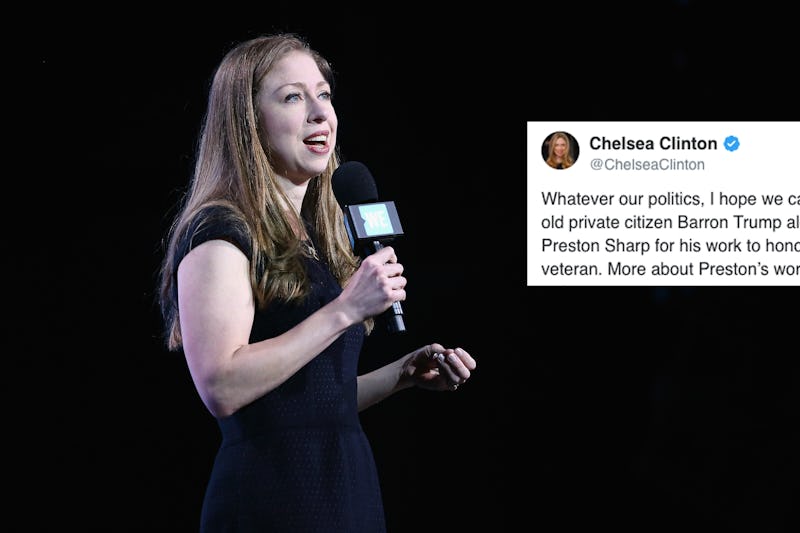 Getty Images Entertainment/Getty Images
Soon after Donald Trump delivered his first State of the Union address on Tuesday night, Chelsea Clinton defended Barron Trump against a tweet regarding Trump's youngest son. A Twitter user jokingly said, "Whoever they recast Barron is unbelievable." Clinton retweeted it and added her own words:
Whatever our politics, I hope we can agree to both leave 11-year old private citizen Barron Trump alone and celebrate 12-year old Preston Sharp for his work to honor the graves of every military veteran.
Then she linked to Sharp's GoFundMe account.
This won't be the first time that Clinton has defended Trump's son. In August 2017, Clinton came to the defense of Barron after entertainment reporter Ford Springer remarked on his clothes in the Daily Caller. The article was boldly titled "It's High Time Barron Trump Starts Dressing Like He's In The White House." In the article, Springer wrote:
The youngest Trump doesn't have any responsibilities as the president's son, but the least he could do is dress the part when he steps out in public.
Clinton took notice of Springer's article and tweeted a spin on his title:
It's high time the media and everyone leave Barron Trump alone and let him have the private childhood he deserves.
To another Twitter user, she wrote:
Barron is A KID. No child should be talked about in the below manner-in real life or online. And for an adult to do so? For shame.
In April 2017, shortly after Trump was inaugurated, Clinton tweeted:
I've repeatedly said and will keep saying Barron should be afforded the right and space and privacy to be a kid.
Clinton's support for Barron didn't go unnoticed. In August, First Lady Melania Trump thanked Clinton for coming to Barron's defense.
Thank you, @ChelseaClinton - so important to support all of our children in being themselves. #StopChildhoodBullying.
In addition to supporting Barron, Clinton has also defended former president Barack Obama's daughter, Malia Obama. In November 2017, after a video of Malia emerged on social media which showed her smoking, some observers criticized the former president's daughter; ever since then, the clip has been deleted but Clinton made sure to defend Malia.
Malia Obama's private life, as a young woman, a college student, a private citizen, should not be your clickbait. Be better.
Not only did Clinton support Malia, Ivanka Trump also tweeted in her defense:
Malia Obama should be allowed the same privacy as her school aged peers. She is a young adult and private citizen, and should be OFF limits.
On Twitter, Clinton's support for Barron was praised by her followers. One Twitter user thanked Clinton, noting that "[her] grace and kindness come[s] through loud and clear here all the time." Others said her tweet was "classy" and replied to her that she was a "woman of high standards and elegance."
By focusing on Sharp, another young boy, Clinton showed support for a cause that many Americans value. Sharp gained nationwide popularity in June 2017. In 2015, Sharp visited his Vietnam veteran grandfather's grave and noticed that his grave looked neglected. He took it upon himself to clear debris from veteran cemeteries and saved up money with the help of donations. Over time, Sharp's cause won fame across the country and was invited to Trump's State of the Union address by the First Lady.
By supporting both Sharp and Barron in one tweet, Clinton seemed to have won praise from both Democrats and Republicans online. One Twitter user chose to express her views in simple words by saying Clinton's support was an example of "grace, class and empathy."
Disclosure: Chelsea Clinton's husband Marc Mezvinsky joined Social Capital, an investor in Bustle Digital Group, in mid 2017 and joined the Board of Bustle Digital Group in early 2018.