Chelsea Clinton Got Candid About How People Saw Her Mom's Achievements Vs. Her Dad's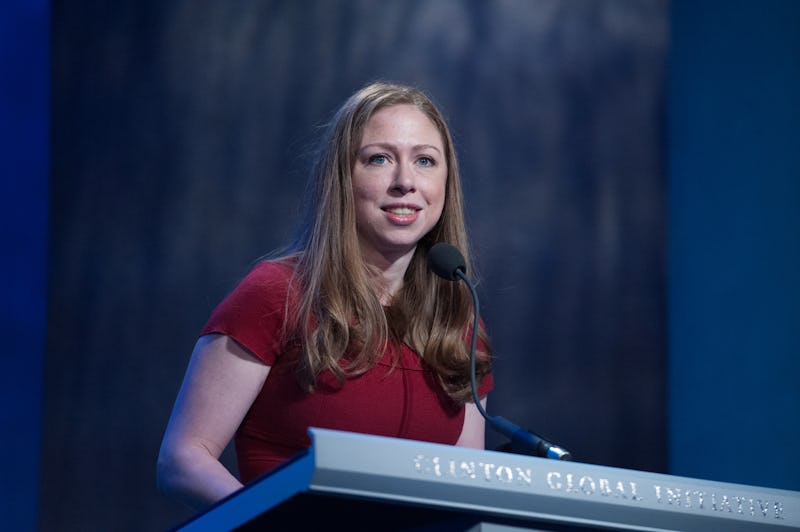 Stephanie Keith/Getty Images News/Getty Images
In a recent interview with the BBC, Chelsea Clinton said her parents faced "very different" expectations while in the public eye. As an example, Clinton pointed to the onslaught of pressure her mother, Hillary Clinton, received when she initially opted not to take former President Bill Clinton's name after the pair married in 1975.
"The expectations, at least publicly outside of our family, were very different for my mum versus my dad," Clinton said in an interview with the BBC. "No-one was asking him to change his name."
According to Clinton, her mother came under significant criticism and pressure to take on her husband's name when he ran for governor of Arkansas in 1978. That pressure continued when Bill ran again in 1982. "I even remember in Arkansas in the 1980s, there was tremendous pressure for my mom to change her name from Hillary Rodham to Hillary Rodham Clinton, which she ultimately did because it seemed to her such a silly fight and she wanted to move that out to then focus on the work she felt called to."
According to The New Yorker, Bill's opponent in the Democratic primary that preceded the 1978 Arkansas' gubernatorial race attempted to make Hillary's use of her maiden name an issue during the campaign. While Clinton's campaign reportedly didn't consider it to be a huge liability at the time, some critics later claimed it Hillary's use of her maiden name Rodham that weakened Clinton's political support and contributed to his failed re-election campaign in 1980.
In 1994, Bill discussed his wife's decision to ultimately change her name from Rodham to Clinton with Connie Bruck of The New Yorker, saying she made the change for his career. "She understood that it was part of a picture that we had painted for the voters that made them feel alienated from us," he said. "I respected her so much for this, because she came in to see me, and she said, 'We've got to talk about this name deal.' She said, 'I couldn't bear it — if we're going to do this, let's try to win. I couldn't bear it if this costs you the election. It's just not that big a deal to me anymore.'"
Bill went on to tell Bruck that the decision likely wasn't one Hillary made lightly as his wife had reportedly decided to retain the surname she was born with at a young age. "The interesting thing is, Hillary told me she was nine years old when she decided she would keep her own name when she got married," he said. "It had nothing to do with the feminist movement or anything. She said, 'I like my name. I was interested in my family. I didn't want to give it up.'
In speaking to the BBC, Clinton emphasized that her father has always been supportive of her mother and her career, but noted that, publicly, things weren't always equal. "It would be disingenuous to say that her achievements were given the same clear-eyed assessment as my dad's were," she said.
Clinton was recently named as one of the BBC's 100 Women for 2018.