Chelsea Clinton Is Going Straight For Conway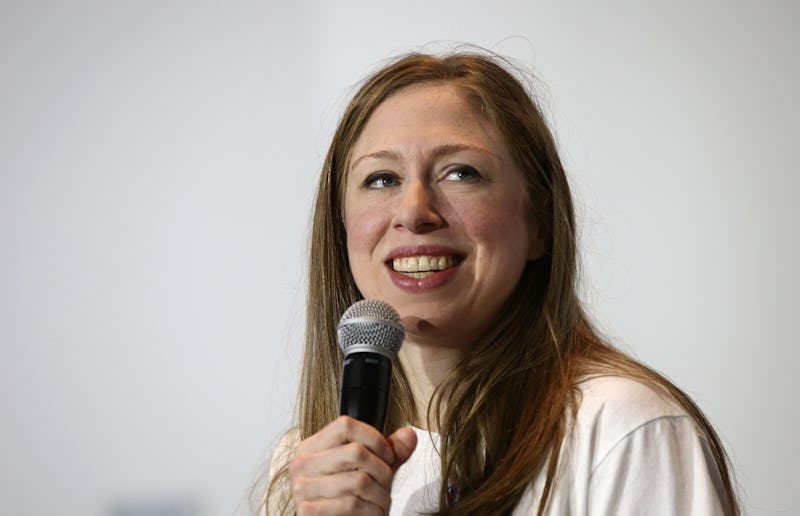 Win McNamee/Getty Images News/Getty Images
White House Counselor Kellyanne Conway's been put through the Twitter spin cycle for a full evening, night, and morning, all thanks to a claim in her recent interview with MSNBC's Chris Matthews that was both hilariously and desperately wrong. Namely, in making a defense of President Trump's travel ban, she referred to the "Bowling Green massacre," a terrorist attack that never happened. And the next morning, Chelsea Clinton called out Conway's "Bowling Green massacre" flub on Twitter, first expressing her concern about a genuine violent attack to underline the contrast.
The genuine attack was the one that took place at the Louvre museum in Paris, France, where a machete-wielding attacker injured a soldier before being shot. Nobody lost their life, although it was a harrowing scene. As safely as everyone escaped that particular encounter, however, it paled in comparison to how comfortably everyone survived the Bowling Green massacre ― because it never happened. Later, though, Conway tweeted that she meant to say "Bowling Green terrorists" and not "massacre."
Conway was likely referring to the arrests of a pair of Iraqi nationals in Bowling Green, Kentucky, in 2011 on terrorism-related charges, and sparked a review and slowdown (though not a ban) of the Obama administration's Iraqi refugee process. But no attack ever happened, nor was anyone slain. It was, at best, a figment of her imagination.
Here's how Clinton responded, urging people to "please don't make up attacks."
Clinton, 36, was a prominent surrogate for her mother's presidential campaign last year, and it's been rumored that she might try to launch a political career of her own in the years to come. It's unclear where such a career would start, however.
Conway, for her part, addressing the criticism and mockery the morning after her interview aired, although she never actually directly addressed her misstatement, or retracted or apologized for it. To the contrary, she sort of talked around it ― leading with "honest mistakes abound," but never actually stating what her "mistake" was. Rather, she immediately pivoted to other people's mistakes, then concluded, "It's called class, grace, deep breath."
In short, if you see anybody yukking it up on social media about the Bowling Green massacre in the next few days, this is what all the fuss is about. For the record, if anybody from the Trump team wanted to speak on a recent terrorist attack, the recent mosque massacre in Quebec would be a good place to start ― despite mentioning the Louvre attack, which killed nobody, Trump himself has yet to acknowledge the anti-Muslim attack, which killed six.