Tomi Lahren & Chelsea Handler Are Going To Face Off IRL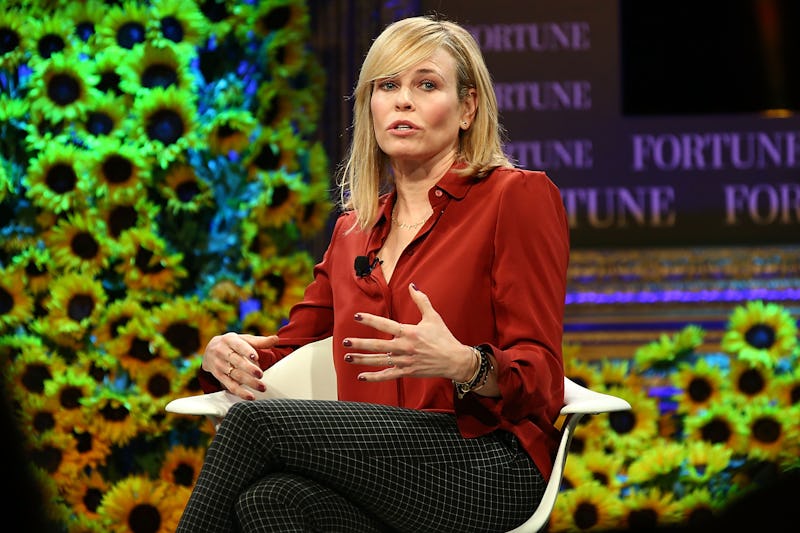 Joe Scarnici/Getty Images Entertainment/Getty Images
A full-on political battle will go down at Politicon at the end of July, as comedian and vocal critic of President Donald Trump Chelsea Handler will debate viral conservative pundit Tomi Lahren live on stage, according to reports from The Daily Beast. As part of the third annual political convention — which brings together comedians, policy wonks, and celebrities in Pasadena, California, from July 29 through 31 — the debate will feature the two and their vastly different political philosophies going head to head. While Lahren is known for her scathing "final thoughts," Handler is also no stranger to getting the last word.
Lahren, who now works for a Pro-Trump advocacy group called Great America Alliance (GAA), made her name with various conservative-themed viral Facebook videos that condemned politically correct and socially progressive political culture while campaigning heavily for Trump. She made headlines earlier this year when she was fired from Glenn Beck's network The Blaze for expressing her opinion that conservatives are hypocritical for not supporting abortion during an appearance on The View.
Handler, currently the star of Chelsea on Netflix, has seen an increasingly political turn to her #brand over the last year, following the election of President Trump. In addition to leading the "Women's March at Sundance," a sister political rally to the "Women's March on Washington" that protested Trump's inauguration, she also made plans to have a conversation/debate with conservative pundit Ann Coulter last year, thoughCoulter ultimately cancelled her appearance.
Clearly, Handler's been itching for a one-on-one encounter with a conservative counterpart for some time now. Still, Lahren doesn't seem intimidated at all.
Late on Wednesday, the conservative media favorite took to Twitter with an enthusiastic-if-intense confirmation of her appearance (that conveniently hyped up Twitter):
While Handler hadn't released any sort of statement or response to Lahren as of Wednesday night, The Daily Beast reported that she is going to be featured in a discussion with CNN's Jake Tapper as part of the series "Politics on Tap," in addition to the debate.
While the appearance of two white women with opposing politics isn't groundbreaking television by any means, the debate is undoubtedly going to snag attention across the political spectrum. In a year that's seen growing tensions between conservatives and progressives, seeing two of their most high-profile media avatars going tit for tat — in the tradition of Bill O'Reilly vs. Jon Stewart — is expected to entertain, invigorate, or deeply stress out audiences.
At the very least, it certainly won't be boring.