Chelsea & Landon Are Going Head-To-Head On 'Southern Charm'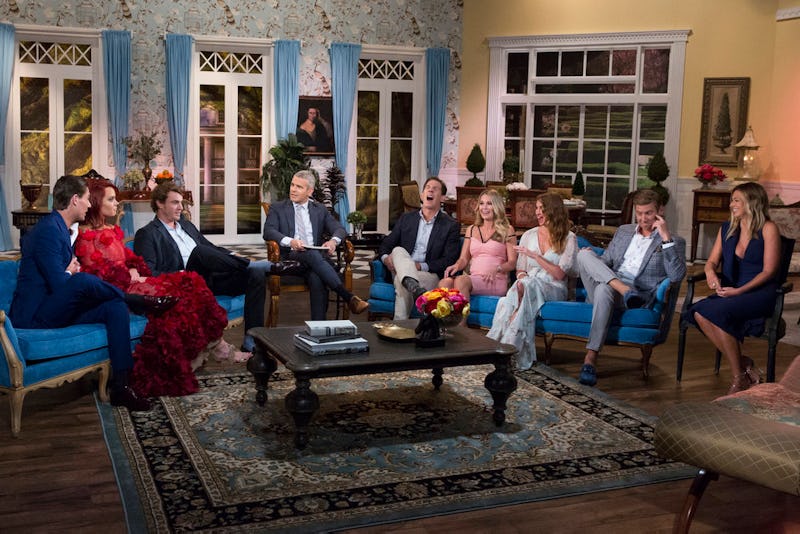 Heidi Gutman/Bravo
There was a lot to unpack during part one of the Southern Charm reunion. Between Kathryn and Thomas' drama, it was tough to remember that other things happened this season. But other things did happen not involving Thomas and Kathryn at all! Next week it looks like Chelsea will confront Landon during the Southern Charm reunion about the times where Chelsea claims Landon was allegedly flirting with Austen. Things could also get even more dramatic than they already have, because Landon will likely also be facing questions about her and Thomas' relationship (or lack thereof).
Fans of the show may remember seeing quite a few moments where Landon and Austen seemed to be getting quite close this season. But was that all friendly interaction or was there something more between them? According to a statement to Bustle from Landon, she says, "Austen and I are just friends who like to have fun, I wish [Chelsea] would have joined in on the laughs."
In the previews for the final installment of the reunion, Chelsea seems ready to go toe-to-toe with Landon about these "laughs." In a statement to Bustle, Chelsea claimed that Landon "has a flirtatious nature about her." But, post-reunion filming says that "I am still getting to know her and have come to realize it is mostly innocent flirtation, but at the time it felt like she was over stepping her boundaries. However, I was never threatened by her relationship with Austen."
A lot of the talking points next week seem to center around Chelsea, including a discussion about the time Shep drunkenly tried to kiss her at a bar during the season. If the show returns for Season 5 it will be interesting to see if Chelsea is made a part of the main cast. She's involved in almost every storyline and these reunions prove that she's down with a confrontation. We'll just have to see how that turns out for her and Landon next week. The second part of the reunion airs Monday, July 17 at 8 p.m. ET.
Editor's Note: This post has been updated to include statements from Landon and Chelsea.