Here's Everything You Need To Know About Cher's Upcoming ABBA Cover Album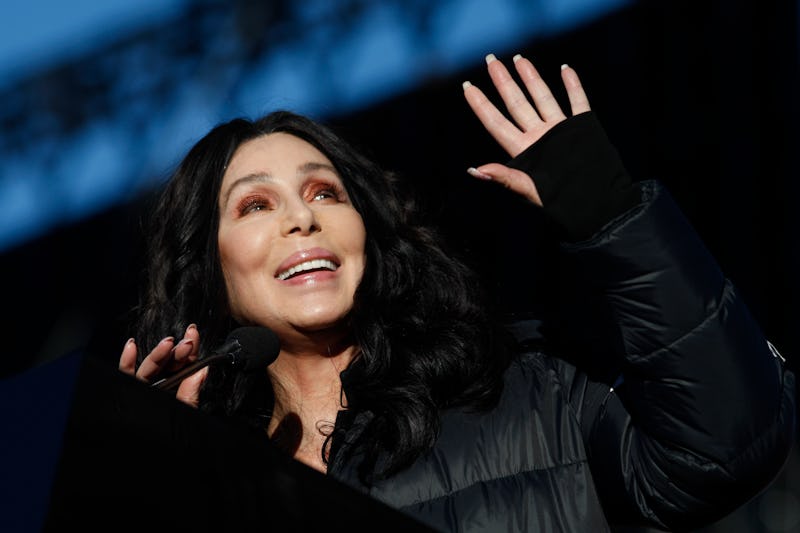 Sam Morris/Getty Images News/Getty Images
If you're as into Mamma Mia!, Mamma Mia! Here We Go Again, or ABBA as the whole internet seems to be — and rightfully so — then you're going to be overjoyed by the news that Cher is releasing an ABBA-themed Dancing Queen album. That's right, not only is the Queen of Camp is coming out with a new album, but with an album that covers of everyone's favorite ABBA songs. Cher, who plays Meryl Streep's mom, Ruby Sheridan, in Mamma Mia! Here We Go Again, is going right back to the music we've all been singing this summer.
Details about the album, titled Dancing Queen, were released on Thursday, Aug. 9, via Variety. The previous day, Cher tweeted out a video with a semi-cryptic caption — "[cake emoji] time" — teasing the project. In the video, the beginning strums of "Gimme! Gimme! Gimme! (A Man After Midnight)" by ABBA are heard playing, with Cher singing the iconic song, giving a slightly more dance-club vibe to the original song from 1979.
This isn't the first time she's hinted at the project on social media. Earlier in August, she shared a photo of a belt (or necklace) with "MAMMA MIA" in rhinestones with the caption, "Something is on its way, but What Is It .....It's a Secret." And even before that, she had tweeted about being back in the studio. Now it's official: Cher's album of ABBA covers is coming.
The new ABBA-cover album is titled Dancing Queen and comes out Sept. 28. Variety reports that it was her role in Mamma Mia! Here We Go Again, which came out July 20, that inspired Cher to produce such an album. Speaking of the summer hit ABBA jukebox musical, she said in a statement:
"I've always liked Abba and saw the original Mamma Mia! musical on Broadway three times. After filming Mamma Mia! Here We Go Again, I was reminded again of what great and timeless songs they wrote and started thinking 'why not do an album of their music?' The songs were harder to sing than I imagined but I'm so happy with how the music came out. I'm really excited for people to hear it. It's a perfect time."
Given how much Cher loves the music and the musical explains why she chose to make an ABBA cover album for her next record. She has over 20 under her belt already, making her one of the most iconic names in the entertainment industry to date. Well, that, and the fact that she just exudes star-power. The official track list, as reported by Variety is as follows:
"Dancing Queen
"Gimme! Gimme! Gimme! (A Man After Midnight)
"The Name Of The Game"
"SOS"
"Waterloo"
"Mamma Mia"
"Chiquitita"
"Fernando"
"The Winner Takes It All"
"One Of Us"
After she announced this news on Twitter, fans went wild, asking a ton of questions, and many were just not ready for this ABBA-sized announcement.
When one fan questioned about her vocoder (a voice synthesizer) use and the "modern"-sounding mix of these new songs, Cher gave a rundown of what fans could expect, writing, "Each song is its own special entity."
Many of the songs (and presumably the whole album), will be an homage to the original creators, of course. Adding Cher's flair and unique voice to ABBA's iconic hits can only mean great things.