We Finally Have a Look At Cher's Character In The 'Mamma Mia' Sequel & She's Already Iconic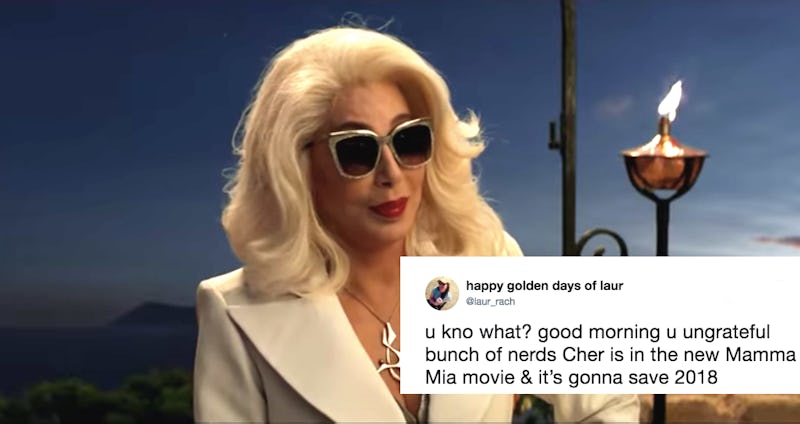 Universal Pictures on YouTube/Bustle
If you check out the very first trailer for Mamma Mia: Here We Go Again, you'll notice a familiar face. No, it's not Meryl Streep — who only shows up here in flashbacks from the original movie — but it's someone who's worked with her before. Yep, Streep's Silkwood co-star Cher makes a cameo in Mamma Mia! 2, and fans on Twitter could barely handle it.
It's no surprise that Cher makes an epic entrance to close out the over two-minute trailer. Her character Ruby Sheridan arrives in all-white on a private helicopter, because of course she does, she's being played by Cher. The first thing you see is a very sparkly and very high heel before you get to see Cher in all her blonde glory. "Let's get the party started," Ruby decrees like the queen she is.
Here, though, she's not playing any kind of official royalty. She's playing a grandma, specifically Sophie's (Amanda Seyfried), as Sophie is expecting a baby of her own this time around. This means, Cher's the mother of Streep's character, Donna Sheridan. And, from the looks of this trailer, that relationship could use some work.
"Grandma," Sophie says. "You weren't invited." Only to have her granny clapback: "That's the best kind of party little girl." The tilt of her sunglasses makes this exchange even more savage.
It certainly made a lot of fans excited for the sequel, which will take place in the present and the past, flashing back to a young Donna played by Lily James. One fan went as far to tweet that Cher's entrance in this trailer was "the most iconic moment of 2017." And someone else tweeted that "Cher is in the new Mamma Mia movie & it's gonna save 2018." Fingers crossed, y'all, fingers crossed.
As good as it was, another fan tweeted that Cher's entrance seemed to have a lot in common with another classic movie entrance. "Looks like they rebooted John Hammond from Jurassic Park with @cher for Mamma Mia 2," they wrote. It's hard to deny the similarities, which is why I'm just going to start saying "Welcome to Mamma Mia!"
But some of the tweets about Mamma Mia 2's casting got even more savage. A few fans couldn't help but note that having Cher play Streep's mom is worth an eyebrow raise or two.
"When you realize Cher, 71, is playing the mother of Meryl Streep, 68 in Mamma Mia 2," one fan wrote. Oh, Hollywood.
Meanwhile, another fan noted that Cher is timeless, meaning there's a lot you can look past. "I appreciate that Cher has always been 16 years old and 100 years old at once," they wrote, "and time to her is a flat circle."
After saying that, though, they admitted having her play Streep's mom is "still a stretch."
What concerned fans most, though, was the thought that Cher was somehow replacing Streep in this film, since Sophie talks about not having her mom around. Did Donna die since the last movie? The trailer doesn't give any answers, which is why a lot of fans felt conflicted.
"So Mamma Mia 2 DOESN'T include Meryl Streep but DOES include Cher???" one user tweeted. "I'm upset and excited all at the same time, this is such an overwhelming experience."
But don't be too brokenhearted. There's no doubt that having Cher onboard for the sequel, out July 20, 2018, is a good thing. She first teased that she was joining Mamma Mia 2 back in October, where else, on Twitter, posting lyrics from ABBA's track "Fernando." "Just went through two dance numbers," she wrote. "Everyone's great."
This will be the first time fans have seen Cher on the big screen since 2010's Burlesque. And it's clear just how much we missed her from the tweets that came pouring in after her trailer cameo. Luckily, she's back and she's ready to sing all your favorite ABBA hits.