The 'Mamma Mia!' Sequel Trailer Just Dropped & How Could You Resist It?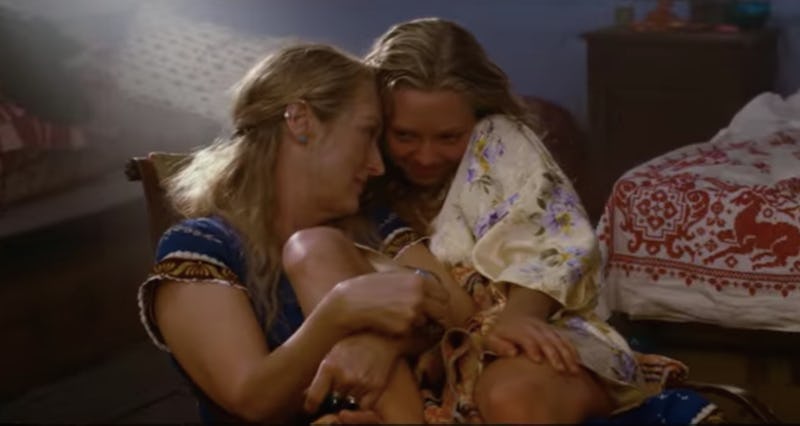 Universal Pictures on YouTube
Mamma Mia, here we go again. The trailer for Mamma Mia! 2 is officially here, and how could you resist it? After all, the cast of the Mamma Mia! sequel includes some of your original favorites, like Amanda Seyfried's Sophie, while also introducing a few new faces including Lily James, who's playing the younger version of Meryl Streep's character Donna. What the first trailer for Mamma Mia: Here We Go Again really shows, though, is that there's more than enough ABBA songs to go around — thank goodness.
The movie is set to be released on July 20, 2018, but, for fans, it seriously can't come soon enough. Especially since the trailer is dropping some interesting clues as to what is going on in this sequel, which is also kind of a prequel, considering that you get to see the younger version of Donna and the Dynamos.
It starts with Sophie singing "I Have A Dream," a song she also sang to kick off the first movie. While back then she was singing about finding her father before she was married, now she's pregnant and letting her mom's friends, Rosie (Julie Walters) and Tanya (Christine Baranski) know she can't do it alone.
Turns out, though, that her mom did it alone all those years ago, and her friends are ready to tell that story — complete with musical numbers where everyone's wearing sparkly costumes.
The new movie flashes back to when a young Donna met a young Sam Carmichael, played by Jeremy Irvine, who — no surprise — looks a whole lot like Pierce Brosnan, who originated the role nearly a decade ago. The movie takes a look back at all the fun they had on the Greek island of Kalokairi, how they fell in love and then out of it before falling back in love 20 years later. But it doesn't just take a closer look at their love story, which ends with Sam leaving because he's engaged. It looks at how Donna fell in love with Harry Bright (Colin Firth) and Bill Anderson (Stellan Skarsgård), too. So, yes, get ready for a young Harry and Bill to also pop up in the movie.
While the young Donna's love life is on full display, the movie is really a love story between mother and daughter. Sophie is trying to figure out how she will raise her young child without her mom around. Why isn't Donna there? Well, that's a question the trailer doesn't answer for us. What is clear, though, is that Sophie's taking some inspiration from her mom's own story — and the music of ABBA, of course. Look close, and you'll see that Sophie is filling in for Donna as the lead singer of the Dynamos. "I've never felt closer to my mother," Seyfried says in the trailer. "She wasn't scared because she had me."
It's the same way Mamma Mia! fans should feel about the sequel, knowing that Seyfried is taking the lead from Meryl Streep. Don't worry, you're in good hands.
Unfortunately, you won't be able to sail away to Kalokairi until next summer, but you can live vicariously through the cast. The day before the actual trailer dropped on Thursday, the stars of Mamma Mia: Here We Go Again teased the new film on Twitter with a behind-the-scenes video, which showed just how much fun making this movie was. Besides getting to sing more ABBA hits — a treat for everyone involved — the cast seemed to enjoy hanging out in Croatia, which filled in for Greece, for a few months. From the looks of the crystal blue water, could you really blame them?
And no one would blame you for wishing Mamma Mia 2 was hitting theaters sooner. Unfortunately, that is just a dream, which is why in the meantime you should re-watch the trailer and practice "Dancing Queen" until July comes.