Cheryl & Liam's Relationship Timeline Will Give You Serious Feels Post-Break-Up News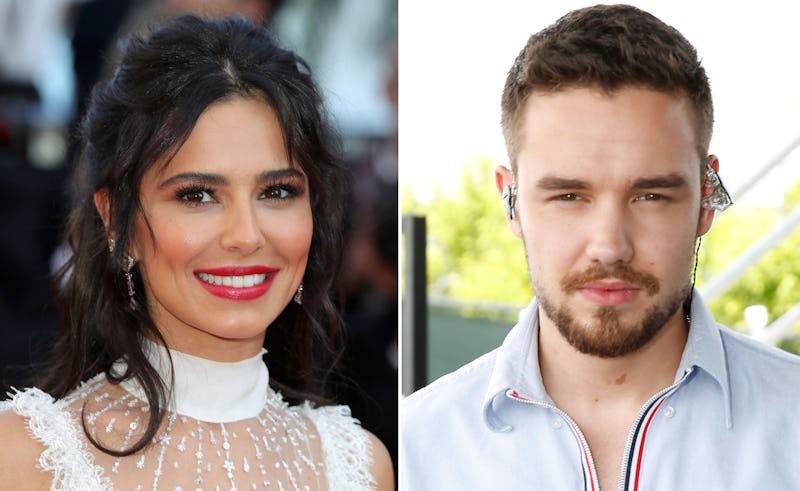 Andreas Rentz/Getty Images Entertainment/Getty Images/Jeff Schear/Getty Images Entertainment/Getty Images
Cheryl and Liam Payne are over. I'm still struggling to digest the news because just a few months ago, the couple seemed so solid. Seriously, how did it all go so wrong, and so quickly at that? Did I miss something? I decided to have a look back through Cheryl and Liam's relationship timeline to get some answers.
The pair have been together for coming up close to two-and-a-half years. During that time, they've had a baby together (shout out to Bear), they've adopted a dog, met each other's families, moved in together, and there were even rumours, reported by Cosmopolitan, that they'd secretly gotten engaged. The future looked beyond bright for these guys, right? Wrong. On Sunday evening, the pair both took to Twitter to announce they'd split.
According to The Sun, the former couple made the decision to break-up two weeks ago, and he has already moved out of their Surrey mansion. A source told the paper: "Cheryl and Liam worked really hard on their relationship — they had troubles earlier this year and were able to get through them. But they're in different stages of their lives and, after a lot of careful thought, came to a decision that it's best for everyone if they do go their separate ways."
Ouch. I'm absolutely gutted for Cheryl and Liam, who first got together back in 2016. But what happened exactly? Well, here's a look back at their history from the very first time they met on national TV, to the day they announced their split.
2008: Liam And Cheryl Meet On X Factor
Liam and Cheryl met for the first time on X Factor, when she was still married to footballer Ashley Cole. She was an judge and he was a 14-year-old wannabe pop star, hoping Simon Cowell would take a chance on him. He performed Frank Sinatra's Fly Me To The Moon, and made a huge impression on Cheryl from the very get-go — and I'm not just talking about his vocals.
Mid-performance, he winked at Cheryl before a cheeky grin spread across his face. When giving her feedback, she seemed to be an instant fan, telling Liam: "I like you. I think you're really cute. I think you've got charisma, you know, when you give us that cheeky little wink."
During an interview with The Hits radio station last year, Liam revealed that this is his favourite X Factor memory. He said: "I think when I winked at my Mrs on the show, before she was my Mrs. I think it's just the best thing ever."
2010: Liam And Cheryl Meet Again
Although he made it all the way to Judges' Houses the first time he auditioned, Simon ultimately thought Liam was too young and so told him to come back when he was 16. As we all now know, he did just that. And here is his 2010 return.
Despite the fact it had been a while since they last saw each other, Cheryl instantly recognised Liam when he walked out on stage. In fact, she literally pointed at him as he approached the mic.
This time around, the singer performed the Michael Bublé version of Cry Me a River, and it turns out, it was a good song choice. Cowell and co-judge Natalie Imbruglia gave him a standing ovation. Cheryl, however, opted to remain seated. Luckily, she did give him a yes (along with the other judges), paving the way forward for him to join a boyband called One Direction.
December, 2015: Liam And Cheryl Reunite
By this point, Cheryl was now married to Jean-Bernard Fernandez-Versini and their relationship was widely reported to be on the rocks. Meanwhile, Liam had just broken up with his girlfriend of two years, Sophia Smith, and was heartbroken. He'd told The Sun one month earlier: "I'm absolutely devastated to have split with Sophia. Being on tour all this year and being away from her was so hard. We spent so much time apart. But in order to do right by somebody, sometimes it's better not to do what your heart wants, but to do what's better for them."
Following his performance on X Factor with One Direction, Liam was spotted going in for a pretty long hug with Cheryl and noticeably held her waist afterwards. Eagle-eyed fans observed everything and this video went viral afterwards, sparking rumours that perhaps these two were more than just friends.
January 2016: Cheryl Files For Divorce
The reports were right. After 18 months of marriage, Cheryl filed for divorce from Fernandez-Versini, citing "irreconcilable differences." At the time, the couple, who as the Telegraph reports, got married three months into their relationship, had not been pictured together since October 2015.
Although she did not comment on the split, a source told the Sunday Mirror: "In the end, Cheryl realised she had married too soon and had been swept away by a bit of a whirlwind romance."
February 2016: Liam Drops A Hint On Valentine's Day
Just a few weeks after Cheryl filed for divorce, the Mirror reported that Liam posted this snap on Instagram, with the caption: "Happy Valentine's Day baby." Although he didn't mention Cheryl by name, fans were pretty convinced the picture was a reference to the rose tattoo Cheryl has on her lower back.
February 2016: Liam Strikes Again
Before arriving at the BRIT Awards, Cheryl posted a black and white selfie on Instagram. Nothing too interesting about that, right? Wrong. Underneath the innocent snap, Liam seemed keen to drop another hint about their romance by commenting, with The Sun reporting that he commented underneath: "See you there babe."
February 2016: Cheryl's First Pic
With rumours spreading like wildfire, Cheryl shared her very first pic of Liam on Instagram. However, it probably wasn't what most people were hoping for.
Poking fun at the rumours surrounding her love life, she shared a snap of her with three gentlemen, including Liam, with the caption: "My mystery man line up #whosthemysteryman #whoisit #whosworthit."
February 2016: The Secret's Out
Finally, after weeks of intense speculation, Liam confirmed he and Cheryl were official by changing his Instagram profile picture, People reported at the time.
Boom. "Cheriam" was born.
March 2016: Cheriam Cuddle Up
Although Cheryl is fiercely private, Liam posted another snap of the pair together on Instagram a few weeks after changing his profile pic.
This time, the pair appeared to be in the back seat of a car, with his head resting on her chest.
March 2016: International Women's Day
For anyone that failed to realise he and Cheryl were officially an item, Liam took to Instagram again to share a snap of her on International Women's Day. Although the pic was gorgeous, it was the caption that really pulled at everyone's heartstrings. It read: "#internationalwomensday to my favourite woman in the world 😘😘 hope I make you as happy as u make me X."
April 2016: Cheryl Speaks Out
As her relationship with Liam started fairly swiftly after she filed for divorce from Jean-Bernard, some online accused Cheryl of being unfaithful during her marriage.
Understandably hacked off with the stories, as the Express reports, Cheryl took to Twitter to defend herself and set the record straight. Take that, trolls!
May 2016: Red Carpet Debut
Three months into their relationship, Cheryl stepped out with Liam to make their first appearance as a couple on the red carpet. It was at the Global Gift Gala in Paris, and the pair looked smitten.
June 2016: The Wedding
No, it wasn't their wedding. But Cheryl and Liam looked super loved-up, as the Mirror reports, when he took her to his sister Ruth's wedding.
At the time, people weren't sure just how serious they were about each other. But when you start introducing your new partner to family, it's a pretty big indicator that you're serious.
July 2016: Puppy Love
The couple took a huge step in their relationship by adopting a dog together. Cheryl shared the news on Instagram, telling fans: "Our new family member. He is beyond cute.. the dog is adorable too @toosmallforteacups thank you." Too cute.
July 2016: Pregnancy Rumours
Simon Cowell sparked rumours that Cheryl could be pregnant during an interview with the Mirror. Some had reported that she and Liam were trying for a baby, but when Cowell put his two cents in, fans were convinced she could very well already be pregnant.
He told the paper: "Cheryl would be an amazing mum. I have seen her with my son Eric and other kids over the years and she is incredible. She is very good with them. I think she is in a good place in her life right now."
As it turned out in retrospect, Cheryl had just fallen pregnant at this point.
September 2016: Cheryl's Mum Goes Baby Shopping
Fans went into meltdown when Cheryl's mum Joan was photographed in the Mirror buying baby clothes in Mothercare. Was this confirmation of Cheryl's pregnancy?
A source told the newspaper at the time that Joan was simply buying clothes for one of her other grandchildren, but not everyone was convinced.
November 2016: Bump Watch
Cheryl and Liam were photographed together for the first time in a long time when they stepped out for a date night. The pair were still refusing to confirm or deny reports that they were expecting their first child, however, as the Express reports, a small bump was visible.
February 2017: New Home
Amid the pregnancy rumours, Cheryl and Liam moved in together. A source told the Mirror: "Cheryl spent all of Christmas at Liam's, and she loves it there. That is going to be where they live together in the UK. They already have lots of amazing memories."
Cheryl then reportedly put her house on the market and moved into Liam's three-storey mansion in Surrey, according to OK!
March 2017: Cheryl Gives Birth
Cheryl finally confirmed what fans knew all along by announcing that she had given birth to son Bear on Wednesday, March 22. She announced the news on Instagram with a snap of Liam holding the baby. She captioned it: "Liam and I became parents to an incredibly beautiful, healthy baby boy, weighing 7lb 9 and looking like a dream. Although he still doesn't have a name he is already stealing hearts. We are all madly in love and overwhelmingly happy with our little arrival. Happy Mother's Day to all the mothers around the world. A day that now has a different meaning to me forever."
June 2017: Cheryl Gets Emotional
Cheryl marked Liam's first Father's Day with a seriously sweet Insatgram post. Underneath an image of him, she wrote: "You are the most amazing daddy and the best example for our son. The way he looks at you says it all. Your relationship melts my heart. You are the centre of his world & We adore you."
October 2017: Break-up Song
Liam shocked fans when he dropped his single Bedroom Floor for the first time. In case you didn't know, it's a song about his partner trying to break-up with him over the phone. And yes, it is about Cheryl.
During an interview with The Sun, he said: "There's one song that is basically a phone call that happened between me and her when she was about to let it go. This is a long time ago. And it's basically me trying to cling on and say: 'No, no, no it's all going to work out, don't worry about it, give it time.'"
October 2017: Cheryl's Subtle Message
After Liam revealed that Cheryl tried to dump in, she took to Instagram a few days later to let the world know that she was still very much attracted to him. Underneath a very dashing pic of the 1D star, she wrote: "I had to .. I mean 👀 come onnnn."
February 2018: On The Rocks?
For the first time, reports claiming Cheryl and Liam were very much on the verge of breaking-up started circulating. A source told The Sun: "There's a big age gap between them. If they didn't have Bear then they would have most likely split up by now. But they love their son. And they do care for each other so it's now a matter of seeing if there's a final way forward to try and make it work."
February 2018: Cheryl Hits Back
Following speculation about her relationship, Cheryl took to Twitter in criticism of the reports. She then accompanied Liam to the BRIT Awards to support and watch him as he performed For You with Rita Ora.
Putting on a huge show of solidarity, she then posed for photos with Liam, uploaded pics on Instagram, and even jokingly revealed her safe word in the bedroom, which, in case you didn't know, is "don't stop".
February 2018: Engagement?
Following rumours of a break-up, the rumours started swirling again, as reported by Cosmopolitan, that Cheryl and Liam could be engaged after she was spotted wearing a diamond on her ring finger.
March 2018: Cheating Rumours
A few weeks after their loved-up display at the BRITS, the Mirror hinted that Liam was turning his attention to his back-up dancer, Chloe Ferns, while Cheryl looked after their son at home. The reports infuriated Cheryl who took to Twitter to defend Liam and Chloe, who it turns out, is her good friend.
April 2018: Make Or Break
According to The Sun, Cheryl and Liam jetted out to the Maldives for a make or break holiday. The paper claimed the couple had chosen this destination as it's where they first fell in love back in 2016.
A source told the paper: "The Maldives is a location close to Cheryl and Liam's hearts. And it's very private and secluded. They wanted a proper break from everything and it's exactly what they got."
For a while, it looked like the holiday had worked.
July 2018: It's Over
On Sunday July 1, Cheryl and Liam both took to Twitter to confirm that they had split. Understandably, their followers were gutted. However, it looks as though both of them really did try their hardest to make the relationship work.
While they may no longer be a couple, this doesn't really mean it's the end for Liam and Cheryl. The couple have a son together and both have stressed that he is their priority. So no, they aren't romantically involved anymore but they will forever be part of each other's lives through Bear.