Chick-Fil-A Just Mashed Up Two Of Its Most Popular Menu Items To Create The Ultimate Slider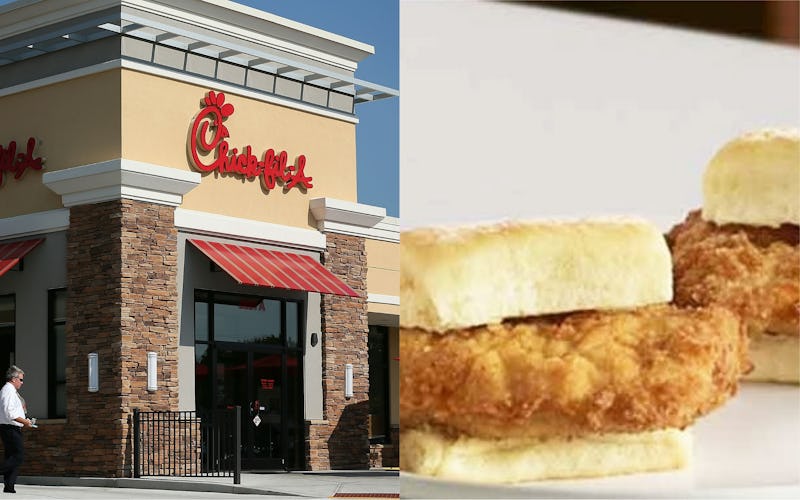 Alex Wong/Getty Images News/Getty Images; Chick-fil-A
Every time you go through the Chick-fil-A drive-thru, you face the same internal debate: Chick-n-Minis or a chicken sandwich? As if your life wasn't hard enough already. Well, I have good news: the fast food chain is here to provide relief. Chick-fil-A is testing Chick-n-Sliders at select locations, and in the near future, this internal debate might very well be a thing of the past. The fast food gods are smiling down on us today!
According to Chew Boom, the Chick-n-Sliders are a delightful combination of Chick-n-Minis and Chick-fil-A's Original Chicken Sandwich. The snack-sized delight features their infamous deep fried boneless chicken breast served on a warm roll covered in honey butter spread. The sliders are $2.49 a pop or $4.69 for two, but honestly, can you put a price tag on heaven in your mouth? I think not.
Are you drooling? Grab a napkin, because there's one catch: Chew Boom says as of now, the Chick-n-Sliders are being tested only at select locations in Charlotte, North Caroline, and Albuquerque, New Mexico. If the feedback is positive, then we might be looking at availability nationwide.
You can see just by the picture how warm and squishy the bun looks. Warm and squishy buns are the best kind of buns. This tweeter says the sliders are basically a bigger version of the Chick-n-Minis, which is obviously a win, because anything that involves more Chick-fil-A gets two greasy thumbs up.
Chick-fil-A has long been known as the home of the original chicken sandwich, so creating delicious poultry magic is pretty much in their blood. Maybe you've tried the Hash Brown Scramble Burrito, Chicken, Egg, & Cheese Bagel, or Egg White Grill? All three feature Chick-fil-A's signature chicken, so you can start your day off with a hearty and delicious serving of protein. Who ever said you can't have chicken for breakfy?
The Chick-n-Sliders aren't the only thing making Chick-fil-A stand out — their entire menu is rather impressive. Have you tried the grilled nuggets? Let's talk about the grilled nuggets. Who else serves nuggets that aren't breaded and deep fried? That would be... no one. Do they look a little suspicious? Probably. Then again, we're not used to seeing chicken nuggets look so naked.
Then there's their salad menu, perfect for those days you want to pretend to be healthy but still want fast food.
Don't even get me started on their shakes. KIDDING. Get me started and let's talk about it in excruciating detail! Their cookies and cream milkshake tastes like somebody bottled up perfection and gave it to me to drink. And the frosted coffee? Heavens, the frosted coffee. There are no words to describe it, except hurrrehaheafehsuhrw. The taste. The texture. The way it makes me feel inside.
So, yeah. The Chick-fil-A menu? Good stuff.
This might be a mash-up of two of Chick-fil-A's own menu items, but it's hardly the craziest hybrid we've seen as a late. In recent years, people suddenly decided things like burgers and sushi were lame on their own, so the only logical next step was to combine everything into one dish. That's when we had spaghetti doughnuts and pork belly cotton candy and spaghetti and meatball burgers and sushi burgers, and that's just the tip of the delicious iceberg. I don't know whether to be confused or intrigued, because I'm still over here eating peanut butter and jelly sandwiches and stuff. But hey, some people prefer to eat outside the box.
If you're around Charlotte or Albuquerque and your tummy's a-rumblin', head to the nearest Chick-fil-A and chow down on some sliders.