Children's Publishing Is Having A #MeToo Reckoning, Thanks To An Anonymous Survey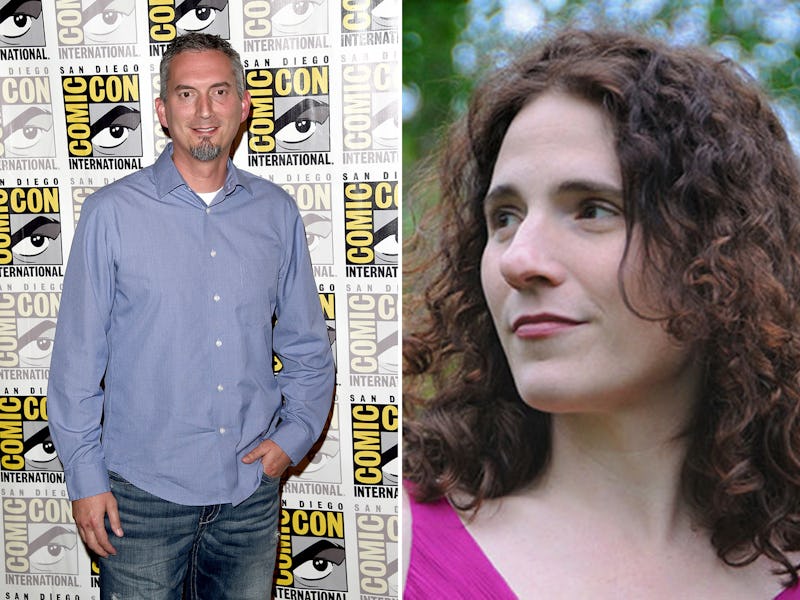 Jason Merritt/Getty Images Entertainment/Getty Images; Courtesy of Anne Ursu
Sitting in front of her computer, author Anne Ursu was scared. Terrified, even.
Ursu, an award-winning children's book writer, was about to publish a survey examining the scope of sexual harassment within her own literary community: children's publishing, a community often lauded for its "kindness." After all, these were adults who dedicated their lives to telling stories, creating artwork, cultivating joy — for kids. They're often regarded as the gatekeepers for imagination. But Ursu had been hearing stories floating around for months, ever since the #MeToo campaign had taken off, with no one willing to give them a platform.
"One day I realized, 'Well, I guess it has to be me, then," she tells Bustle.
This past December, Ursu posted a Google survey she called "Sexual Harassment in Children's Book Publishing." She had adapted the form from one created by Kelly Jensen, a librarian who wrote about her own experiences, as well as the findings from her original survey, in an article for Book Riot in October. Jensen ultimately received over 250 responses. As of last week, Ursu had received nearly 90. In her article, Jensen detailed the difficulties of coming forward about sexual misconduct within a profession not only esteemed for its inherent do-good-ness, but staffed largely by women.
Those same worries resonated with Ursu.
Though publishing has been known traditionally as a white man's game, in recent decades, women have begun dominating the profession, especially children's publishing. In a 2015 study published by Lee & Low Books, an independent children's book publisher, the overall American publishing landscape was found to be overwhelmingly female (78 percent) and white (79 percent).
Ursu recalled how several years ago when a highly regarded male writer gave an answer in an interview that smacked of sexism. Several women spoke up, called it out for what it was. The backlash, says Ursu, was "extraordinary." Suddenly, there was a hashtag: #KeepYAKind. Powerful industry folks changed their Twitter avatar to the writer's face, some even accompanied by a "Twibbon."
"The message was clear," says Ursu. "Don't talk about sexism."
In the world of children's book publishing, the creators — the writers, the illustrators — often become beloved celebrities in their own right. Consider the all-time best-selling hardcover children's books: in the top 20 are six titles by Dr. Seuss, four by J.K. Rowling, and two by Shel Silverstein.
When she posted her own survey, Ursu asked explicitly for names to be left out. She simply wanted stories that highlighted the larger, structural problems, and once identities are revealed, the focus inevitably turns to "he said, she said" arguments, she says.
"Once names are involved people start defending the harassers and accusing the harassed," she wrote in a Medium article accompanying the results, "And in addition to the harm done to them and those who have yet to speak, it stops the conversation before it starts."
In fact, the only name on the entire form was Ursu's. If anyone was going to shoulder the backlash, the anger, the trolls, it would be her.
But the anonymity of Ursu's survey has been forced into the spotlight following the recent allegations against several prominent, male writers, including 13 Reasons Why author Jay Asher and The Maze Runner author James Dashner. In the comments section of an article originally published on Jan. 3 by the School Library Journal, titled "Children's Publishing Reckons with Sexual Harassment in Its Ranks," anonymous users began to first detail, and then name, their alleged sexual harassment. It was the mentioning of Ursu's companion article to the survey, which she posted on Medium last week, that incited arguably the largest response.
The blowback was swift. On Wednesday, literary agent Michael Bourret announced he was no longer representing Dashner, who gained fame for his Maze Runner series. Earlier today, Random House Kids cut ties with Dashner as well. Asher has also been dropped by his agency and expelled from the Society of Children's Book Writers and Illustrators, and announced he would be retaining a lawyer to fight what he says are false allegations
Yesterday, Dashner released a statement on Twitter. "I didn't honor or fully understand boundaries and power dynamics," he wrote. "I can sincerely say I've never intentionally hurt another person."
Ursu won't comment on specific names or stories from her survey, and says she never anticipated something as explosive as that now-famous comments section (and to be fair, she says, no one would). Of the 90 or so responses, along with the emails and DMs sent by those too nervous to fill out the survey, the majority came from inside publishing houses - writers, editors. Ursu suspects that this largely due to her own scope. She wonders about the publicists, and those on the edges of publishing. But she's not sorry about the repercussions.
"I do think if you harass and abuse women, you don't get to write for kids and teens," said Ursu. "This is a privilege and an honor."
Her sadness is reserved for the voices we've already lost, who felt they would never be believed if they spoke out against beloved literary icons.
"So much damage has been done while we were all looking the other way. "