OMG, The 'Chilling Adventures Of Sabrina' Holiday Special Has A Major 'Hill House' Connection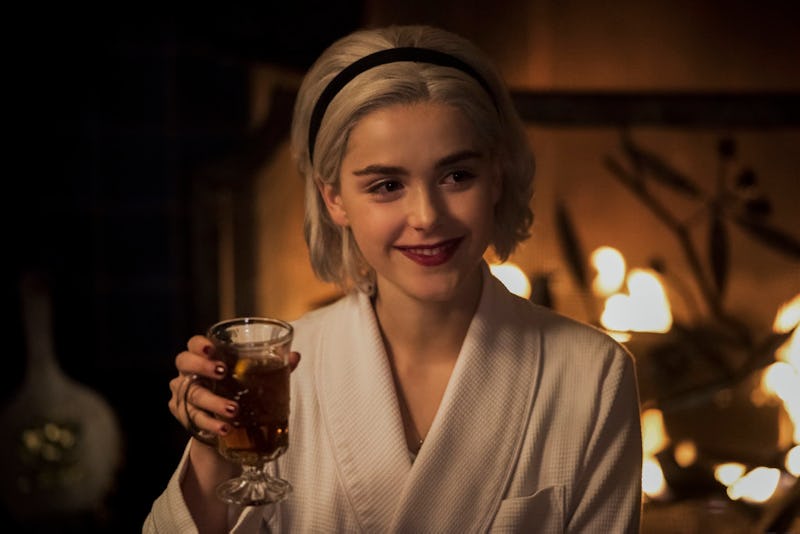 Dean Buscher/Netflix
Melissa Joan Hart, Kiernan Shipka are two actors who have donned the moniker of Sabrina Spellman — and now, there's a brand new young witch headed our way. Just ahead of The Chilling Adventures of Sabrina's Christmas special, set to air on December 14, Netflix has cast McKenna Grace as a young Sabrina Spellman for A Midwinter's Tale.
In a statement released to Entertainment Weekly, the streaming service revealed that the holiday special will allow fans to see "what Sabrina was like as a precocious tot. And while The Church of Night celebrates the Solstice, that doesn't stop Li'l Sabrina from asking Santa for something special." "Li'l Sabrina, of course, will be Grace.
Sure, Halloween might be the most important holiday for The Church of Night — and for Sabrina herself, considering that it's her birthday — but it looks as if Christmas (or the Winter Solstice, as Netflix has referred to it in the past) is just as meaningful for the Spellman family and everyone who serves the Dark Lord. So the episode is sure to be full of fun, witchy traditions.
When it comes to choosing a young Sabrina for the holiday special, it's hard to imagine anyone better suited for the role than Grace. Not only does she look quite a bit like Shipka (just look at the photo below), but she also recently starred in Netflix's other horror series, The Haunting of Hill House. The 12-year-old actress played Theo, the middle child of the Crain family, who has an incredibly sensitivity to people touching her skin.
Netflix's official logline for the A Midwinter's Tale (via The Hollywood Reporter) also noted that the holidays "are a time for guests and visitors — both welcome and unwelcome." And the mention of "visitors" has led many fans to speculate that the holiday special might be the CAOS-Riverdale crossover that fans have been waiting for.
On Nov. 11, just before the holiday special was announced, Riverdale and Sabrina showrunner, Roberto Aguirre-Sacasa, teased that there was "big news coming for the Archieverse" on Twitter. And while that seemed to simply be a way of building suspense for the reveal of the holiday special, there's still plenty of potential to see the kids of Riverdale spend some time with Sabrina's spooky coven. After all, Betty and Jughead have visited Greendale before, back in Season 2, and the characters will even see their storylines intersect in the upcoming Archie #700 comic.
Aguirre-Sacasa has also often spoken about his desire to see Sabrina hang out with Archie and friends at Pop's; in October, he told Entertainment Weekly that he was "hopeful" about a possible crossover event. "I think there'd be a great episode where the Riverdale kids hear about a haunted house in Greendale and try to break in and it's Sabrina's house," Aguirre-Sacasa admitted. "There's totally a universe where that happens. Or now that we've got Sabrina and Riverdale, maybe there's a standalone Afterlife movie or something that we can do combining both casts."
"Rules are made to be broken and I'd hate for [a crossover] to never happen," he added.
Of course, Grace's casting isn't the only exciting news for Chilling Adventures of Sabrina fans. As confirmed by The Hollywood Reporter, the show is adding two mysterious new characters to its Season 2. First, Alexis Densiof will play Adam Masters, the boyfriend of Miss Wardwell (Michelle Gomez). According to THR, he is described as a "handsome and charming" man who "returns to Greendale after a stint overseas working with Physicians Without Frontiers — unaware that his fiancé has been taken over by the demoness Madam Satan."
Also moving to Greendale is Jedidiah Goodacre, who will be playing the club owner Dorian Grey. And yes, it does sound like he's playing a version of the infamous literary character, as he's described by EW as being an "enigmatic gentleman of an indeterminate age" who happens to be "very good at keeping secrets, especially his own — a cursed portrait he hides from prying eyes."
The Chilling Adventures of Sabrina holiday special might not air until December 14, but it looks like fans will continue getting some exciting new gifts long after the holiday season is over.