Netflix's 'Sabrina' Holiday Special Could Be The 'Riverdale' Crossover You've Been Waiting For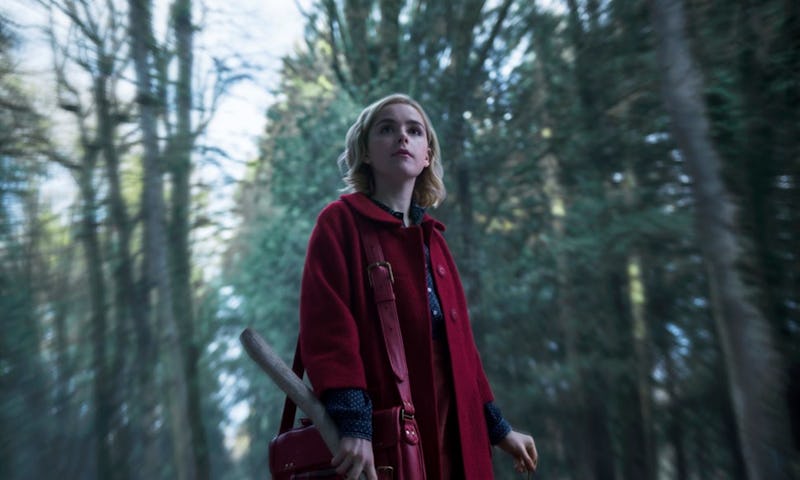 Netflix
Ever wondered how Jughead and Betty would fare over in Greendale for a chilling Round 2? Bizarrely enough, fans might not have to wonder about that for too much longer, since the Chilling Adventures of Sabrina holiday special could include a Riverdale crossover, according to several reports published Monday morning, Nov. 12. And whoa, if this crossover business is for real, who else's Christmas wish list just became significantly less unrealistic?
OK, so the potential for some Riverdale cameos in Sabrina's upcoming holiday episode remains somewhat up in the air at this point. (That said, a particularly rousing tweet from Roberto Aguirre-Sacasa, who created both series, suggests it's certainly a possibility, at least.) But, even if the Riverdale crew doesn't storm the hallowed halls of Baxter High this winter, the Chilling Adventures of Sabrina's forthcoming seasonal installment is definitely on its way.
After flipping through a handful of Monday's reports about this exciting tidbit of Sabrina news, it looks like Netflix's spooky yuletide special —appropriately titled Chilling Adventures of Sabrina: A Midwinter's Tale — will see the Spellman witches ringing in their holiday season with a little ghostly tradition.
"The Church of Night, like all covens, celebrates the Winter Solstice, the longest night of the year, when families gather around the Yule Fire to sing pagan carols and tell ghost stories," reads Netflix's official description for the upcoming holiday episode, according to TheWrap and Decider.
Per the former's report, Chilling Adventures of Sabrina: A Midwinter's Tale will feature a whole roster of familiar faces from the Netflix series' headlining cast. Unsurprisingly, that reportedly includes the show's titular star, Kiernan Shipka, in addition to Miranda Otto, Lucy Davis, Ross Lynch, Michelle Gomez, Chance Perdomo, Jaz Sinclair, Tati Gabrielle, Adeline Rudolph, Abigail Cowen, and Lachlan Watson. Fans who'd like to get a better sense of what they're in for come Dec. 14 should check out Netflix's festive preview video, also released Monday morning via YouTube.
So, the Sabrina gang's all here, it would seem. How the heck did folks from Riverdale High get involved, then? It was the latter half of Netflix's reported logline for the new holiday special that's had the internet buzzing about Riverdale. Continuing, it hinted at some unexpected "guests and visitors" who will apparently be joining the Sabrina cast during A Midwinter's Tale. To that end, the description reportedly reads,
"But the holidays are also a time for guests and visitors — both welcome and unwelcome — you never know what might come down the chimney…"
Sound ominous? If the holiday episode's "unwelcome guests" end up looking like the folks from Riverdale, then it seems entirely safe to say the special's future audiences will be considerably more welcoming than its cast of characters. Ahead of the morning's big Sabrina announcement, Aguirre-Sacasa took to Twitter Sunday night, Nov. 11, with a subtext-laden teaser that has fans all but convinced that A Midwinter's Tale's unwanted visitors could be making the trek to Greendale (where Chilling Adventures of Sabrina is set) from a nearby fictional town with an un-coincidentally similar name.
"Big news for the Archiverse coming tomorrow, stay tuned..." wrote Aguirre-Sacasa on Twitter Sunday night, captioning a Christmas-y cartoon strip from the Archie Comics, off which both Chilling Adventures and Riverdale are based. Now, those familiar with the Archie Universe and all its wonderful crossover potential might know already that — fictionally speaking, at least — the towns of Riverdale and Greendale actually aren't very far apart, geographically. Remember Jughead and Betty's haunted trip to Greendale way back in Season 2?
In light of the logistics, plus the shared creator, it definitely seems like the Riverdale kids would make prime candidates for A Midwinter's Tale's unwelcome visitors. But, either way, who's ready to celebrate this holiday season with the Spellman sisters? (Hopefully, a rep from Riverdale High will be there, too.)