Chimamanda Ngozi Adichie Has A Lot Of Thoughts On Melania's Trip To Africa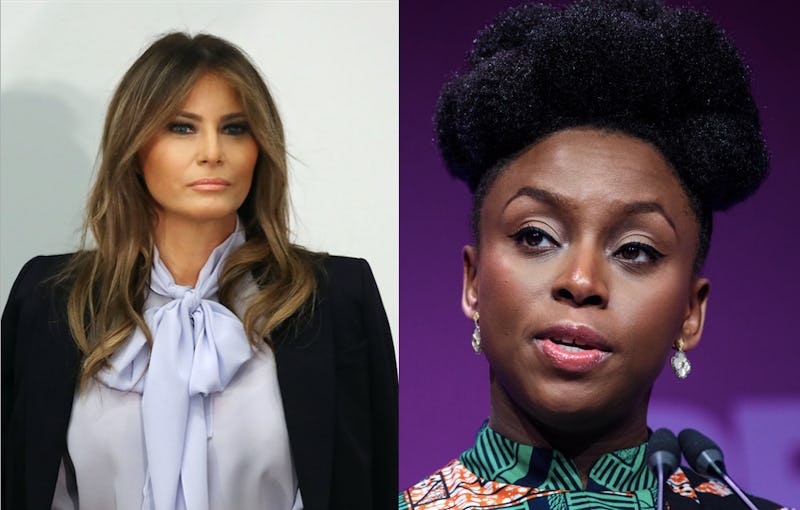 Chip Somodevilla; Jack Taylor/Getty Images News/Getty Images
The first lady's first international solo trip to Africa in early October is evidently still on people's minds, including Nigerian novelist Chimamanda Ngozi Adichie's. Discussing Melania Trump's Africa trip in an interview with Esquire UK recently, Adichie lampooned the first lady's decision to wear a pith helmet — which critics pointed out was a symbol of colonialism — while in Kenya.
Trump had visited four African nations — Egypt, Ghana, Kenya, and Malawi — for a weeklong trip. Adichie suggested her apparel choice in Kenya was like the first lady "stepped out of a colonial 1750 guidebook about how to be in Africa. There's a pith helmet and I'm thinking, maybe this is supposed to be ironic. Maybe it's a critique of colonialism." Adichie shook her head.
The Nigerian writer added, "She really thought this is what you do when you go to Africa and it says something about someone who is so removed from reality." Bustle has reached out to Trump's spokesperson, Stephanie Grisham, for a comment.
Adichie's comments came after Esquire UK's editor-in-chief Alex Bilmes asked the writer, "Do you think Melania Trump is a racist?" Adichie told Bilmes "yes" and said that Trump had cosigned her husband's conspiracy theory about former president Barack Obama's citizenship, which many people in the U.S. have referred to as "birtherism." "It was all about race," Adichie said of the birther conspiracy. "It was racist and she supported him."
There were other moments when Adichie said that she was willing to give Trump the benefit of doubt. One instance involved her infamous "I Don't Really Care. Do U?" jacket from June when she visited a migrant detention center in McAllen, Texas. In a statement to Bustle at the time, Grisham said that there was no message behind the jacket. Later on, in an interview with ABC News in October during her trip to Africa, Trump said that that apparel choice was deliberate.
Trump told ABC News, "I wore that jacket to go on the plane and off the plane and it was for the people and for the left-wing media who are criticizing me and I want to show them I do not care."
Adichie said that she remembered the jacket and the "noise" that the media created around it. "I remember thinking, we don't really know, because sometimes when you're in the public eye, people read meaning into things that really have no meaning. So I remember actually kind of being on her side when all that noise was happening," she said.
But after watching Trump's ABC News interview, Adichie said, "I just thought, what a joke." Returning to Bilmes' question, Adichie said, "So, the answer to your question is yes. I think she is [racist]."
Adichie also discussed her own grappling with race both as a Nigerian in her own country and then a Nigerian in the United States. In her native land, Adichie said that she considered herself Igbo on the ethnic front and Christian on the religious.
But upon coming to America, she said she began to understand the political weight and meaning of being black. "We don't 'do' race in Nigeria," Adichie said. The writer's additional musings from the interview on politics and other topics, including the Trumps, can be viewed here.