A Chipotle Rewards Program Is Coming & One Of The Freebies Is Chips And Guac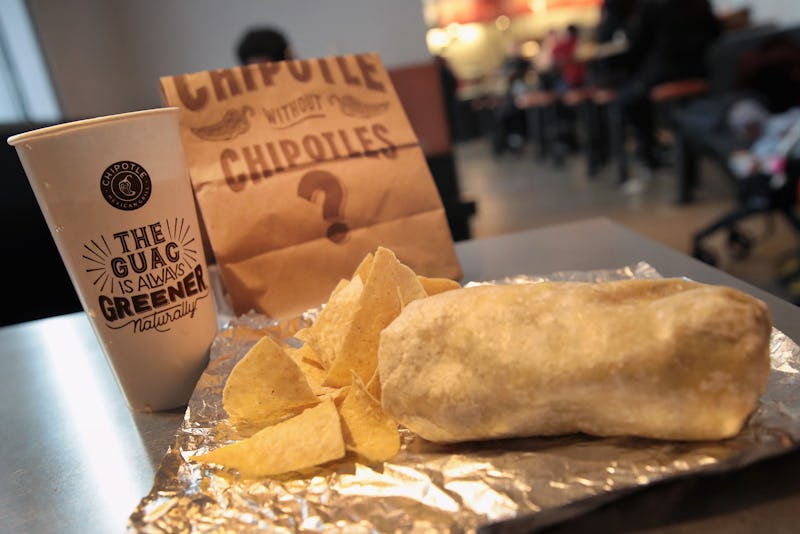 Scott Olson/Getty Images News/Getty Images
Friend, today marks not only the beginning of October, but the beginning of a brand new horizon for burrito lovers everywhere — or, at the very least, their bank accounts. Chipotle Rewards, a points-based Chipotle loyalty program, will launch in 2019, following a test in three markets. Meaning if you live in Phoenix, Kansas City (both in Kansas and Missouri), or Columbus, Ohio, you have a LOT of Chipotle perks headed your way.
Here's how the program works, at least in the pilot stage: eligible customers will be able to sign up on Chipotle's website or app, and start collecting points that you can use to earn various Chipotle freebies (be still my burrito-loving heart). You earn ten points for every dollar you spend in the store, with 1,250 points resulting in a free entree — and the key here is that it can be the entree of your choice. That means you can use it for a burrito, a burrito bowl, tacos, a salad, or whatever entree you feel in your heart of hearts.
And, just to kick the points program into high gear right off the top, for a limited time Chipotle is offering 15 points on the dollar for any order made online or via the mobile app. Chipotle is also offering customers in the pilot program a free order of chips and guac with their first order made using Chipotle Rewards. In other words, the people in the three test markets best have a tab of the Chipotle website open at all times over the next few months, so that their pioneering of this new program leads to a nationwide rollout, stat.
"Chipotle Rewards is a critical part of our efforts to digitize and modernize the restaurant experience," said Curt Garner, chief digital and information officer at Chipotle, in a press release. "Through this program, we can show some love to Chipotle super fans, create a true one-on-one relationship with our customers and unlock new opportunities to engage through offers and discounts – from delighting customers on their birthdays to incentivizing incremental purchases to providing rewards for engaging with the brand's mission to cultivate a better world."
Customers looking to get points even faster can complete "Bonuses" on the website or app as well, according to the Chipotle Rewards web page. Just make sure you don't sleep on these rewards, though — if you earn a free entree, the reward expires in 60 days. (Although truly, in what world is a human able to resist the siren call of Chipotle for over two months?)
If you're not in one of the ~chosen cities~, fret not — Chipotle announced it has every intention of rolling this out nationwide in 2019, so we can all reap the benefits of free burritos. Until then, you can check out the rewards page on the Chipotle website, where there's an email signup available that will alert you when Chipotle Rewards becomes available in your area. Guac on, my friends — 2019 is going to be a more delicious year for us all.