Chipotle Is Testing 6 New Menu Items — Including Your Long-Awaited Nachos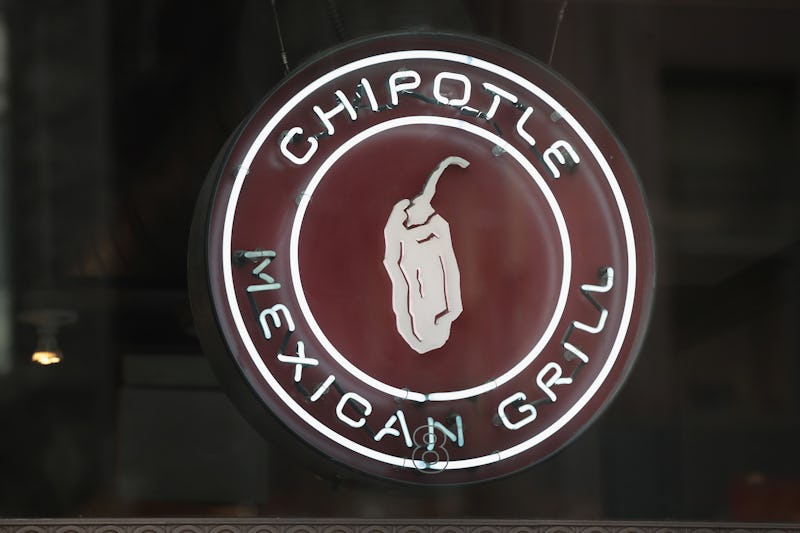 Scott Olson/Getty Images News/Getty Images
By now you have your Chipotle order so well-memorized that it's practically tattooed to your brain. But judging from what Chipotle may have in store for its menu, your carefully curated burrito could be shaking in its boots. Chipotle's NEXT Kitchen in New York City is testing new Chipotle menu items, including Chipotle nachos and quesadillas, two long-requested offerings that, up until now, Chipotle hasn't officially had on the menu. Also testing in the NEXT Kitchen? An avocado tostada, spring mix salad with avocado citrus vinaigrette, a Mexican chocolate shake, and a frozen paloma — items we didn't even know to ask for, but Chipotle does nothing for us if not give.
But first, a bit about these highly-anticipated nachos and quesadillas. While it was, admittedly, possible to DIY your own nachos and quesadillas at Chipotle with some creative finagling of your burrito and a whole lot of determination, the NEXT Kitchen is testing the real deal. According to Chipotle, it's a "crispy, grilled tortilla wrapped around a melty, cheesy filling and your choice of meat, fajitas or sofritas." The nachos are similarly unsurprising, and yet so, so necessary — according to Chipotle, they'll be comprised of "house made corn tortilla chips that have been topped with queso and your choice of beans, salsas, and lettuce."
Behold the glory of the quesadilla currently being tested at the NEXT Kitchen, which to me looks like a kid's meal for adults that I didn't know until this exact moment I always needed.
We've been waiting for those nachos and the quesadillas for a long time, but the other tested menu items may come as somewhat of a surprise for some. The avocado tostada, though, is decidedly on brand for Chipotle's target demo, and boy does it look Instagrammable as all heck. According to Chipotles, it's a "crispy, corn tortilla that has been fried flat then topped with our fresh, homemade guacamole and your choice of salsas, lettuces, and cheese," dubbing it "the Chipotle version of avocado toast." Seeing as I would consume the Chipotle version of just about anything, I am personally aggressively on board. And in case I needed any more reason to be, the pic of it is ~chef's kiss~ levels of delicious.
Also new to the NEXT Kitchen's test menu is the salad with avocado citrus vinaigrette. Chipotle is no strangers to offering salads — I, for one, have been purchasing their version of it and then loading it up with so many toppings that it only vaguely resembles a vegetable for years — but this is a version unlike any you've seen in the past, with a blend that includes "Romaine, Tuscan Oak, Tuscan Red Leaf, and Lolla Rosa," and an avocado citrus vinaigrette made with avocado, citrus, and cilantro.
But enough about vegetables. The true heroes of this new menu rollout are, decidedly, the drink offerings — first, the Mexican chocolate shake, which is perfect for summer and honestly has the potential to break Instagram should Chipotle ever roll it out on the permanent menu. According to Chipotle, it's "[b]ased on traditional Mexican cocoa," and has a "a hint of cinnamon and spice". Now you can have your drinks hot and cold at the same time, y'all.
The true pièce de résistance, though, is the frozen paloma — a "tangy, boozy twist on a paloma meets margarita," according to Chipotle, which sounds like it pairs best with... well, just about anything Chipotle has to offer.
These menu items will be testing in Chipotle's NEXT Kitchen in New York City, so keep your eyes on the horizon for them — in the meantime, fingers crossed they do well enough in testing to hit the main menu. Any of these seem like a worthy addition to me.