What '13 Reasons Why' Fans Need To Know About The Show's Newest Character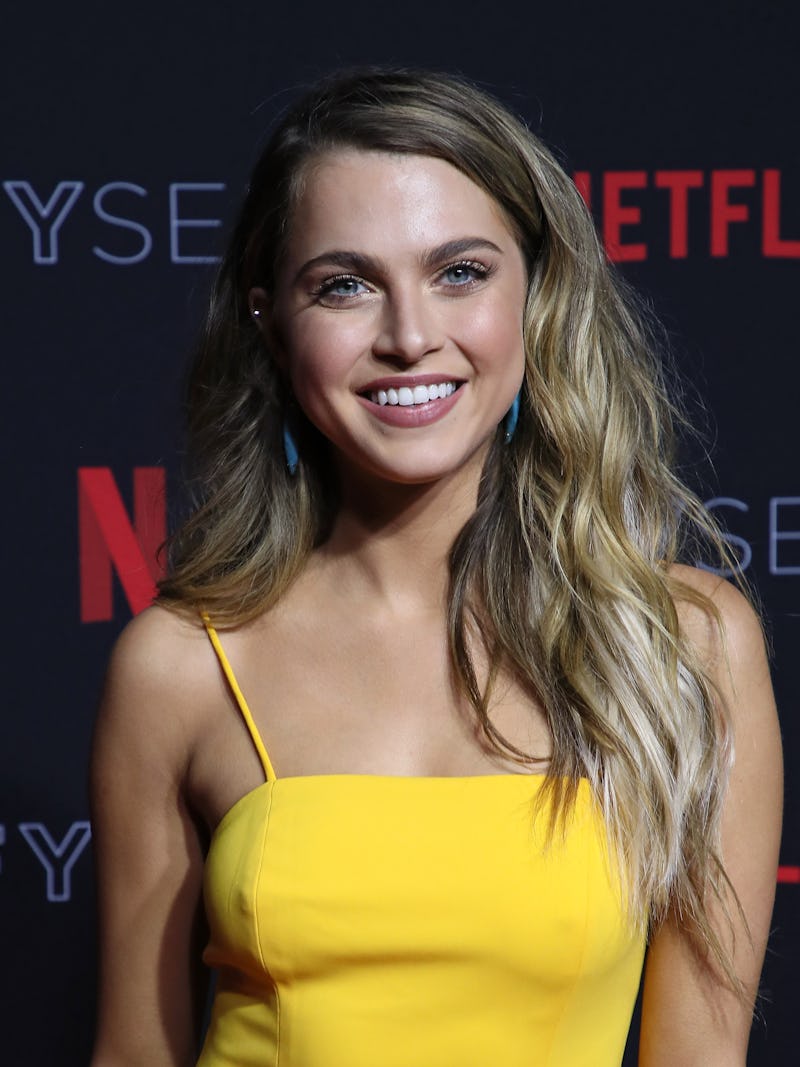 David Livingston/Getty Images Entertainment/Getty Images
The hit Netflix series based on Jay Asher's young-adult novel Thirteen Reasons Why is returning to the small screen for a second season, and this time, its plot is straying even further from the book. In doing so, 13 Reasons Why Season 2 added new cast members to shake things up, according to Seventeen. One such newbie is Liberty High's "it girl," a 13 Reasons Why character named Chloe, played by actress Anne Winters, according to another Seventeen article.
This featured role isn't Winters' first, as you may recognize her from her appearances in Freeform's The Fosters or FX's Tyrant. It isn't the Dallas, Texas native's first rodeo at Netflix, either. She starred in the 2017 Netflix original film #RealityHigh, a story of a social media celebrity-stirred high school. So it's only fitting that she finds herself back in the classroom on the streaming site.
This time around, FLARE reports that she will be donning navy and white in school spirit as she cheers the Liberty High Tigers along from the sidelines. "She's a cheerleader," Winters told FLARE. "Chloe is a very different character than other people I've played."
The rest of her character's identity remains a mystery, other than the fact that she's going to get caught up in some drama, per PopSugar. But what kind of show would 13 Reasons be without it?
"I am going to be causing a bit of drama," she told PopSugar. "But it's funny because I always forget that all the episodes that we filmed are going to come out at the same time. So, in my head I've been thinking throughout the season people might have a different opinion of me, but if people [marathon watch] it then I feel like people will see the entirety of my character throughout the whole season in a day or two."
Although not much about Chloe is revealed in the Season 2 teaser and trailer, Winters old PopSugar that she's bringing something new and exciting to the table. While it may be in the form of the "mean girl" stereotype, she says she thinks people will be surprised by how relatable her character is. "I think I represent the blurred lines — in Season 1 it's very black-and-white of what's right and wrong — and I think my character explores a very medium line," Winters said. "I'm really happy that I got to portray this character. I think a lot of girls will relate to it. I definitely did."
Winters also revealed in that interview that although Chloe is new to the show, she's not necessarily a new student at Liberty High. She's just being introduced to a new crowd. She said Chloe spends most of her time hanging out with Bryce, Monty, Zach, and Jessica.
Speaking of Bryce — who sexually assaulted both Hannah and her best friend Jessica in Season 1 — the teaser for Season 2 hints at the possibility of Chloe becoming his next victim. In the only peek of her viewers get, she is slumped backwards, unconscious in a chair as Bryce is pouring himself a drink. Alcohol, an unconscious woman, and a known sexual predator can only end poorly here.
To offer fans some relief from such an ominous narrative, Winters praised actor Justin Prentice, who portrays Bryce, as one of her favorite costars to work with. "He's literally the opposite person in real life," she told FLARE. She said she loves every one of her cast mates, and was beyond thrilled with the opportunity to join them in Season 2.
In fact, she actually auditioned for the show's main role of Hannah Baker in Season 1. "From the minute I read the first pilot episode years before I loved it and the show is amazing," she told The Italian Rêve. "I think it really sheds a light on a really important topic and it's real for a lot of kids."
There were a lot of questions left unanswered at the end of Season 1, and it sounds like Chloe's character may show up to stir the pot even more. Is that the case for sure? There's only one way to find out — watching when it hits Netflix on May 18.
If you or someone you know are experiencing suicidal thoughts, call 911, or call the National Suicide Prevention Hotline at 1-800-273-8255.
If you or someone you know has been sexually assaulted, call the National Sexual Assault Telephone Hotline at 800-656-HOPE (4673) or visit online.rainn.org.