How To Decide If You Should Watch '13 Reasons Why' Season 2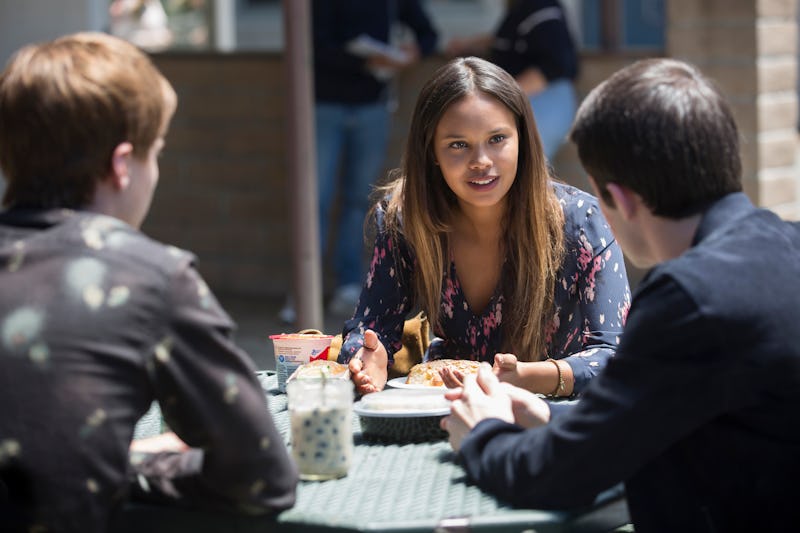 Beth Dubber/Netflix
Back in March, it was announced that 13 Reasons Why Season 2 would include a disclaimer before each episode that featured the cast of the Netflix series warning viewers about the "tough real world issues" that are depicted in the show. The clip, which features stars Dylan Minnette and Katherine Langford, would also give viewers access to local helpline numbers and discussion guides at the website 13ReasonsWhy.Info, "because the minute that you start talking about it, it gets easier." It was a sign that the show was taking the criticism of last season — specifically, from some mental health organizations and professionals who believe the depiction of Hannah's death by suicide was dangerous to younger viewers — seriously. Though creator Brian Yorkey had maintained that the show had a "responsibility" to show just how horrific suicide and other real-life issues can be, multiple trigger warnings were also added to the first season after it dropped. It all felt like a promise that in Season 2, 13 Reasons Why was going to take more responsibility for how its content could impact young viewers.
After watching the new season, these changes feel like they were designed to placate concerned parents; the actual content of the show's second season is equally as controversial as the first. So yes, if you're wondering if you'll be disturbed by 13 Reasons Why Season 2, you likely will be if you found any part of the first season troubling. The show doubles down on its graphic depiction of teen issues like bullying, sexual assault, gun violence, drug addiction, and depression in a way that feels irresponsible at best given the uproar over Season 1, and opportunistic and unnecessarily cruel at worst.
It's as if Yorkey and his writers felt the addition of a new intro, discussion guides, and a 13 Reasons Why after show Beyond the Reasons, which will feature mental health professionals talking about the issues of each episode, means they didn't really have to write those discussions into the show. It's hard not to look cynically at these "changes" Netflix has been touting in the weeks leading up to the premiere as a Band-Aid, a small superficial way of covering themselves should anyone complain about the subject matter of this season. 13 Reasons Why is trying, but is it really trying hard enough?
This isn't to say 13 Reasons Why doesn't do anything right. Early in the season, the focus is on healing as the trial of Hannah's parents vs. Liberty High School begins, bringing back the trauma from the past year with it. Specifically, that of Jessica (Alisha Boe), whose journey from sexual assault victim to survivor is one that is treated with care, and likely, help from mental health professionals. For the most part, it feels believable and hopeful in a season that otherwise skews very dark.
It's also the storyline that the 13 Reasons Why cast and creator have talked about most in their pre-release interviews, connecting it to the #MeToo movement by going as far to say Bryce (Justin Prentice), who it was revealed last season sexually assaulted Jessica and Hannah, is this high school's version of Harvey Weinstein. In actuality, Bryce is more like Brock Turner, the convicted Stanford sex offender whose privilege offered him protection.
But, in the latter half of this season, 13 Reasons Why reverts back to its old tricks, showing too much and saying too little about it. It tries too hard to set up for a Season 3 and, in doing so, plays way too fast and loose with these extremely sensitive topics. In many ways, the show squanders much of the goodwill it builds up in the beginning of the season by overdramatizing topics that are dramatic enough on their own.
The final episodes are a lot of shock and awe and there are moments that I can't detail here — though they will undoubtedly get the think piece treatment once the season starts streaming — that are brutal, callous, and hard to watch. They're even harder to swallow than some of the more triggering episodes of last season. But the real reason why 13 Reasons Why Season 2 is so frustrating to watch is because it tries to tackle too many tough topics without giving enough time or care to most of them.
Throughout the season, I wondered, what would Degrassi do? The progressive Canadian soap that has never been afraid to tackle many of the same issues as 13 Reasons Why seemed to understand that their show was more than entertainment. They were willing to go all in on tough topics like sexual assault and bullying, while also understanding that they had some responsibility to their audience, most of whom are young and impressionable, to follow up with important conversations. And they did that without having someone tell them to do so.
It might be why Aislinn Paul, who played Claire on Degrassi: The Next Generation, felt it necessary to tweet her take on 13 Reasons Why. "I can't get it out of my mind so I have to say," she wrote, "I think 13 Reasons Why discusses teen suicide & depression in an unhelpful & unhealthy way."
It goes without saying that 13 Reasons Why is a TV show and its main goal is to entertain. But, after the criticism of the first season, the show seemed interested in creating content that could be both entertainment and educational. It's not an easy line to toe, to be sure — Yorkey has said as much — and no one is expecting 13 Reasons Why to have all the answers, but the show should be making a genuine effort to lead the conversation on these subjects instead of doing damage control after the fact.
Earlier this month, Yorkey's statement that there wouldn't be another depiction of suicide this season was seen as a sincere mea culpa for mistakes made last time around. Having now seen Season 2, this feels like a misreading of the criticism of last season. 13 Reasons Why wasn't being called out for choosing to depict suicide, it was being called out for the way in which it depicted suicide. It was being criticized for its lack of nuance in tackling such a tough topic that led some mental health professionals to accuse the show of "glamorizing" suicide. There is still a bluntness in the way 13 Reasons Why portrays depression and trauma-induced PTSD in Season 2, and it feels especially lazy knowing just how many resources Netflix had at their disposal to do this responsibly.
"We have to portray this story as authentically as we can," Yorkey said a few months back. "We have to tell the truth." Unfortunately, 13 Reasons Why Season 2's version of the truth is still lacking the thoughtfulness that its viewers deserve.
If you or someone you know are experiencing suicidal thoughts, call 911, or call the National Suicide Prevention Hotline at 1-800-273-8255.
If you or someone you know has been sexually assaulted, call the National Sexual Assault Telephone Hotline at 800-656-HOPE (4673) or visit online.rainn.org.