Chloe Kim Takes The Gold & Twitter Is So Damn Happy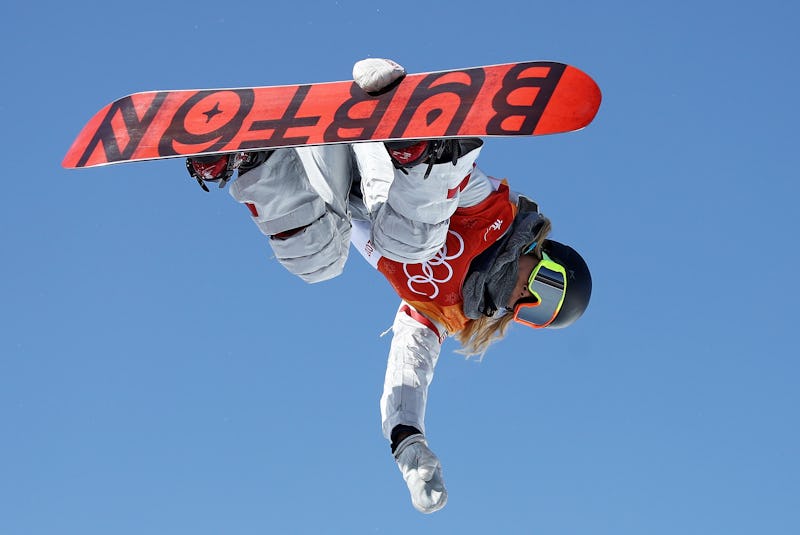 Cameron Spencer/Getty Images Sport/Getty Images
Twitter erupted in cheers on Monday night as Team U.S.A. snowboarder Chloe Kim took gold in the halfpipe competition. Her final score was 98.25, even better than her gold medal-winning run.
Kim's win doesn't completely come as a shock – she has been a favorite for the gold medal since before she even physically arrived in PyeongChang, South Korea. However, sporting a combination of grit, familial collaboration, and a pretty comical Twitter account, Kim wasn't just a medaling favorite, but a fan favorite, too.
Kim actually slid into first place after completing the first of three runs down the halfpipe. After that point, none of the other women competing against her managed to slide her out of her top spot.
During her second run, Kim fell. But even then, she stayed in the lead position, her opponents entirely unable to catch up, even with her one "dud" of a score. By the time Kim was at the launch point for her third and final takeoff down the halfpipe, she had earned gold. But still, she wasn't done. Taking what was effectively a victory lap, Kim managed to outdo her Olympic gold-qualifying score, landing two back-to-back 1080s and sliding into a final 98.25.
Maybe it helps to know that you've already succeeded, but Kim is actually known for landing consecutive 1080s. As of two years ago, she has been the only known female snowboarder to successfully land two of the tricky maneuvers back to back. That time, at the US Snowboarding Grand Prix in February of 2016, she earned a perfect 100. (The only other snowboarder who has earned a perfect score is Shaun White, who is also competing in PyeongChang this year.)
Kim had viewers rooting for her, as evidenced by an outpouring of support on Twitter. "We should rethink the age restrictions on the presidency because if Chloe Kim and Red Gerard ran on a ticket together I'd vote for them tomorrow," tweeted writer Charlotte Wilder.
"On her victory lap, Chloe Kim lands back-to-back 1080s and the judges reward her with a 98.25," said reporter Rachel Axon. "Coronation complete."
Kim, aside from her astonishing record of performing on the course, also captured the hearts of fans during a Super Bowl video ad campaign which aired during the 2018 game one week prior. The one-minute ad highlighted the relationship she enjoys with her father, Jong-Jin Kim. As is alluded to in the clip, Jong-Jin quit his engineering job when Kim was only about eight years old. The reason? To support Kim's burgeoning snowboarding career.
The beautifully heartbreaking video shows a father-daughter relationship reliant upon mutually motivating and encouraging each other. The ad ends on a final scene wherein Kim is driving the pair back from a competition. Her father sits in the passenger seat, asleep, holding on to a trophy which Kim presumably had just won.
But beyond Super Bowl ads, Kim, as a 17 year-old is wont to do, is highly active on social media — particularly Twitter, where she has developed a reputation for tweeting about food. She even turned to the social media site to lament about her hunger while in the middle of winning a gold medal.
"Wish I finished my breakfast sandwich but my stubborn self decided not to and now I'm getting hangry," she tweeted, to fans' delight.
A certifiable history maker, it's unlikely that PyeongChang will be the last fans see of the California-born snowboarder. It's highly likely that the young athlete will enjoy more than a decade of competing professionally. (Her teammate, the record-making Kelly Clark, is 34, after all!) And if 2018 was any indication of what's in store, her fans will definitely remain onboard.