Why This Teenage Snowboarder Is Going To Be The Star Of The 2018 Winter Olympics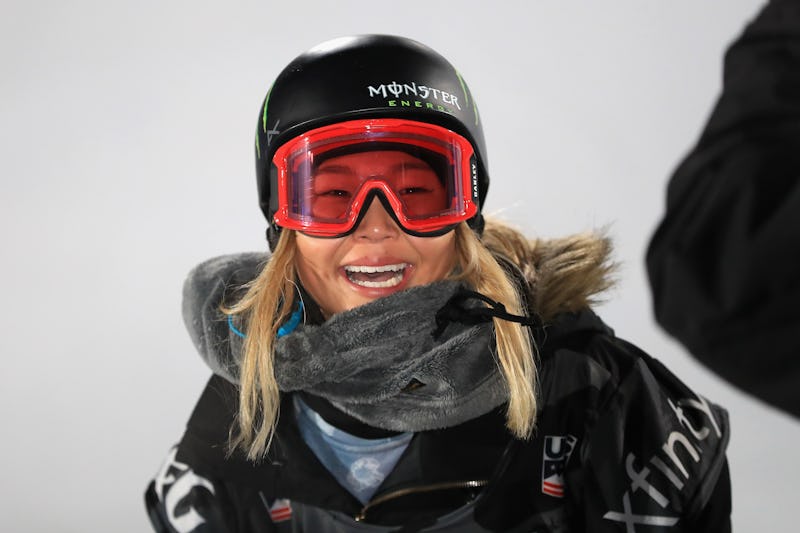 Sean M. Haffey/Getty Images Sport/Getty Images
At 17, most of us were probably stressing out over a high school exam or trying not to wreck our parents' cars. But Chloe Kim? At 17, she's out in South Korea, getting ready to compete for Team USA at the 2018 Winter Olympics. Although the snowboarder missed the age cut-off for the 2014 Winter Olympics in Sochi, this teen has been pulling in wins and rocking her sport for years. Now, she's ready to take on the competition, and you can follow Chloe Kim's Snapchat and Instagram to see the young athlete document her first trip to PyeongChang.
Just how good is Kim? Really good. But don't just take it at face value; Kim has won some impressive titles that prove she's a force to be reckoned with. She was the youngest American Winter X Games gold medalist ever when she was 14 (only to lose the "youngest ever" title to Kelly Sildaru last year). She is also the first person younger than 16 to win three gold medals at the X Games, and two of them were back-to-back. She also completed two flawless 1080s, back-to-back, (each 1080 is — very basically — three spins in the air) at the 2016 U.S. Grand Prix, becoming the first female boarder to ever land that move in a competition. Naturally, she got a perfect score for that performance.
And just like many teenagers, Kim is all over social media. She has Twitter, Instagram, and Snapchat, all with the username is chloekimsnow, which is really so fitting. Her posts tend to feature a whole lotta snow (super appropriate for what she does) and a ton of Olympic-themed content. Kim uses her Instagram stories to give a behind-the-scenes look at being an athlete, posting about events and happenings in South Korea with the rest of Team USA.
Kim's social media presence also shows that she has a soft spot for animals. The athlete told NBC that she wants to go to college and become a vet after being a pro-snowboarder. "Snowboarding is a huge part of my life," Kim said. "But I also feel like it's important to have a plan B or a back-up plan for after my career because I can't snowboard for my whole life competitively." When you see how often Kim's dog Reese takes up some spotlight on her Instagram, it's easy to see why the teen would most likely be a natural. Plus, Reese has her very own Instagram which deserves a scroll, too.
Kim's dad, Jong Jin, has played a particularly big role in his daughter's success, as shown by her social media. He's constantly by her side and supports her through her pro-snowboarding career. According to NBC, he accidentally got Kim hooked on snowboarding when he took her out when she was four years old, because he didn't want to learn alone. After she started winning competitions at age six, Jin quit his job to drive his daughter several hours away to train.
While Kim's previously competed in the events superpipe, slopestyle, and halfpipe, she'll be competing in the halfpipe for the 2018 Olympics. And considering how well she's done in the past, that seems like a great choice. "She rides with a tremendous amount of amplitude and carries a lot more speed than any other female in the halfpipe," said U.S. halfpipe coach Ricky Bower, according to E! Online. "She's in a whole different league. There's really no one that can ride like that."
In many ways, Kim is like any other teen, with pizza cravings, a love for Oreos, and adoration for her dog. But when it comes to sports, she's most definitely in a different league than everyone else. It's so awesome to see that she's living out her dream as a US Olympian.