Chris Evans & Mark Ruffalo Are Hilariously Trolling Each Other With Childhood Pics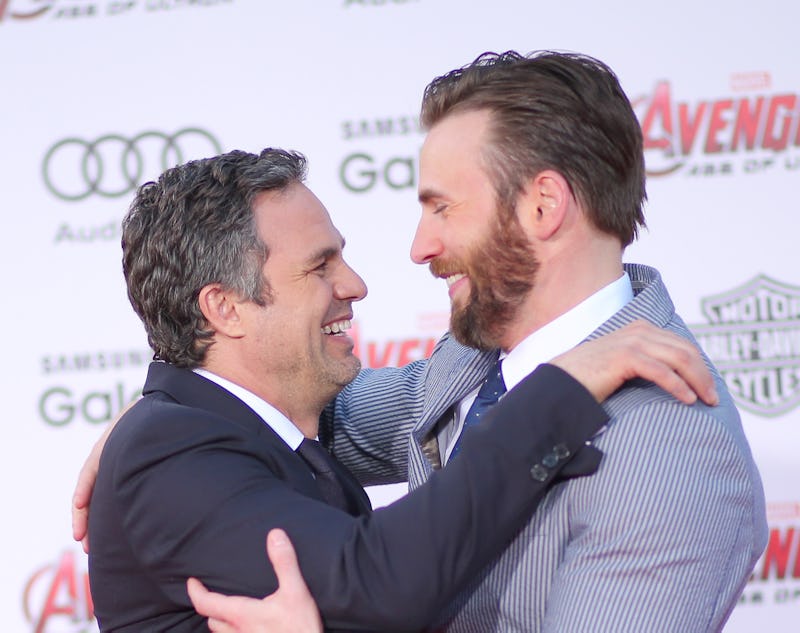 Mark Davis/Getty Images Entertainment/Getty Images
Mark Ruffalo and Chris Evans' off-screen friendship is one of the best things about the Avengers franchise, and the two of them are at it again this week. Case in point: Mark Ruffalo trolled Chris Evans by sharing his childhood photos on Twitter after the Captain America actor made a joke about one of Ruffalo's school pictures.
Ruffalo, who plays Bruce Banner in the Avengers series, shared two of Evans' early school photos on Wednesday, along with the caption, "It actually makes me furious that I can't hang out with this kid." The tweet, of course, is a reference to one that Evans posted on Monday, which included Ruffalo's school picture with the same message.
Ruffalo originally posted his old photo last Thursday, as a harmless #TBT. But it wasn't long before his Avengers costar Paul Bettany, who plays Vision, decided to troll Ruffalo by making the picture his Twitter profile photo. He even changed his Instagram bio, writing, "I thought my teen years were rough but then I saw Mark Ruffalo's."
To make things worse, Bettany originally spelled Ruffalo's name wrong, too, and Ruffalo corrected him in a tweet. It's not clear whether the mistake was intentional. Either way, though, Ruffalo might have thought Bettany's prank was the end of the trolling, but it looks like Evans decided to keep the fun going.
It looks like Ruffalo did a little digging to find Evans' school photos. The actor didn't share a throwback picture last week when Ruffalo did, though a lot of his school photos have made their way around Pinterest in the past. Plus, this isn't the first time the actor has pranked his Avengers costars, either.
Back in 2014, Ruffalo snuck behind Paul Rudd, who was doing an on-camera interview at the time, pretending to fangirl over the Ant-Man star. (Rudd later returned the favor, sneaking up behind Ruffalo during an interview he was doing in April, ahead of Avengers: Infinity War's release.)
At this point, the franchise's producers might be relieved that Ruffalo is becoming known for his pranks and trolling, rather than for giving away spoilers about upcoming movies. During a now-infamous interview with Good Morning America last summer, Ruffalo pretty much revealed that a bunch of characters would die in Infinity War. "Wait 'til you see this next one... Everybody dies," Ruffalo said at the time, which prompted some chiding from his costar Don Cheadle.
And earlier this month, Ruffalo let the Avengers 4 title slip during an appearance on The Tonight Show Starring Jimmy Fallon. Ruffalo tweeted at Fallon before the episode aired, asking the host to take his "spoiler slip" out of the final episode, and his statement ended up being bleeped on air.
Spoilers aside, it's nice to see Evans and Ruffalo goofing around together. Even though Evans has reached the end of his days playing Captain America, it looks like his relationship with his costars will last for plenty of years (and hopefully more trolling and pranks) to come.