Chris Evans' Response To Leslie Jones' 'Avengers' Tweets Will TOTALLY Make You Laugh & Swoon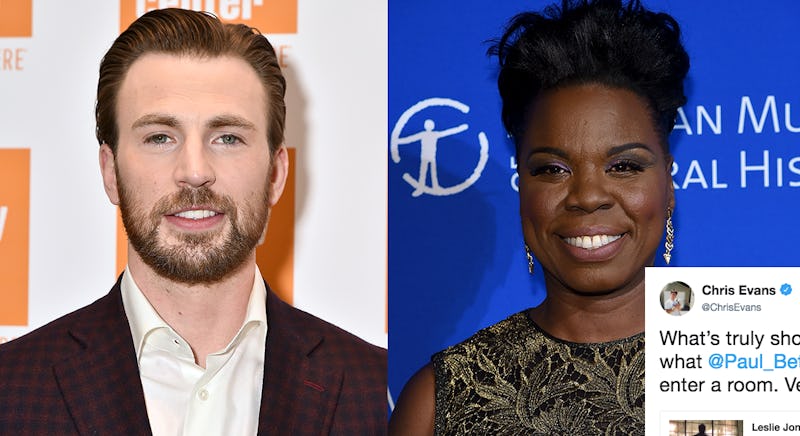 Theo Wargo/Getty Images Entertainment/Getty Images; Jamie McCarthy/Getty Images Entertainment/Getty Images; ChrisEvans/Twitter; LeslieJones/Twitter; Bustle/Screenshot
It may have seemed as if the whole world had already seen the latest Avengers movie, but no, there was still at least one person who hadn't and she happens to be funny as hell. Saturday Night Live's Leslie Jones live-tweeted Avengers: Infinity War and she had a special message for Captain America and his beard. One that started with "dayum" and only got better from there. In fact, it was so good that Jones's Avengers tweet got a hilarious response from Chris Evans that will make you love Captain America even more. But, maybe not as much as Vision himself, Paul Bettany.
On Tuesday, July 31, Jones finally sat down to watch Infinity War and boy, did she have a lot of thoughts about Captain America's new look. Let's just say, the swooning got started pretty quickly on her timeline once she got to the part of the movie when Captain America finally showed up.
"Ladies and gentleman," Jones said in an Avengers clip she posted to Twitter, "introducing my motherf*cking husband. Oh my god, Captain America you are fine as f*ck." She ends her intro for her future husband by pointing out, "And you got a beard. Motherf*cker, yeah!"
When Evans got word of Jones' dedication to Cap he retweeted her video with a little message of his own that pokes fun not only at himself, but at his co-star. "What's truly shocking is that this is EXACTLY what @Paul_Bettany says to me every time I enter a room," he wrote. "Verbatim."
Let's just say Bettany has yet to comment on Evans' claims, but could you blame the guy for wanting to celebrate Captain America's well, everything? I mean seriously, just look at that beard. Of course, when the first posters for Avengers: Infinity War were revealed, Twitter couldn't stop looking at a different part of Captain America.
Thanks to Evans' poster pose, which has him angled just enough so you can check out his backside, a pose often reserved for female action heroes, everyone got a pretty good look at his butt. And while no one wants to sexualize the Avengers, to steal a phrase from Leslie Jones: "Dayum Captain America."
While watching Infinity War, Jones didn't just talk about Captain America's fine physique, though, she also questioned what Vision's deal is. "Ok can someone explain the the dude with stone in his head who is that?" she asked, only to have fans give her way more information about Vision's origin story than she probably needed.
Jones also reminisced about her own superhero look as a kid. "Man I love superhero movies," she tweeted. "Had a blue and light blue cape in sixth grade moms made it for a parade but I wore it way past the parade." Now, Jones said in a video she posted, she wishes she had a suit like Iron Man's but in purple.
Live-tweeting an entire two hour and forty minute movie is hard work, which is why Jones couldn't get all the way through it in one night. However she did leave fans with a final thought about who she would have dated out of the very, very good looking Infinity War cast.
"Now don't judge," Jones tweeted, "but I would have dated Thanos in my 20s LMAO!! Wit his gangsta a**!" So, to all those wanting to know, yes, some people do think Thanos is hot.
Luckily, Jones is now a little older and wiser and probably knows that Captain America is really the one to settle down with. From Evans' tweet, let's assume Paul Bettany would most certainly agree.