Night One Of Becca's 'Bachelorette' Season Might Feature The "Most Ridiculous Fight" Ever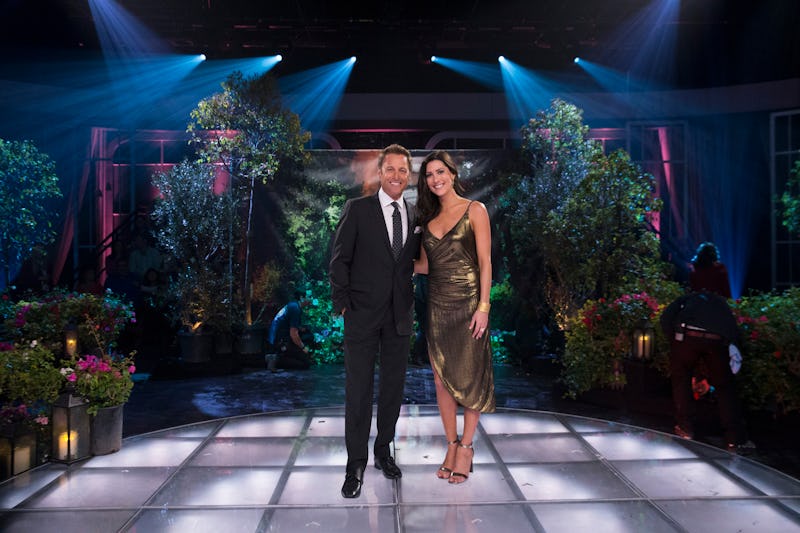 ABC/Paul Hebert
Season 14 of The Bachelorette will be here before you know it and so will the drama. Host Chris Harrison teased the first episode of Becca Kufrin's Bachelorette season and it sounds like there's a major fight coming right up. It's good to know that the season will be interesting from the start, but a big fight during night one is pretty surprising.
In an interview with Entertainment Tonight, Chris shared, "Maybe the most ridiculous fight you've ever seen in the history of our show, which is saying a lot… It's just magnificent to watch. It's going to be one of those [seasons where] you're watching through your fingers because you're embarrassed for everybody involved but you can't stop watching."
We have possibly "the most ridiculous fight" ever in the first episode and vicarious embarrassment throughout the rest of the season!? What a blessing.
Unfortunately, Chris didn't say (or even hint at) what the big fight is actually about, but the first night of every Bachelor and Bachelorette season follows the same formula: The lead gets to meet 25-30 contestants as they come out of the limo, tries to remember all of their names, hands out some roses, and makes some cuts before the rest of the suitors move into the mansion.
And the "drama" on the first night is usually the same every single season, too. The biggest challenge of the first night is making a solid impression on the lead, so standard drama on the premiere episode comes when someone gets a noticeably greater amount of one-on-one time with the lead — or asks, "Can I steal her for a second" while the Bachelorette is in a conversation with another guy — and the other contestants get jealous and let out their insecurities.
The rose ceremonies (especially on the first night) can go on until the morning. There's really nothing to do other than talk to guys who are interested in the same woman and have some drinks while struggling to stay awake. The combination of exhaustion, alcohol, and nerves is just the norm for night one. It's been this way season after season after season, so why is it getting out of hand at this point in the game?
It's possible that more "dramatic" men were cast than the audience is used to this time, but regardless, it just seems like a harmful move to get into it with a complete random when it is vital to make a good first impression on Becca.
There's a good chance the guys in the fight didn't get a rose that night. Becca made it clear that she isn't on board with drama. In a May 1 interview with Entertainment Tonight, Becca explained, "I'm trying to weed out the drama as early as possible. Like, I don't want drama." She continued, "If there's a guy that's not meshing well with the other guys, I probably won't want to keep him around that long." That could be a general statement about her thought process throughout her season, but it could also be applicable to the night one antics. Maybe they just made Becca's first rose ceremony a little bit easier for her and she immediately kicked them out.
If there is a big fight during the premiere, imagine the drama during the rest of Becca's season. Chris told Entertainment Tonight, "We are done. I know everything."
Chris didn't provide much other insight into the season premiere, but it sounds like it's going to be just as a great as it normally is. "The arrivals are great because, for the guys, it's very much out of our comfort zone to make these grand entrances," he said. "We make fools of ourselves, that's what we do. And some of these guys do just that."
At this point, Chris knows exactly how to get fans hyped up for the season without sharing any spoilers. "We just wrapped …and May 28 is our premiere. It's right around the corner," he said. "It's so damn good. It's such a great season. She's a great Bachelorette, the guys are great, the drama's there, the tears, the ridiculous arguments. It's good, it's really good."
It better be. Everyone in Bachelor Nation can agree that Becca deserves the best of the best. (And so do we!)