Becca Has A Strategy For Her 'Bachelorette' Season That Sounds Pretty Impossible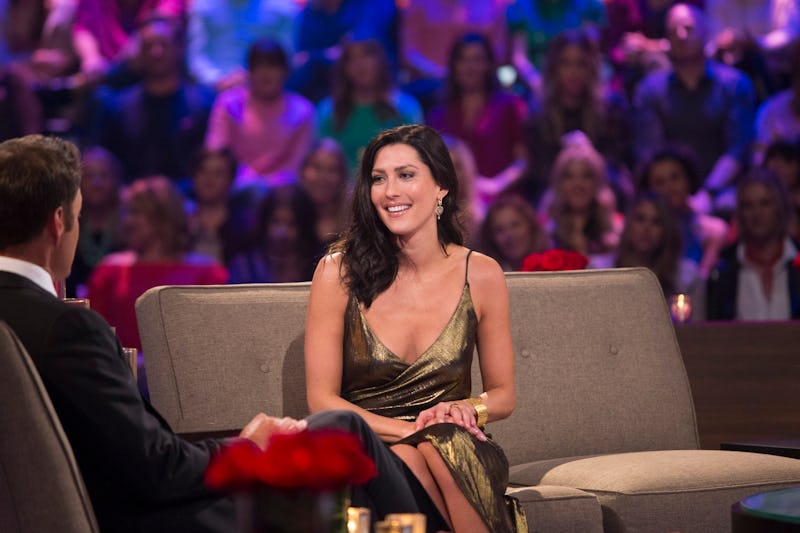 ABC/Paul Hebert
With the Season 14 of The Bachelorette still in production, the lead is very focused on "doing the damn thing" in the best way possible. new Bachelorette star Becca Kufrin insists she is weeding out the drama on the show and is taking the whole process as seriously as she possibly can. In a May 1 interview with Entertainment Tonight, the Minnesotan publicist declared, "I'm trying to weed out the drama as early as possible. Like, I don't want drama."
No offense to Becca, but does she not realize what show she's on? Unfortunately for her (and fortunately for the viewers), avoiding drama is just impossible on any show in the Bachelor franchise.
Even so, Becca said, "If there's a guy that's not meshing well with the other guys, I probably won't want to keep him around that long."
That makes perfect sense. No one would want to be distracted by superfluous drama in such a high pressure, high stakes situation, but the truth is that the lead is not privy to everything that happens between the cast members. She might not even know who is causing the most drama until way after the fact.
Plus, the guy who is "not meshing well with the other guys" could just be rubbing them the wrong way because they see that he is the best fit for Becca and view that as threatening. Becca's heart is in the right place (as per usual), but it's virtually impossible to bypass drama on The Bachelorette. Even if Becca does ditch the dramatic guys early on, there is bound to be some tension if she develops a solid rapport with more than one of the guys, which happens on every single season of this show. The casting department and the producers who plan these romantic dates really know what they're doing.
In the same interview Becca emphasized that she just wants to "make that right choice," so, of course, she wants to eliminate anyone who could be there for the wrong reasons. Becca explained, "At the end of the day, I will make that right choice, because I'm not going to take this situation lightly."
Could that be a dig at the last Bachelor lead Arie Luyendyk Jr.? It might not be, but it wouldn't be a surprise. Arie originally gave Becca his final rose on Season 22 of The Bachelor, but changed his mind and got engaged to the runner-up Lauren Burnham on the After The Final Rose special.
Of course, that epic finale resulted in all of Bachelor Nation supporting Becca's journey to find love on The Bachelorette, but it definitely puts even more pressure on her to make the right choice. The first time. "My biggest fear is, I mean, kind of what happened," she said. "Like falling for somebody and ready to spend my life with somebody and have them not be ready or to be like, 'I don't know if you're the one for me.'"
That's a perfectly reasonable fear, in general, within in the context of this show, and especially after what happened to her on The Bachelor. It's tough to know for sure if anyone is truly "the one," but Becca has her priorities in check when it comes to searching for her future husband. She said, "I'm not going to let everything else get to me when it's that big of a decision for my life."
One person who thinks Becca is killing it in the lead role is The Bachelorette host Chris Harrison. In an April 29 interview with Entertainment Tonight, Chris gave Becca his stamp of approval when he promised, "Everything you think of her, add about 10 times to that about how awesome she is. We love her… she's an awesome Bachelorette."
Becca may be (understandably) worried, but Chris is not concerned about her suitors: "They are definitely worthy and I think, fingers crossed — I mean, we're still shooting so I can honestly say this because I don't know how it ends — hopefully she's gonna find love."
If Chris Harrison thinks the guys are worthy and Becca is putting all she can into this, it is pretty promising that she is going to find the one at the end of her journey as the Bachelorette. Will she actually be able to "weed out the drama" like she wants to? There's not a chance of that because this is The Bachelorette. But at the end of the day this show is about the love story and everyone is rooting for Becca to find her dream man after enduring confusion, and yes, even some drama during her season.