Chris Hemsworth & Chadwick Boseman Just Reunited For A Superhero Selfie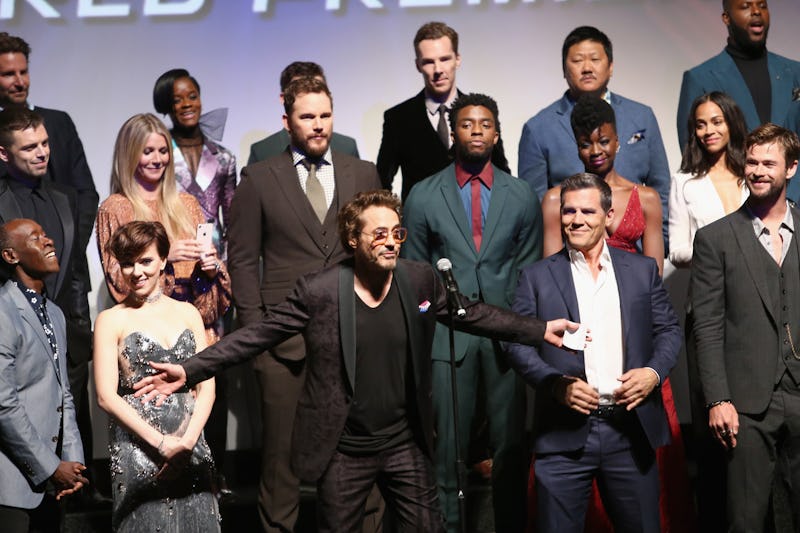 Rich Polk/Getty Images Entertainment/Getty Images
It's tough being a Marvel fan sometimes. After Avengers: Infinity War, fans are more concerned with whether or not half of the entire population are dead for good than whether Tony and Pepper make it. When Black Panther disintegrates into dust, it's time to start worrying about the big picture. Luckily, even Black Panther's questionable fate didn't stop the Chris Hemsworth and Chadwick Boseman's Avengers Reunion from happening this week at the 21st Annual GQ Men of the Year Awards.
The Men of the Year issue is described by GQ as a "celebration of the year's cultural high points," and it wouldn't be such a celebration without at least a few Avengers in attendance. Boseman, who stars as T'Challa in the MCU, and Hemsworth, who plays Thor, were both on hand at the ceremony on Wednesday, Sept. 5. And though their characters have yet to truly interact on screen (despite a brief overlap in battle in Infinity War), they appeared to have a great time together at the event, where Hemsworth was on hand to present Boseman with the International Man Award.
During the event, Boseman and Hemsworth posed for a quick selfie, proving that, even in this post-Infinity War world, Black Panther and Thor are both, in fact, alive and well. Or, at least the actors are.
Hemsworth joked about the improbability of their meeting on Instagram, writing, "Piss off, Thanos! You can't take away my friends. Wakanda forever! Congrats to GQ's International Man of the Year, @chadwickboseman. @boss #BOSSxGQAwards #ThisIsBOSS #ManOfToday." That's right, Thanos, stop trying to evaporate Thor's friends!
Boseman returned the favor by sharing his own photo of the pair on Instagram. "Good times, good people. I appreciate the love, @BritishGQ," he wrote. "And to my friend @ChrisHemsworth, thank you for presenting me with the International Man of the Year Award. #GQAwards #BossxGQAwards."
On their site, GQ stated that they chose to honor Boseman because of Black Panther's success in redefining what a superhero could be. Speaking of Black Panther, the publication wrote, "It showed up Hollywood's outdated ideas of what could be successful and what couldn't. More importantly, it showed a generation that they, too, could be superheroes."
Hemsworth and Boseman weren't the only Marvel people in the attendance. Jeff Goldblum and Tom Hiddleston, also known as two of the internet's favorite men, were also in attendance. Goldblum and Hiddelston also appeared in Boseman's Instagram post, and they all seemed to have a great time — sharing a few laughs while MCU fans are currently still suffering.
Goldblum won the Haig Club Icon Award, presented to him by Hiddleston, and he took the time to mention a crack ship their characters are a part of. In his speech, he mentioned Frostmaster, which is what fans have endearingly dubbed their couple name, should Loki and Grandmaster ever be in a romantic relationship. "I cherish every single one of those and I will for the rest of my life," he said, right to Hiddleston.
So, yes, being a Marvel fan post-Infinity War can be hard, especially where Black Panther is concerned, but if these speeches tell us anything, it's that being a Marvel fan can also be so much fun.