'Sharp Objects' Gives Chris Messina A Break From Playing The "Nice Guy" & He Loves It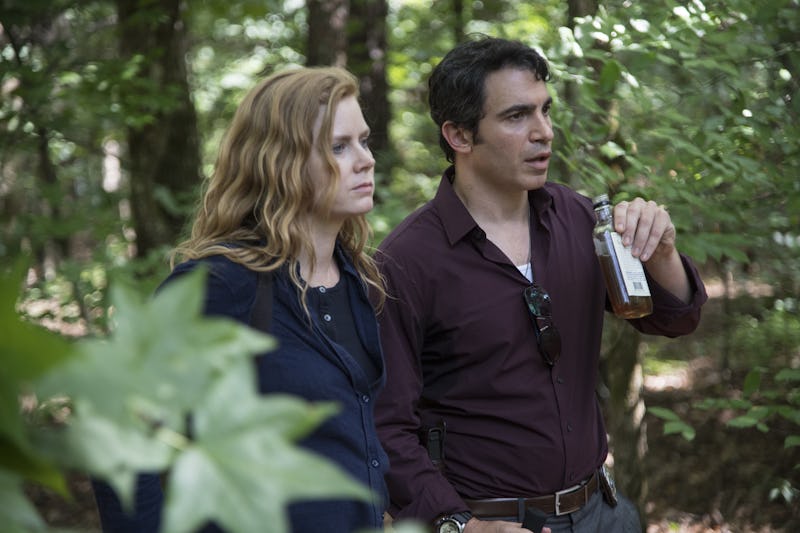 Anne Marie Fox/HBO
You may know him best from one of his many good-guy roles — the Mr. Darcy-esque Danny Castellano in The Mindy Project, Claire's sweet, conservative boyfriend in Six Feet Under, or even the supportive husband to Amy Adams' food blogger character in their last project together, Julie & Julia. But Chris Messina's character in HBO's Sharp Objects is far grittier a role than you're likely used to seeing him in, and that's absolutely by design. After playing "a slew of nice guys," Messina says he's been on the hunt for a more morally ambiguous role. And he found it in Richard Willis, the big city detective who spars with Adams' journalist, Camille Preaker, as they both try to solve two child murders that have rocked Camille's hometown of Wind Gap, Missouri.
Though he says he got his start playing "delinquents" and "drug addicts" in the New York theater scene, it's easy to see why the actor began getting typecast as the polar opposite. Messina thanks me a handful of times for coming to meet him at the Bowery Hotel for the last few hours he has of New York City press for the miniseries. He's gracious to a fan who stops by the table to say hello (or, more accurately, "I love you."). We go over our allotted time because he wants to know what TV I've been enjoying lately. All of this makes his turn as the detective he describes as "lonely" and "broken" all the more impressive.
"I watched Chinatown over and over again," he says, explaining how he prepared for the part by watching the 1974 noir about a detective and his enigmatic client (Faye Dunaway). "Just because it's a great movie, and it's easy to watch and Jack Nicholson is incredible. But what I was interested in about that is that he's trying to solve the case, but he's [also] trying to solve her. And I thought that was a comparison to this — what's professional and what's not."
The "her" in this case is Camille, another tough-as-nails character from Gone Girl author Gillian Flynn. (Sharp Objects is based on her first novel, which has the same title.) Messina hadn't read the book until he got a phone call from Adams inviting him to take a look at the role. They've been friends since Julie & Julia, he says, and had been looking for another opportunity to work together.
"In no time I read it," Messina recalls, "and I was scared reading it, super intrigued, and heartbroken too. The pain that's in this town was very palpable."
While viewers learn very little about Richard's life outside of this case, Camille's childhood slowly unravels through flashbacks (young Camille is played by It actor Sophia Lillis) and her own infrequent confessions. Returning to Wind Gap on assignment means facing her imperious mother, Adora (Patricia Clarkson); her restless teenage half-sister Amma (Eliza Scanlen); and the memory of her other sister Marian, who died young and whose loss fractured the community. Messina is anxious for audiences to see Adams in this role — taciturn, guarded, and haunted by ghosts in her past.
"You hire her, and what you have to do is get out of her way and unleash her, because she's incredible," he says. "And to be across from that... This is a role where nobody's seen her. And she's been so great in so many things. She's always so great. But this is like a whole other level. It just puts an exclamation point on 'Amy Adams is a f*cking great actress.'"
Camille (and the rest of the complicated Wind Gap women) couldn't be coming to television at a better time. Sharp Objects is helmed by Jean-Marc Vallée, who also helped bring Big Little Lies and its female-driven story of lies, friendship, and death to HBO. Messina recognizes that this adaptation is not something to take for granted, considering how challenging and unlikable these characters are allowed to be — particularly Camille. He remembers Flynn saying that when she first started shopping the project around, a frequent response was, "'Well, no one wants to see these kinds of women.'"
"Normally that's a guy, right? In the movie or the TV show. And he gets to be damaged and brooding or whatever," Messina says. "I think it's about time that it's a woman. And [Camille is] an incredible character, and these voices need to be heard. They're being heard now... I think it's just the tip of the iceberg."
Seemingly referring to the #TimesUp movement, Messina confesses that as a man in the business, he was somewhat "blind" until recently to how challenging it really is to be a woman in the same field, partly because he's been "lucky" enough to work with so many female creators who pushed through barriers, from Mindy Kaling to Nora Ephron to Jane Fonda. He was aware, however, of the great gender imbalance in meaty roles. ("Guys, we can get fat and bald and there's always a CIA guy," he laughs.) Sharp Objects contributes to that still small but growing pile of rich parts for women past the ingenue stage, and that's something he's proud to be a part of.
"I'm sure if a woman actress were sitting here, she'd say, 'It's still a pain in the ass,'" he says. "But it's getting better, so we're stepping in the right direction. I think there's a lot more to do."
Sharp Objects could very well continue to move that needle forward, if viewers take to it like they have to other stories that examine the darker side of the female experience. Richard is something of a surrogate for the audience, fascinated by the journalist and her demons. And just as media sets the expectation that characters who are women can and should be simplified to be understood, Messina's character is compelled to get to the bottom of Camille's issues — to the point where he behaves unprofessionally; sharing information in the hopes of getting something back from her.
"There's the cliche of a man thinking, 'I can save her,'' he says. "I think there's an attraction, just physical. She's intelligent; she's also the only one in this town who's giving him anything. I think with her, he doesn't feel like an outsider. And I think partly because there's a sense that she sees him or she hears him, even though she gives him sh*t and she's manipulating him at times. He's manipulating her. But there's a respect and just a huge curiosity about who this woman is."
If you're familiar with Flynn's work, you've probably come to terms already with the fact that there will be no easy fix when it comes to the central character's troubles. While it's revealed over time what's motivating some of these acts of violence in Wind Gap, nothing is completely spelled out for you; mysteries still persist. Richard's own backstory is one of those puzzles. Messina crafted one of his own, but says that he's learned over time to keep those ideas close to the vest.
"Because sometimes when you tell what you're thinking to a non-experienced director — this is not the case with Jean-Marc Vallée, but somebody else — they could kind of destroy your backstory or get in your way, because that's not how they see it," he explains. "But it doesn't really matter, because all that matters is what's coming across on screen."
What comes across onscreen is that the detective is out of his depth and baffled by the simmering anger and hurt in this borderline inhospitable town. To remain on that periphery, Messina tried to keep a certain amount of distance on set, at least as far as sharing angles and knowledge was concerned. With all the secrets being kept in Wind Gap, it helped for the actors to keep their characters' secrets too.
"Everyone goes off and does their work, and then they come and wrestle," Messina describes. "Or then they come and box. They come into the ring."
That doesn't mean that the shoot was all doom and gloom, however. The seriousness of the macabre subject matter meant that keeping it light when the cameras weren't rolling was an absolute necessity. Adams, Clarkson, and Elizabeth Perkins (Jackie), all of whom have memorably played comedic roles, were on that beat, according to Messina.
"You kind of try to escape it but it stays with you," says the father of two about his heavier projects. "And I don't know any other way to do it. And that's why you gotta laugh as much as you can."
Don't expect to crack many smiles during Sharp Objects, however. (Except, perhaps, when Camille explains to Richard what "bless your heart" really means in Southern parlance.) But you can expect a thrilling journey down a dark rabbit hole of trauma and barely concealed rage, with two very human, unsolvable leads at its center.