Chris Pine's Ready To Solve An Infamous Hollywood Murder In A New 'I Am The Night' Trailer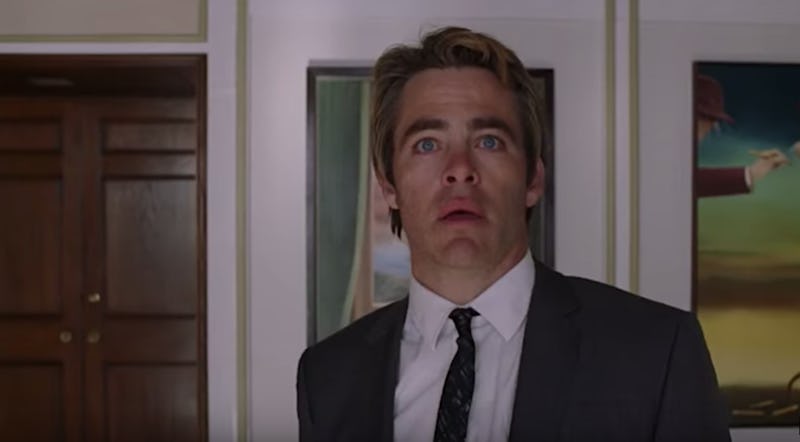 TNT
Chris Pine and Patty Jenkins proved to be a match made in actor-director heaven on the set of Wonder Woman, so it should come as no surprise that their next collaboration is looking to be just as promising. A new trailer for TNT's upcoming miniseries I Am the Night has been released, and it proves beyond a shadow of a doubt that this project is not for the faint of heart as it wastes no time in tackling the seedy underbelly of Hollywood's darkest moments in history.
Inspired by true events, the six-episode series follows the real-life story of Fauna Hodel (India Eisley), who begins digging into her past after discovering that she was given away at birth. However, the more Fauna learns, the darker things become, especially after realizing that she shares close ties to the infamous Hollywood gynecologist Dr. George Hodel (Jefferson Mays), who was a suspect in the notorious 1947 Black Dahlia murder (though he was never formally charged). Helping her along the way is Jay Singletary (Pine), a former Marine-turned-reporter who is hoping that piecing together Fauna's dark ancestry will help give him a story that could put his career back on track. But sometimes knowledge can come with a hefty price, which could be something both Fauna and Jay end up discovering.
The project is based on the late Fauna Hodel's book One Day She'll Darken, which was published back in 2008, and recounts everything she went through on her journey of figuring out her ancestral roots. This included looking into a case involving Dr. Hodel, who was accused of having sex with his daughter, Tamar, in 1949. The trial ended in his acquittal. The book additionally states that when Tamar was 16-years-old, she reportedly gave birth to a baby girl, named Fauna, whom she claimed had a black father. This led to Tamar's mother giving Fauna away to a black maid, named Jimmie Lee, which later resulted in a fully-grown Fauna looking for answers into her family tree.
The official synopsis of I Am the Night reads as follows:
"Inspired by true events, I Am the Night tells the gripping story of Fauna Hodel (India Eisley), a teenage girl who is given away at birth, and grows up outside of Reno, Nevada. Fauna lives more-or-less comfortably with the mysteries of her origin, until one day she makes a discovery that leads her to question everything. As Fauna begins to investigate the secrets of her past, she meets a ruined reporter (Chris Pine), haunted by the case that undid him. Together, they follow a sinister trail that swirls ever closer to an infamous Los Angeles gynecologist, Dr. George Hodel (Jefferson Mays), a man involved in some of Hollywood's darkest debauchery, and possibly, its most infamous unsolved crime."
It's a chilling tale, to say the least, and it could become the next big show everyone is talking about. So if you love being creeped out (and are a huge fan of Pine), this is definitely one series well worth your time and effort. I Am the Night premieres on Monday, Jan. 28, 2019 on TNT.