There's More Evidence That Katherine Schwarzenegger & Chris Pratt Are Dating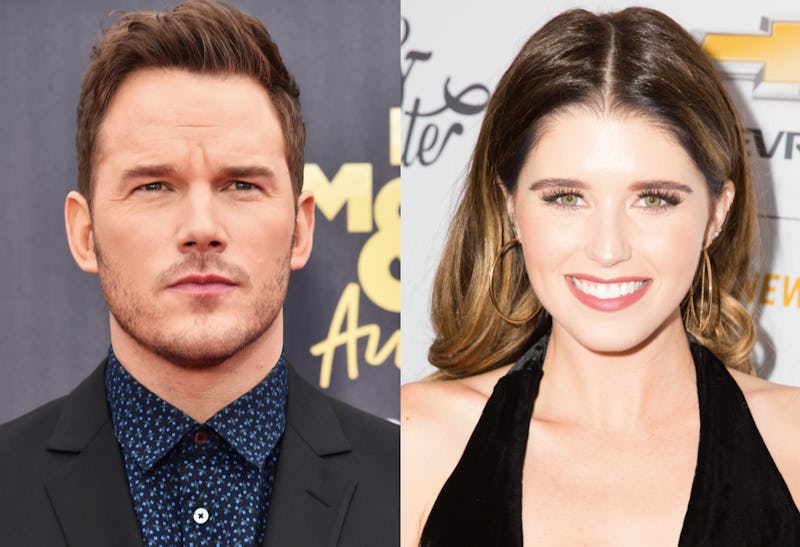 Alberto E. Rodriguez/Getty Images Entertainment/Getty Images; Alison Buck/Getty Images Entertainment/Getty Images
Rumors about this potential couple have been swirling for weeks, but now, there's even more evidence that this might really be happening. According to E! News, Chris Pratt and Katherine Schwarzenegger have reportedly been dating for two months. The rumors are somewhat new, but it sounds like the relationship might have been happening for longer than anyone suspected — and so far, it sounds like Pratt and Schwarzenegger are a perfect fit. And even though neither of them have confirmed their possible relationship just yet, it seems like the evidence that this is happening just keeps piling up. (Bustle has reached out to reps for Schwarzenegger and Pratt, but did not receive an immediate response.)
In June, photos of this potential couple on a picnic together in Santa Barbara, California surfaced around Father's Day, according to People. And that was one of the earliest clues that something might be going on between Pratt and Schwarzenegger. But as a source close to the situation told E!, that wasn't the first time they'd hung out together — not by a long shot.
"It's still very new between Chris and Katherine but the picnic was not their first date," the source told the site. "They have been on multiple low key dates and have been talking consistently for the last two months or so."
The insider went on to explain more about how this whole thing started, and it's actually a pretty interesting story. Apparently, Schwarzenegger's mom, Maria Shriver, was the one who set them up, since she knew Pratt through mutual friends, and it sounds like they hit it off from there.
The E! News source also added that everything is reportedly going very well with the couple and that Pratt is super into Schwarzenegger already. "They both really like each other," the source said. "Chris is smitten by Katherine and is super happy about how it's going so far."
Considering how difficult Pratt's divorce from Anna Faris at the end of last year had to be, it's good to hear that Pratt is so happy — if this report is true, of course. But since there have been other reports about these two dating, it's seeming more and more likely that this could be really happening.
Earlier in June, a source told People that they had been on "multiple dates," mentioning Shiver as matchmaker for the first time. And even though their reported two-month relationship still isn't very long to be dating, it seems like they could be headed into legit coupledom if things continue to go well. Maybe by then they'll confirm their relationship publicly? At this point, it's anyone's guess.
So far, neither Pratt nor Schwarzenegger has dropped any hints on social media that they might be dating each other. In fact, Pratt's recent posts have been all about promoting Jurassic World: Fallen Kingdom, and even though it looks like he's been having a blast, he's really not giving any indication that he could be in a relationship.
And as for Schwarzenegger? No hints there either, although it seems like she's been having a blast hanging out with her family lately:
Let's just cross our fingers that, if they're truly dating, Pratt and Schwarzenegger will confirm what's going on when they feel comfortable. Of course, it's totally understandable if they want privacy (especially while their relationship is so new), but fans are definitely curious about what might be happening here. A few details — and maybe even an Instagram pic or two — would be nice. But until then? It's just good to hear that they're both happy.