Chris Pratt & Anna Faris Have Filed For Divorce, Making Their Split Official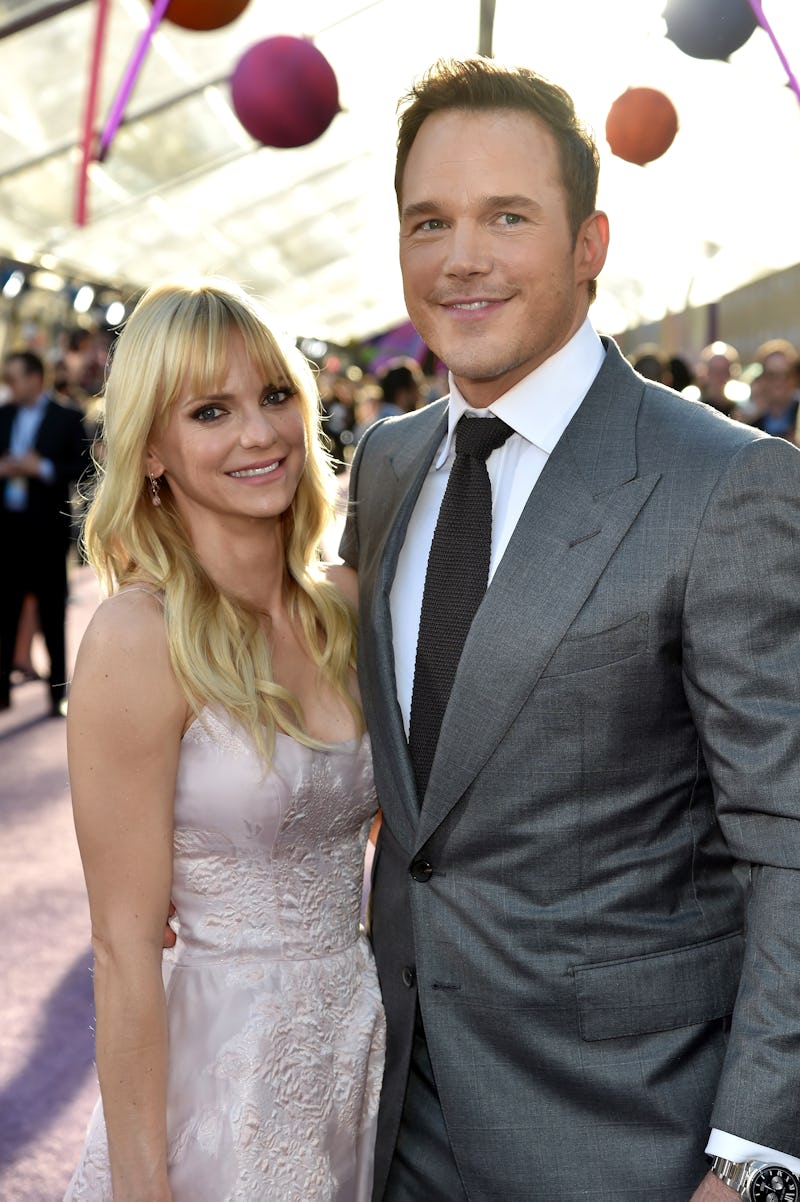 Frazer Harrison/Getty Images Entertainment/Getty Images
While fans may have known this was coming, the news still stings. On Friday, Dec. 1, TMZ reported that Chris Pratt filed for divorce from Anna Faris, and that Faris reportedly filed her response at the same time. This marks a step forward in making Pratt and Faris' separation official, which the pair first announced back in August, much to the heartbreak of fans. (Bustle reached out to reps for Faris and Pratt for comment on the divorce reports, but did not receive an immediate response.) Apparently the date of their split was cited as July 13, TMZ reported.
According to TMZ, Pratt cited "irreconcilable differences" in the paperwork. They're reportedly asking for joint custody of their young son, Jack. Their son was also the focus in their joint statement announcing the split this summer, which read:
"Anna and I are sad to announce we are legally separating. We tried hard for a long time, and we're really disappointed. Our son has two parents who love him very much and for his sake we want to keep this situation as private as possible moving forward. We still have love for each other, will always cherish our time together and continue to have the deepest respect for one another."
Further illustrating their bond with their son, Pratt returned to Instagram last month and the first photo he posted was of him, Jack, and his brother Cully Pratt seeing the latest Thor movie. Family is clearly a priority.
While the internet was quick to declare that "love is dead" following Pratt and Faris' separation, the pair still seems to be on decent terms. And not just because their statement reads, "We still have love for each other, will always cherish our time together and continue to have the deepest respect for one another." Instead, Pratt wrote the foreword for Faris' book Unqualified, and even lovingly joked about the split. According to a book excerpt in the New York Times, he wrote,
"When I was asked to write the forward for Unqualified, Anna's memoir, I immediately said yes without even thinking about it. And boy did a lot happen between then and now. So much. Like … soooo much."
Faris later said on an episode of Live with Kelly and Ryan in October, "He was so kind to do that." She told the hosts, "We're great. He's amazing, and we're great friends and we always will be." See? No bad blood here. That's also seen in sources telling TMZ that the divorce is "totally amicable."
Although it may be tough for fans to watch one of their favorite Hollywood couples split, the pair seems to be trying their best to move on themselves. For instance, Faris is reportedly dating Michael Barrett, a cinematographer who she worked with on her upcoming movie Overboard. However, reports were clear in stating there was reportedly no romance on set, and the pair got together afterwards. (Bustle reached out to reps for Faris and Barrett when the dating rumors began, but did not receive a response.) She also was busy with a book tour for the aforementioned Unqualified.
As for Pratt, he's been active on Instagram — sharing a photoshoot from the upcoming Avengers: Infinity War movie, as well as reliving his Parks and Recreation glory days by drinking from FBI coffee mugs à la Burt Macklin. And while he was recently filming Jurassic World: Fallen Kingdom, IMDb cites the movie as being in post production. And of course, there was that Marvel movie outing with his son and brother mentioned earlier.
Basically, Pratt and Faris both seem focused on their careers and loved ones right now. And as definitive as filing for divorce may be, at least fans can take solace in their continued support for one another.