Chris Pratt & Katherine Schwarzenegger Looked Super Happy In Her Brother's IG Story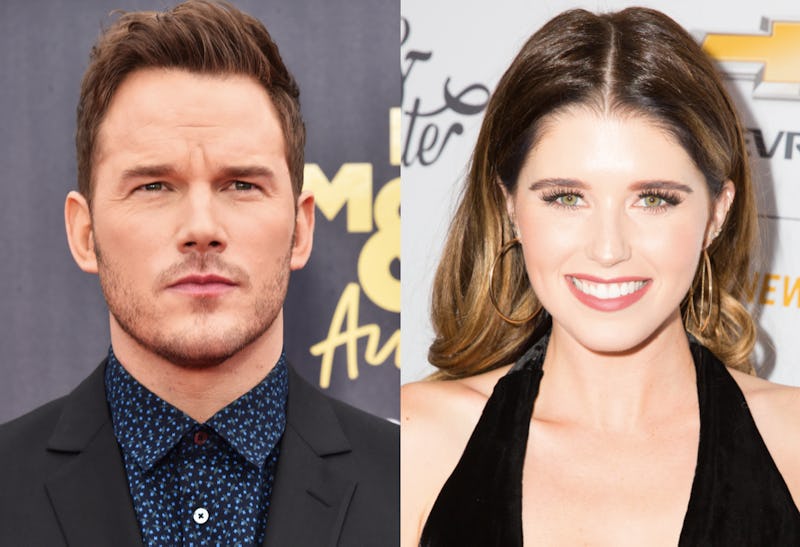 Alberto E. Rodriguez/Getty Images Entertainment/Getty Images; Alison Buck/Getty Images Entertainment/Getty Images
It sure looks like these two are getting serious. Over the weekend, Chris Pratt was in Patrick Schwarzenegger's Instagram Story with Katherine Schwarzenegger right by his side. On Aug. 5, Patrick posted a video of his family eating what appears to be dessert after a meal together, and if you look and listen really closely, you'll see and hear Pratt. Well, well, well, there's no escaping this one, Star-Lord.
As you can see below, Pratt is sitting to the far left and smiling. He's also sitting right next to a laughing Katherine. In the short video, which you can watch here, someone asks the Jurassic World: Fallen Kingdom star, "Chris, do you want a piece?" He answers very politely, "Oh, no thank you." It looks like they were having some type of dessert with blueberries, raspberries, and whipped cream. Why the Marvel star would pass up such deliciousness is mind-boggling. Maybe he was just too full?
Whatever the case, the fact that the Guardians of the Galaxy actor was dining with Katherine's family is kind of a big deal. The two have been rumored to be a couple since being spotted together on Father's Day in June. (Bustle previously reached out to the pair's reps about the relationship rumors, but did not hear back.) And now he's hanging with her family? Yeah, that sure sounds like things have moved into a more serious direction.
According to People, also on Aug. 5, Katherine and Pratt went to church together in Los Angeles before her family's gathering. Apparently, Katherine's mother, Maria Shriver, set her up with Pratt. A source told People in June, "Maria helped set them up. It's still new."
Neither Pratt or Katherine have officially commented on their relationship, but they haven't seemed to escape the paparazzi. On different occasions, they've been photographed kissing and with Pratt's son Jack. On Aug. 2, after Katherine was spotted with Pratt and his son, a source claimed to People, "They are spending every day together and Katherine has met Jack several times. They seem to be getting more serious."
In addition to Patrick's Instagram Story, Katherine and Pratt were seen riding scooters on Aug. 5 prior to the family get-together, according to TMZ. They've certainly been spending a lot of time together and look like they enjoy one another's company.
According to Entertainment Tonight, Pratt and Katherine aren't joking around when it comes to their romance. "Chris Pratt and Katherine Schwarzenegger are the real deal." The source continued, "Chris and Katherine are a serious couple so Jack being alone with Katherine is normal. Anna [Faris] and Chris are great co-parents and respect that each other are in serious relationships. Jack will be spending quality time with each other's partners."
An insider also told ET on July 31, they've "gotten serious, quickly... Chris and Katherine have introduced one another to their family and friends, and have been almost inseparable when they are free." Based on Patrick's video, it sure seems like Pratt has been welcomed by Katherine's family and feels comfortable with them.