Chris Pratt Wants A 'Parks & Rec' Reunion, But Andy Dwyer HAS To Be A Weatherman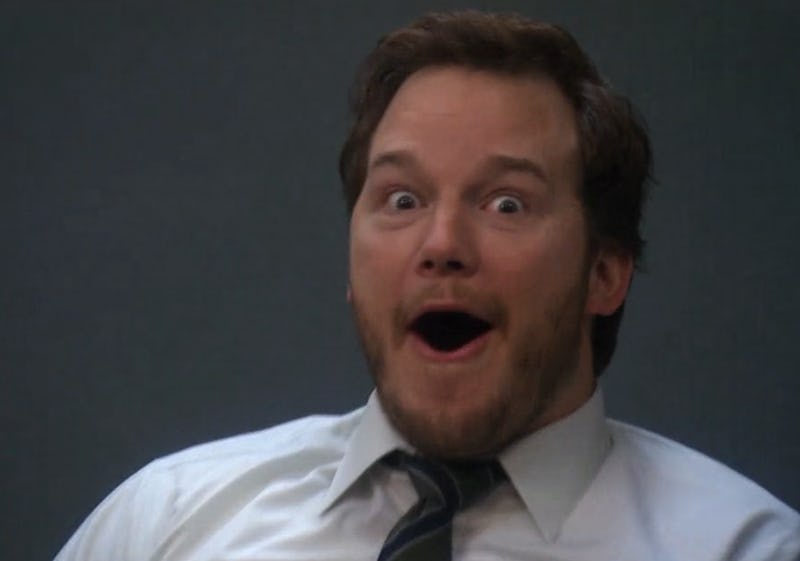 NBC
The most beloved TV Parks and Recreation Department could reunite soon enough. Chris Pratt would do a Parks and Recreation revival, he told E! News Tuesday at the Los Angeles premiere of Jurassic World: Fallen Kingdom. "Oh, man, as long as I'm in town, yeah, I'll do it," he said about a possible reunion. "It films like 10 minutes from my house so that would be dope. I mean, you can't film Parks and Rec without Andy." He also addd, "I miss Andy too. I would love it. I know I would do it."
He's right. There is no Parks and Rec without Andy, the oblivious, innocent, child-like man, who always had the best intentions and loved April Ludgate (played by Aubrey Plaza) wholeheartedly. If the NBC comedy returned, Pratt already has a job lined up for his character, which is beyond perfect. "I think he becomes a weatherman," he said about Andy. "He would be a good weatherman. He would have no idea what he's even saying."
Andy never really knew what was coming out of his mouth. When he and his co-workers were in London Andy genuinely believed Buckingham Palace was Hogwarts. So, Andy doing the weather? It'd be a disaster, but amazing at the same time.
After E! News said Andy would return a completely different person physically (because of Pratt's weight loss for Guardians of the Galaxy and Pratt wearing really nice suits for press tours), the Marvel actor said the change in his appearance would help build Andy's storyline. "You could have so much fun like figuring out what happened with Andy," he admitted.
When Parks and Rec was airing, the series had to explain why Andy looked different, since Pratt was transforming for the first Guardians. In Season 6, Episode 1, Ben (Adam Scott) and Andy talked about how he lost 50 pounds in one month. "How much beer were you drinking?" Ben asked him. "I know, right?" Andy laughed. "Probably too much."
Like Pratt, Amy Poehler and Nick Offerman want a Parks and Rec reunion. During a May appearance on The Ellen DeGeneres Show, Poehler said, "I'll speak for everybody and say we would all do it. I think we'd all do it someday. It'd be amazing." Offerman agreed with her, because according to him, "Amy's the boss of the show."
The two also joked the only way the comedy would be revived is if Queen Bey participated. "We said that if Beyoncé will play the mayor we'll bring the show back." Poehler also said Oprah could be the mayor as well.
Who knows if Parks and Rec would ever be revived, but there's no denying how much the Jurassic World star loved the show and playing Andy. In May, a fan asked Pratt on Twitter, "Out of every film and television role that you've played, which role brought you the most joy?" He replied, "Pure joy? Andy Dwyer. Loved everything about it. And got to do it while 7 minutes from home. The best. Miss my @parksandrecnbc crew."
Some might think Pratt is too famous these days to return to a character he last played three years ago, but that's definitely not the case. In December 2016, he told Sirius XM radio show Sway's Universe in December 2016, "Well, it's hard to say. I would never rule it out. There's jobs I've done in the past where I could safely say I would never do that again, but Parks And Rec is not one of them." He later added, "But because of the nature of that show kinda mimicking time, I definitely wouldn't rule out seeing it again; seeing us get back together for something, for a movie, or for another season down the line. Possible spin-offs or whatever."
And there you have it. Pratt hasn't given up on Andy or Pawnee, Indiana.